This sweet little girl is my future sis-in-law. She's 2 1/2 years old and mommy dresses her like a girly-girl. Princess stuff, flowery, glittery, fur trim "cheerleader" shirt....yuck. So I made her this little outfit.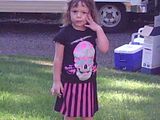 (Shirt says "Don't Worry, Be Happy")
SHIRT>>> i liked the shirt the way it was so i just snipped at the collar a bit, shortened the sleeves and added lace detail.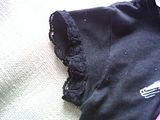 SKIRT>>>The skirt is made from another shirt. I didn't take a before pic so here's a bad MS paint rendition of the shirt.
Cut out two rectangle pieces, turned them so the lines were vertical, added some black knit on the sides (so it would fit), simple casing, elastic, viola!
Cost:
"Don't worry, Be happy" Shirt---$0.99
striped shirt- $0.75
other-elastic, small bit of lace, black knit scraps
Thanks for looking!