I've been making cards all afternoon, I finished 3. Only 3 cards in that many hours? Yup. I've been trying new things & it was great.
I always make standard 4.25X5.5 cards. Always, so today I made some larger, different shape/size cards.

(CLICK ON THE PIC TO SEE IT BETTER)
This first one is pretty simple. I took some slide mounts & made them less....white. Basically, I very lightly dabbed at the slide mount with various color inkpads & smeared the colors a bit. Stamped a butterfly on some white mulberry paper, piece of vellum over that. Strip of ribbon, all glued down & voila!
I've seen some great cards that incorporate fabric & sewing so I tried some of that on this one. That's white w/tan roses fabric, glued to cardstock. Two colors of mulberry paper "sew" (glued, really, the sticthing is detail) on another slide mount w/butterfly.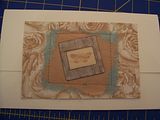 This one, I covered a white rectangle or cardstock w/ mulberry paper. The slide mount in the center is another of the butterfly ones but I didn't like it as much, hence the "wish" embelishment. Those are bits of peacock feathers poking out behind the slide mount. Also added some embrodery floss detail for extra texture & such.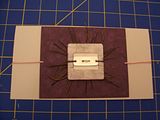 A few observations, tis & what not.
-slide mounts are fun.
-I love mulberry paper.
-tip for tearing mulberry paper (or any paper), wet the paper where you want to tear, tear while wet. I used a paint brush to wet the paper.
-sometimes smudges are okay (that's how the slide mounts came to look like they do)
-when glueing, sometimes paper will start to curl/wrinkle. Place a heavy book on it while it dries.
Thanks for looking.