I had to make a "body image collage" for this class I'm taking on Feminine Sexuality. I was going to do the typical thing about blah blah blah I hate this and that about my body and yeah, the media sucks and blah blah blah, but then I realised that I actually am pretty darn happy with how I look, so I decided to celebrate that instead. Collage-style.
This is the front: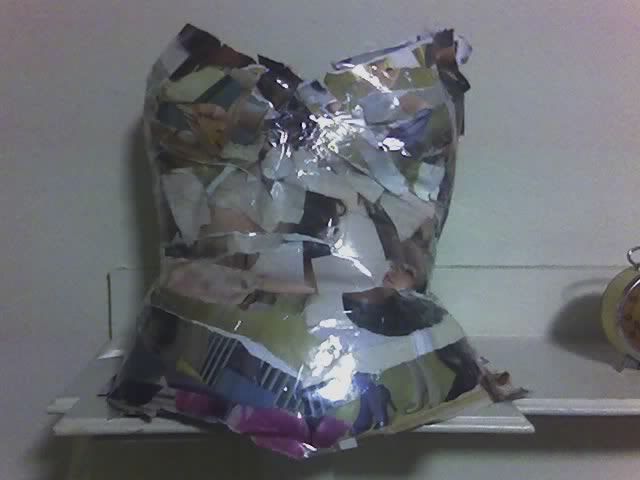 And this is the back:
And, for fun, a few pictures of it on! (Yes, I am completely narcissistic. But it's AWESOME.)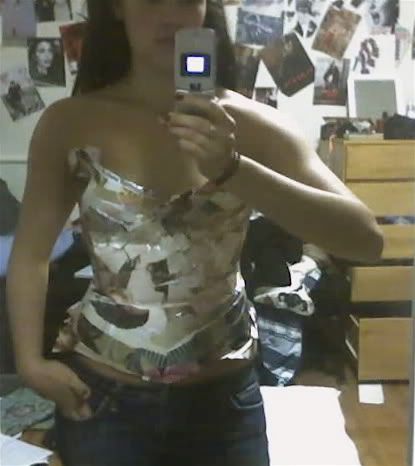 This one is blurred, but is an attempt at getting a side shot, so you can see how it goes.
It only took me about an hour to make... I built it right on to myself, and then realised that I had started too early, and so was stuck wearing it for a grand total of 6 hours. ah well. I cut it off me afterwards and turned it into a corset. It's surprisingly comfortable to wear, and actually is sort of supportive. I've already gotten requests for another one, which will be better made, since I won't be building it onto myself. For this one I used torn up strips of magazine paper, starting with some ads from W magazine that were printed on slightly thicker paper, but it would be really easy to use absolutely anything.