Today I decided to try to make a nice colorful poster to hang in my boring bathroom. Here's the result: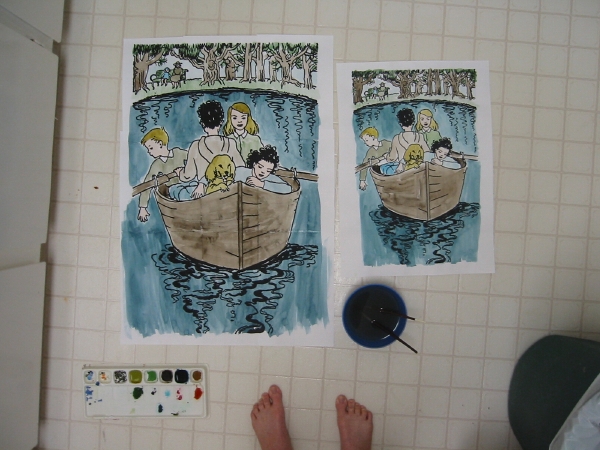 (I made a small one as a test, then a larger one)
Here's the original image: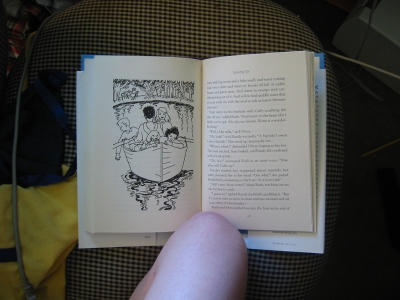 A drawing out of "The Saturdays" by Elizabeth Enright.
Here's what I did:
I scanned the original drawing at 2400 dpi -- the highest dpi my scanner would do. This was not necessary -- the resulting image file was so huge that my computer had trouble handling it. I eventually scaled it down in photoshop to 600 pixels/inch (in the "image size" window), so do yourself and your computer a favor, if you try this, and scan at a reasonable dpi
Then, in photoshop, I resized the image to 18" x 27", and set the image mode to "duotone", and then did image > adjustments > posterize (levels either 2 or 4, can't remember) to make it true black lines on a white background. Fiddle around 'til it looks good
Then, to print it, I had to do something kind of lame and I'll bet a PS guru out there can tell me a better way to go about it but I did this:
Select a section of the image -- since mine was 18 x 27 I chose to do sections of about 6 x 9, and print on 9 separate pieces of paper. So select the upper left corner (for instance), copy the selection, do "new document", paste the selection into the new document, and then print the new document. Then close the new document (no neeed to save it) and repeat for the next section. Make sure your selections overlap each other a bit, so you can align the sections later for gluing. When I was about halfway through, I thought of using ruler guides to mark out my areas for selection -- to do this make photoshop show you the rulers, then click and drag from the ruler into your image to make nice guidelines.
So then eventually I had nine pieces of paper, each with a different chunk of my poster on it. Then I layed them all out and decided which pieces would overlap which other pieces --- sounds confusing but just try it and you'll see what I mean. Then I trimmed the edges of the topmost overlapping pieces and used a glue stick (ooo high tech) to glue the whole puzzley thing together.
Whew, a big black-and-white poster!
But I wanted colorful, so I got out my watercolors and painted the whole thing as if it were a giant coloring book. I don't know when I've had so much fun!
Enjoy,
Kara