This was something I never saw myself doing. I liked Frozen, but it wasn't a costume I really needed for my "wardrobe". However, this past Halloween, I made a tiny Elsa dress for my (almost 3 year old) niece who was a Frozen fanatic. I hand sewed on about 500 large sequins to the bodice... again, for a toddler, and hand painted a cape with sparkly snow flakes. I included the most adorable letter from Elsa's "royal tailor" on how to "wear" the gown and how her mom can let the hem out as the queen gets taller. There were also gloves with sparkly snow flakes I painted on and rhinestones, because come on, rhinestones! I unfortunately do not have a photo at the moment, as she's in CA, and I'm in NY. Which brings me to Anna's dress.
Why did I choose to make this? For my niece, sort of. I'm headed to CA in about 2 weeks for Gallifrey One (Doctor Who con) and decided that a side trip to San Diego was in order while we were out there. I can't be any old aunt who shows up and brings hugs and kisses and probably another costume and toys. I had to really wow her. So, I decided that I wanted to make Anna's Adventure dress to go with my niece's Elsa dress! The plan is to get into character, ring the doorbell, and wait for her to open the door and have a 3 year old melt down (the good kind). My brother is so excited and can't wait. She doesn't know Anna is coming to her house
There will be video and photos, which I will update here
I can hardly wait!
Anywho, that's the back story, now onto the costume photos! Details on what I did and how are here -
http://imageevent.com/benaequee/costumes/completed/movietvartcostumes/annaadventuredress
EDIT (NEW PHOTO):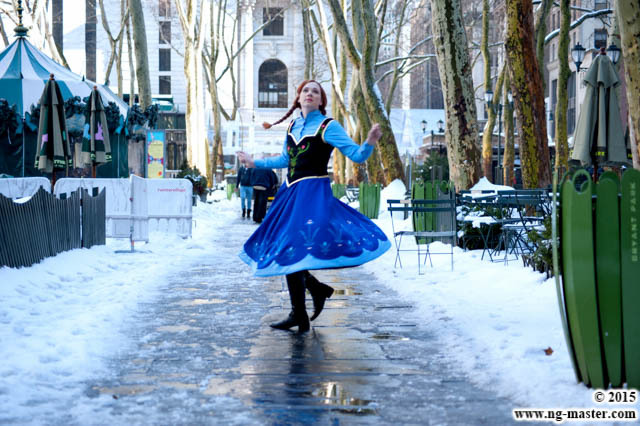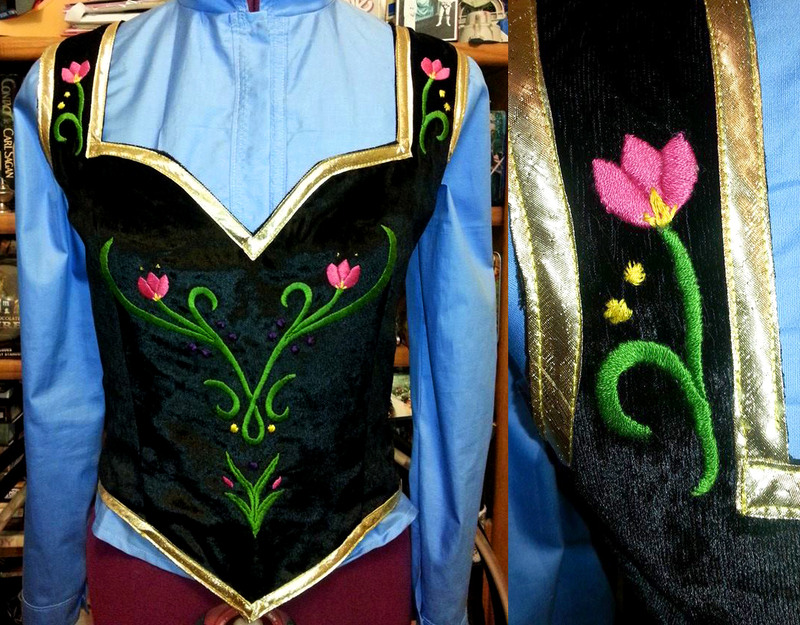 My favorite part, my first time ever doing embroidery! I've avoided it for over a decade and finally bit the bullet and did it. It wasn't so scary or daunting, and was actually kind of relaxing lol. I'll remember I said that I as I embroider the 30 appliques on the skirt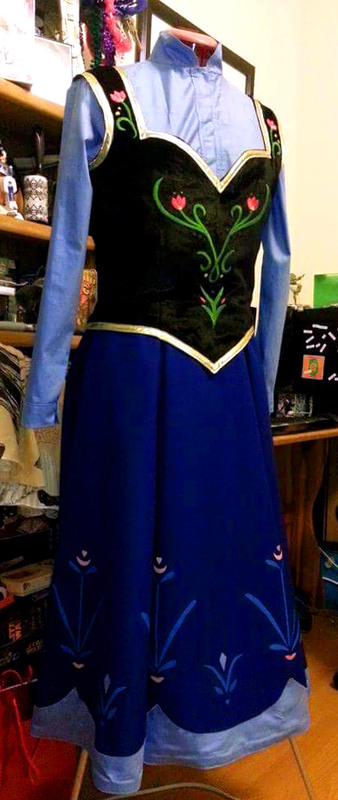 I have material for the cape coming this week, so that will be added as well, but that's for a photo-shoot back here in NYC in 4 weeks.