I made these costumes for Dragon Con 2017. I fell in love with Dolores's dress from this TV show and then her character. Since I was making myself the dress, my hubby decided he wanted to be Dr. Robert Ford to go with my Dolores. I used all historically based patterns from Truly Victorian and Laughing Moon. The only thing I made my own pattern for, was the chemise and the bum roll. I did some alterations to the bodice pattern though, to make it look more like the TV show. All the trims were either altered or made by me.
It was a fun challenge, as I've only ever done historic patterns once before for my Marie Antoinette. There are SO MANY UNDERLAYERS! You can't just build the skirt and bodice and call it a day. You need the chemise, the corset, the petticoat, and the bum roll all done first! I still want to make knee length bloomers for this as well. Once I got all the underwear constructed, I was able to move onto the skirt and bodice. The skirt and the petticoat are the same exact Truly Victoria pattern (TV261), the corset is TV492, the Bodice is Laughing Moon (LM105). My husband's vest was heavily modified Simplicity pattern... that was missing a whole page of needed pattern pieces from the envelope - so I had to completely draft them myself.
Making of Page:
https://imageevent.com/benaequee/costumes/completed/movietvartcostumes/doloresabernathy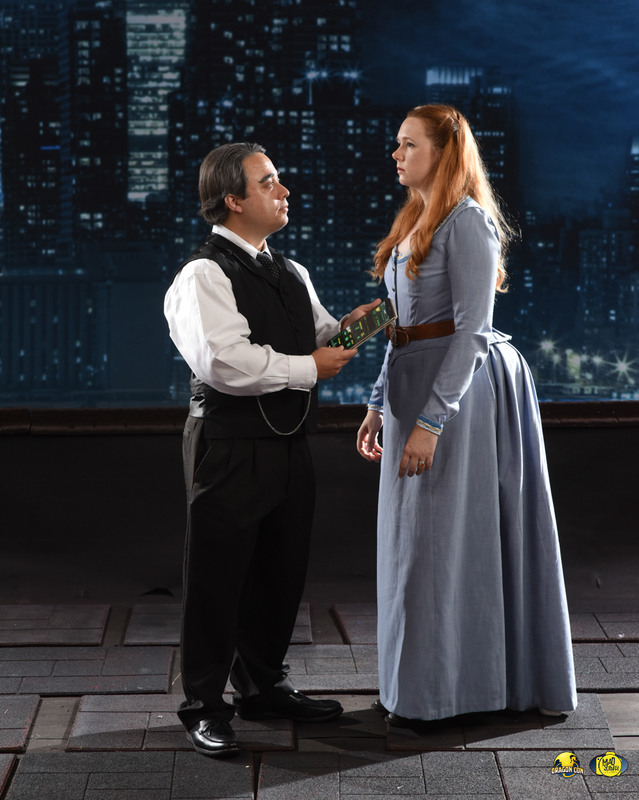 For the petticoat, I used the skirt pattern, but made the pleated trim at the bottom. There is a shot of Dolores with her petticoat showing, and it is actually a wide eyelet lace with a ribbon lace accent. I didn't have any more room in my budget for the eyelet lace, so I opted for a pleated ruffle instead. I still had ribbon lace for the accent though, and used that.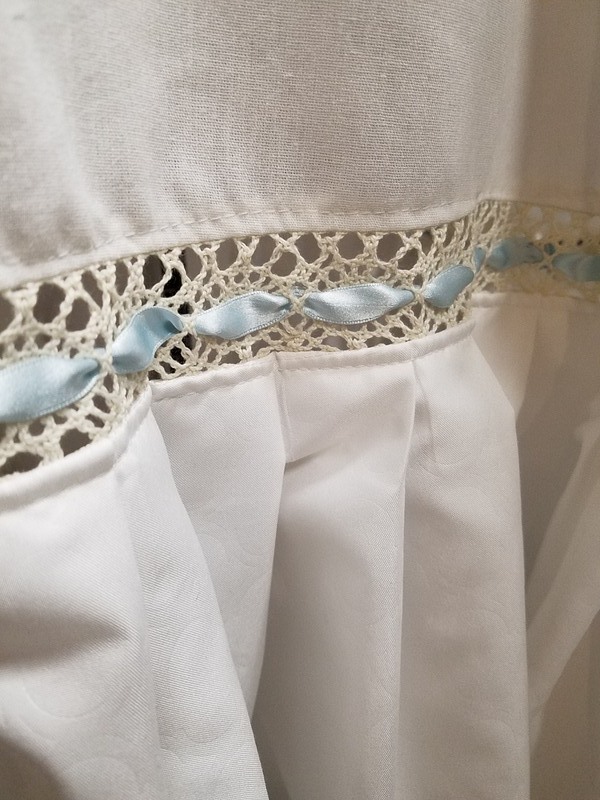 For the corset, I opted for hand bound eyelet holes, vs the metal eyelets. I did this for my Marie Antoinette stays, and I loved the look and feel of it so much more. They are not difficult to do, and add a nice finishing touch. They are laced with a 15mm silk satin ribbon in a french blue color.
For the skirt, I flat lined the lightweight linen in a light material of some sort... it was in my stash, I have no clue what it was, but I have like 50 yards of it lol. It was slightly sheer and had a sheen, but it was the perfect weight to be used for this. After sewing the pattern pieces together and pressing the seams open, I used pinking shears to finish the edges. My serger is acting up, so I had to go this route. It's worked perfect in the past on other projects, so I figured I'd do it again. The hem was then hand sewn to the white lining layer, and not into the fashion fabric.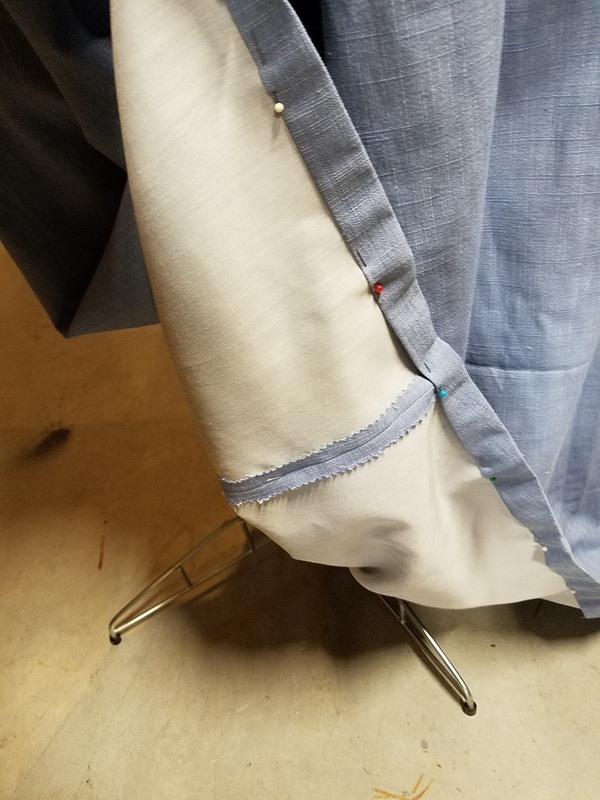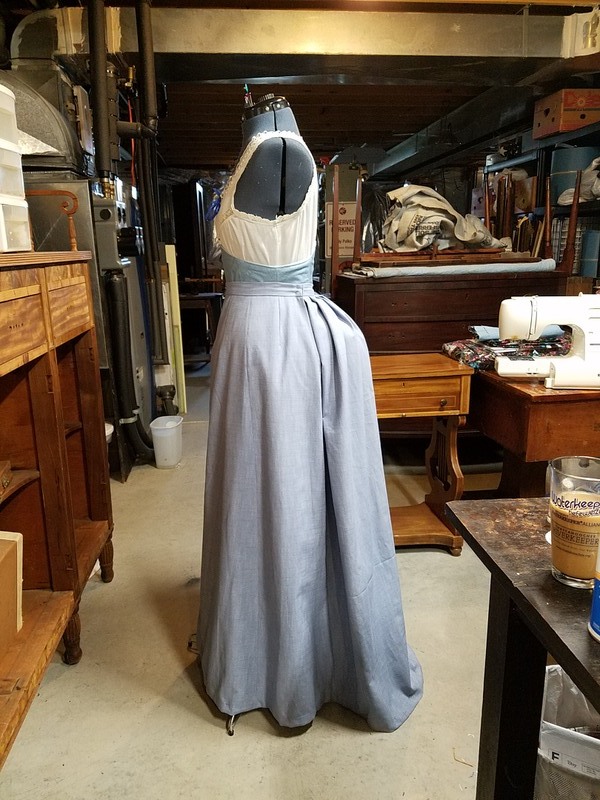 Trimmings! My favorite part! I made these, since I could not find ready that I liked. Her bodice has this white polka dot, baby blue, pleated trim. I could not pre made ribbon that I liked. Everything was giant dots or organza. I ended up buying a cotton dotted print fabric and making a continuous bias loop trim and pleating it myself. I opted for a bias so that I would not need to worry about the edges fraying over time. It makes the dots line up straight instead of staggered, but I was okay with that in the long run. I just pleated it by hand as it was fed through my machine.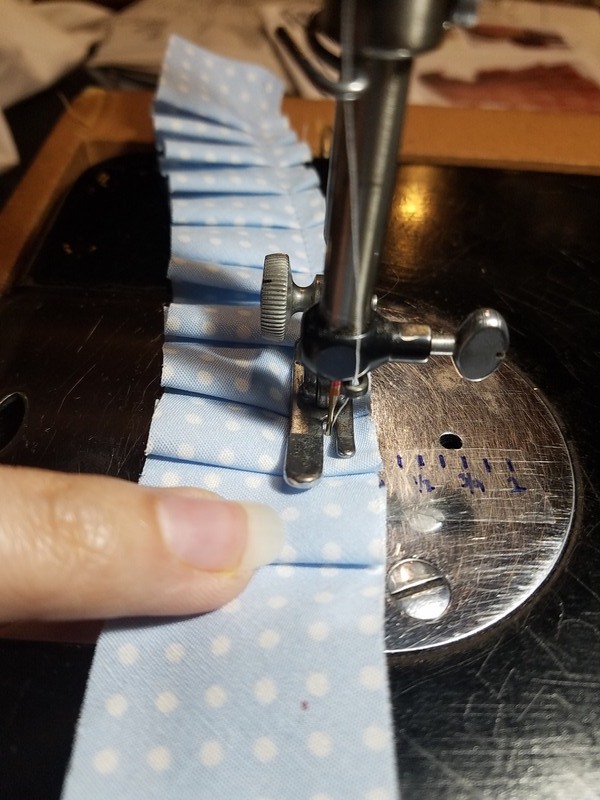 The bodice also has a velvet trim, and a guimp braid with light blue and pale gold accents on it. I had to make this, using a 3/8" guimp braid, and guimp cord. It was kind of a pain in the butt, and I may eventually re-do it... maybe. First I sewed on the blue cord, and then the yellow cord. The tricky part was sewing the velvet ribbon, the guimp, and the pleated trim all on a curved edge. I had to run a gather stitch in the very edge of the velvet ribbon and ease it in. It was then pressed and the pleat was sewn to it. The guimp was then sewn over the joining edge of the ribbon and the pleated trim. This was then repeated for the sleeve edges.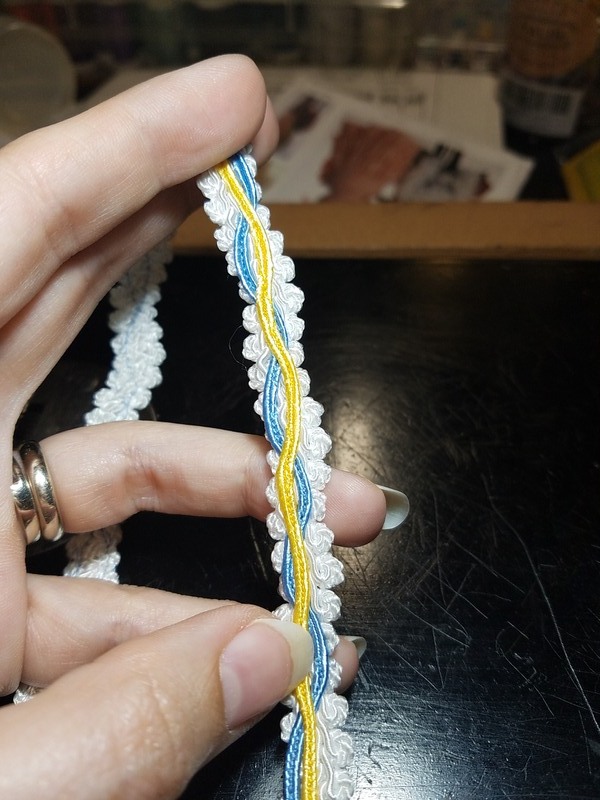 The bodice needed to be mocked up first, since the shape of the bodice neckline needed to be deepened, and the sleeves lengthened and a closure added to them. I used my lining material for this and it worked perfectly.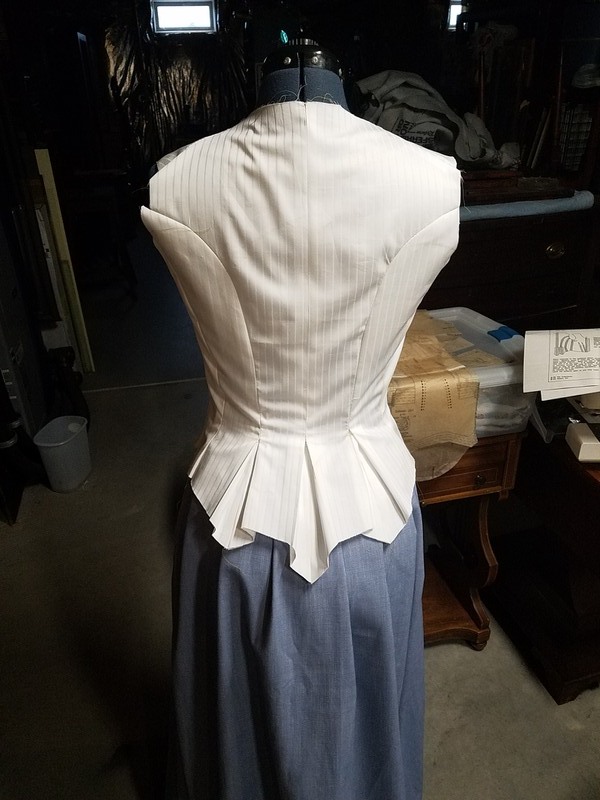 I then got to cut into my good fabric. I took apart my mock up, pressed it, and used it as the pattern for the linen. I hate sewing button holes, as my machine sometimes starts to eat my projects randomly. There was NO WAY I was letting it near this bodice, I'd already spent 3 days on it at this point. I cheated and made the bodice close with hidden hook and eyes, and the buttons were simply sewn on top as a decorative element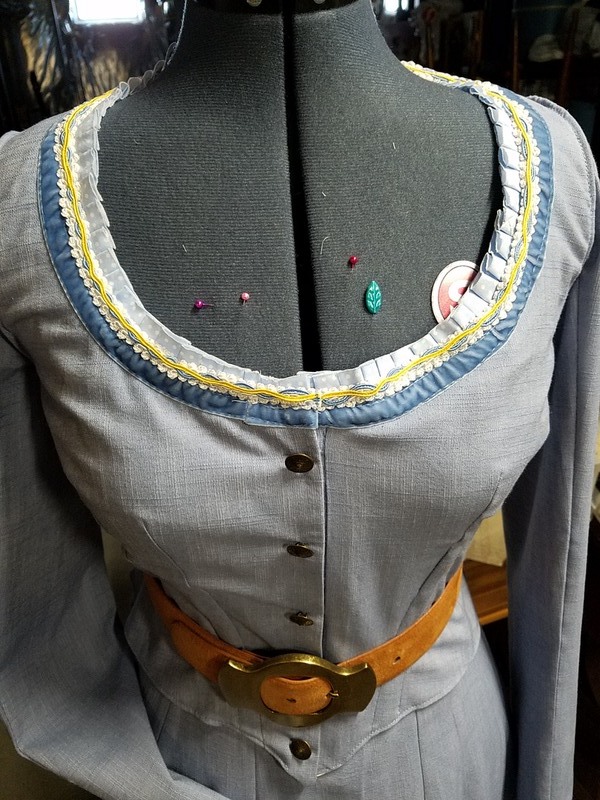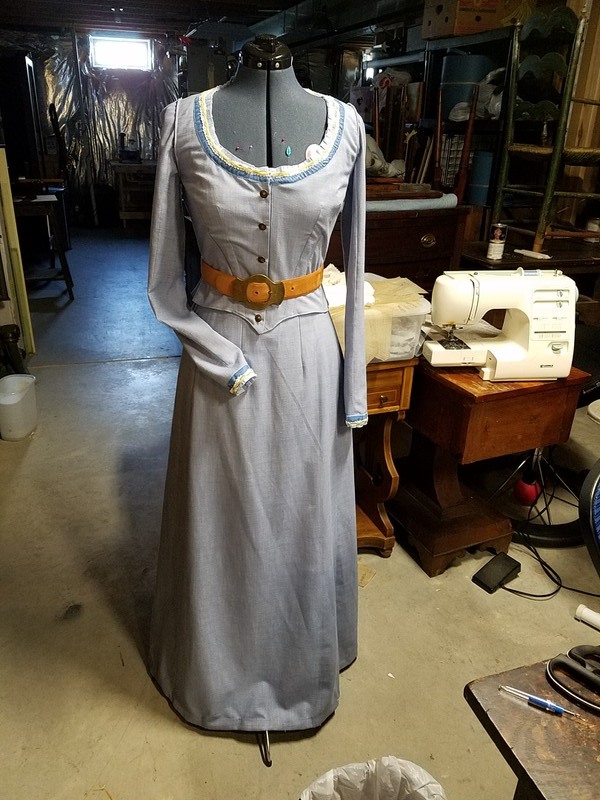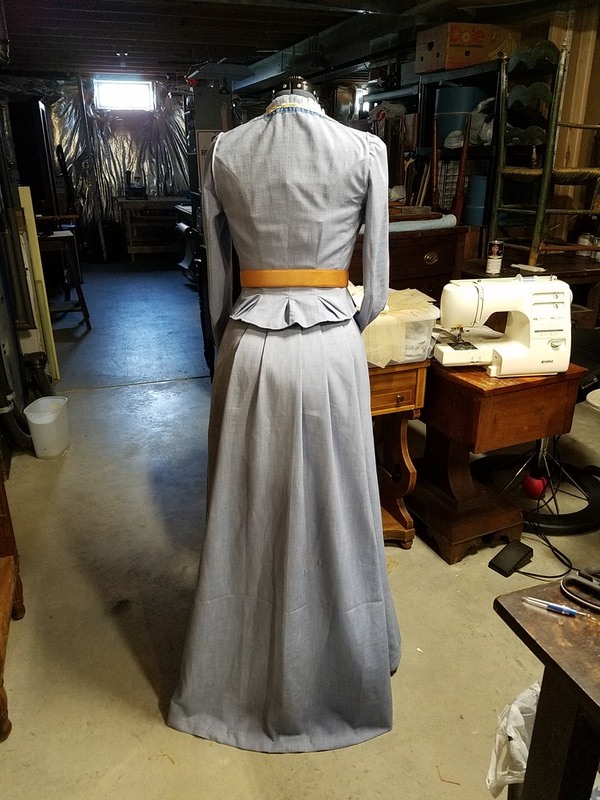 For the belt and pouch, I commissioned a leatherworking friend to make them for me. I just didn't have the time or tools to do this myself, and didn't want to invest in them just for one project. He did an OUTSTANDING job on them! He found the screen accurate patterned leather belt blank from Tandy Leather, and then completely wet formed the pouch for me. It was totally worth it, and I love it to death. I got a ton of compliments on it too
I got the buckle off Etsy from a vintage belt from the 60's. It's close enough and has the right petina to it.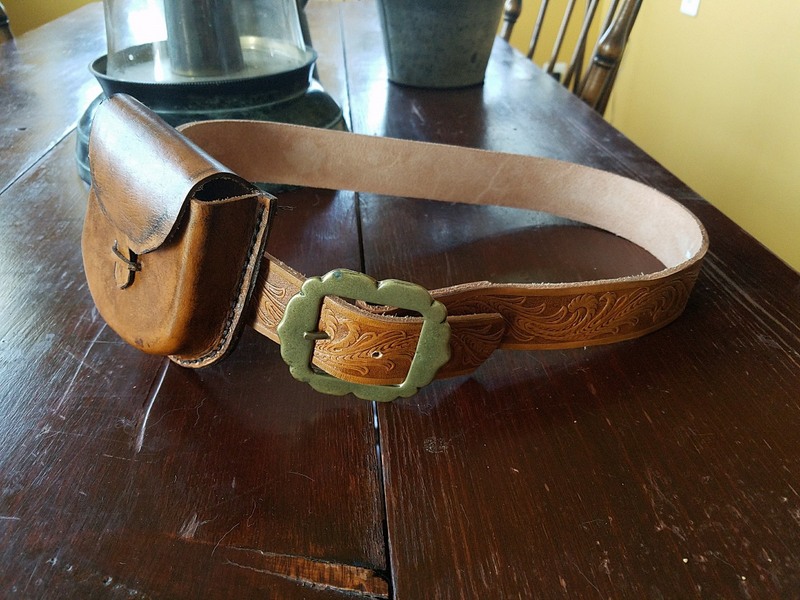 ROBERT FORD
Robert Ford is the creator of Westworld and it's "Hosts", such as Dolores. My husband wanted to dress as him. We initially tried to find a waistcoat that was already made, in order to save me 2 days of work on top of my already hectic schedule. We found nothing remotely close to it, and neither of us was happy with a simple tuxedo vest. He wanted it to look like his on the show, which has a weird built in cummerbund and a small welted pocket at the top, as well as rounded notched collar. I usually avoid menswear, but for my hubby, why not? The only caveat was, that he had to go fabric shopping and pick up everything for me. He did an amazing job. He found a waffle weave seersucker, that I fused a black interfacing to, and lined in Kona cotton. The back is Casa crepe back satin from Joann, as he couldn't locate a black duchess satin in the store. The crepe back stuff was slippery, and a bit of a paint to work with.
We bought the Simplicity pattern 2895, which is an old west style costume pattern for men. I looked at the instructions first and read them over, and plotted out how to adjust the pattern to the way I needed it. This is how I always work on patterns. I then got the 3 sheets of pattern tissue out and started cutting out pieces I needed, which were not many, since it's just a waistcoat. I had only 2 pieces cut before I realized a whole page was missing, and they had duplicated another instead
It was Sunday night, I was in a panic, I had to have this completed in two days. I had no time to get a new pattern envelope (and hope it had all the pieces), so I tweeted at Simplicity directly to see if they had a PDF of it available to email me. They reached out Monday, but did not have something for me. I had to use the pattern diagram as a basis for what the missing pieces should look like and had to do quite a bit of math to scale it up. I luckily had my hubby's tuxedo vest on hand as a basis for what I needed as well. It worked out in the end thankfully, but it added 3 more hours of work that I didn't account for in my schedule. I also had to draft a curved, notched collar for this, since that is what the TV show vest had. You tube tutorials to the rescue!
The buttons on this are self covered, and I had to bite the bullet and use my machine for button holes. It cooperated, mostly, only eating my completed vest twice (panic attacks ensued each time). My husband loves it, and said it was so well finished, he may actually wear it under his tux, somewhere fancy.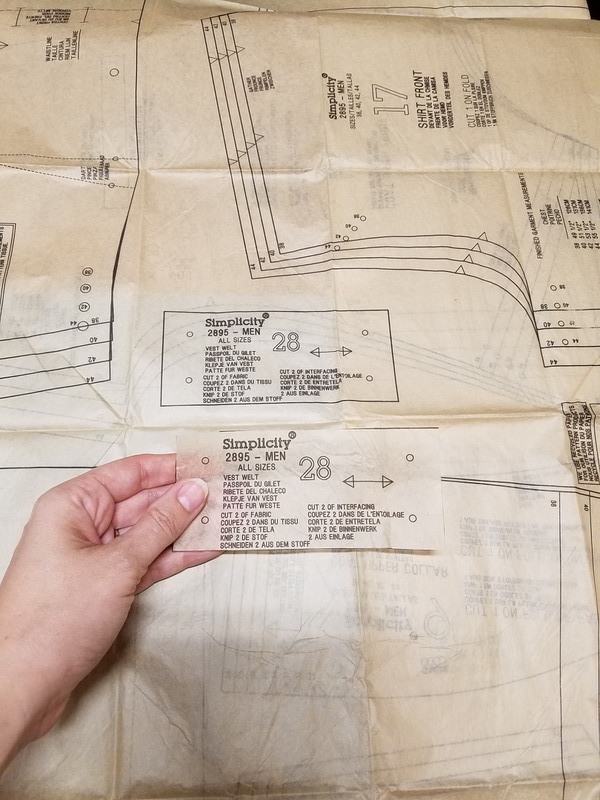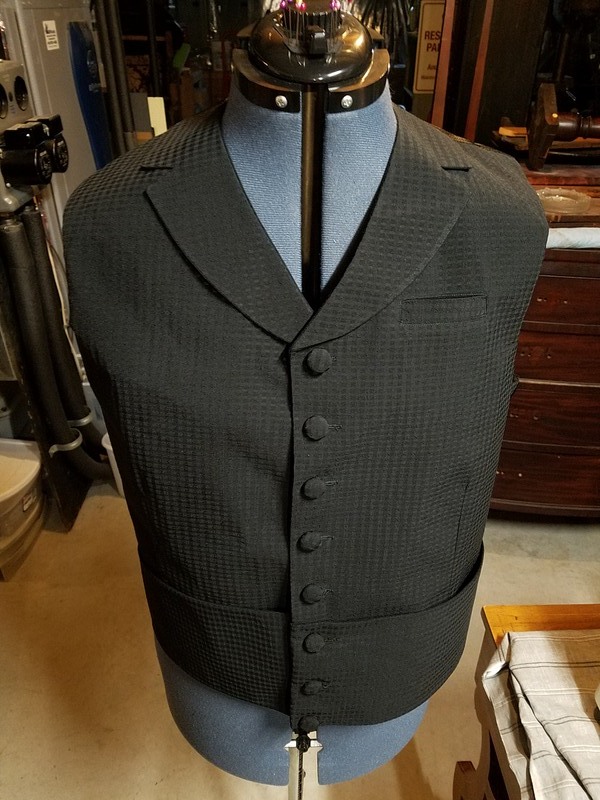 I am so proud of this welted pocket and my perfect collar