I made this Chemise from 8 yards of Cotton Voile, and used a silk dupioni from my stash for the waist sash and in the hair. I used a moire silk for the petticoat. Since it was going to be chilly that day, I also made a short cloak from a vintage heathered wool and a satin lining. I'm allergic to wool, so it had to be lined to avoid itching. I didn't really care if it wasn't period correct, so long as I was warm and comfortable.
The shoes and stays were already made by me several years ago, so it was nice to be able to use them again for another project. I styled a wig I had in my costume room from another project and added a silk sash, fabric flowers, and ostrich feathers. Jewelry was from my collection of antique pieces. It was refreshing to have something so light and airy to wear for a change.
There are more construction photos on my page here:
http://imageevent.com/benaequee/costumes/completed/originalcreations/chemisealareine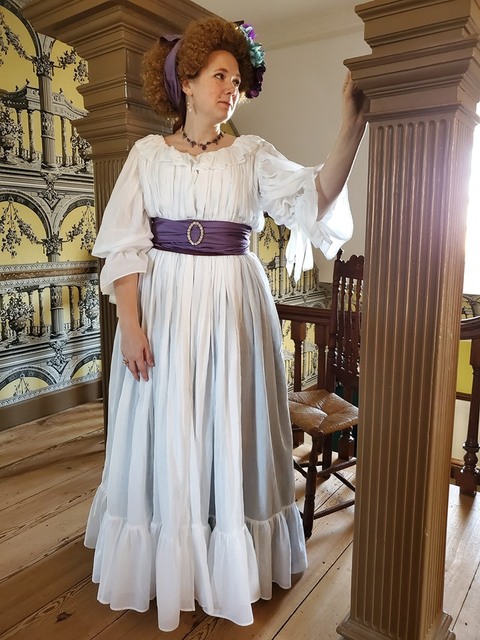 The dress was draped on my form and channels for ties were added at the waist and neckline area. These were gathered into the correct size for my body and then the shoulder pieces were drafted. Once the shoulders were in place, I was able to add the neckline ruffle. This was a 3 yard piece, utilizing the selvage edge of the cotton voile, so that I would not need to hem that part. It was gathered and stitched to a silk ribbon, and then hand sewn to the neckline. It was done like this so I could remove it at a later date if I so chose.
The sleeves were then drafted and channels were sewn a few inches from the bottom edge. This would allow the bottom edge to form a ruffle effect when gathered and tied. Silk ribbons were used to tie the sleeves.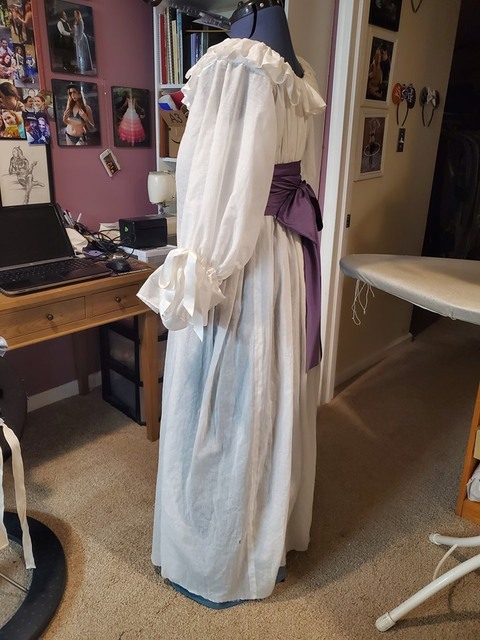 The sash was a silk dupioni that I had from a previous project. I bias cut it to be 6" wide by about 4 yards long. This way I could wrap it around my waist a few times and then tie a nice big bow. A vintage RS slide buckle was added to the front for a little bling.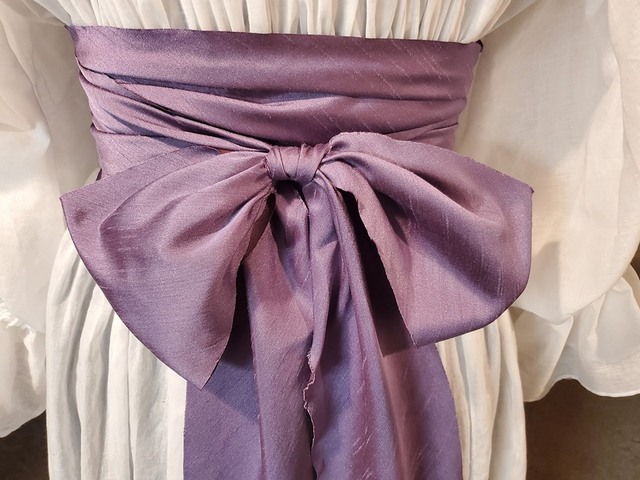 I had to make a new petticoat for this particular dress. The one I made a few years ago was made to sit over side hoops and was the wrong shape under this dress. I was hanging significantly lower at the sides and peeking from under the dress. This was self drafted as two big rectangles that were then pleated into a waist band with silk ribbon ties added.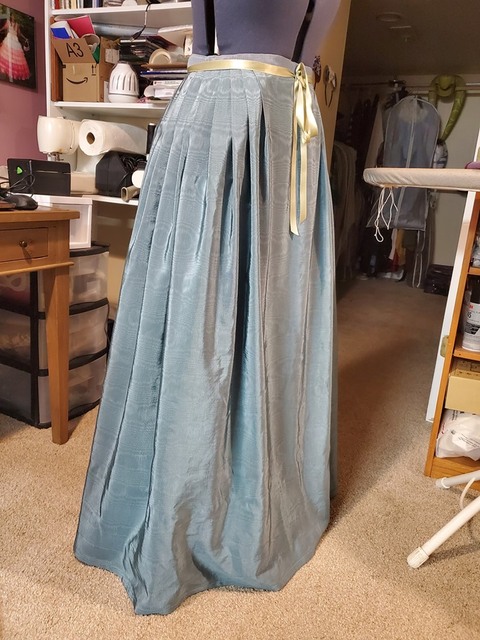 There is a bum pad under this dress, so the dress was hemmed based around that. I didn't want a train, as I didn't want to have to worry about picking it up all the time. The dress was made and then allowed to hang for 2 weeks to let the fabric stretch and settle. I then leveled the dress form to one inch higher than I would be in the shoes that would be worn with this. It was carefully marked all along the edge for where the bottom ruffle would be. I made an almost 10 yard piece for the bottom ruffle. It was first baby roll hemmed, and then a gathering stitch was made across the top. I gathered the entire length by hand, carefully pinning it to the dress as I went. It was sewn to the dress and then the excess fabric from the dress itself was cut away with pinking shears. Another line of stitching was added to help secure everything inside.