Typical to my costuming style, I decided "last minute" that I wanted to wear Anna's dress from Frozen Fever, that she wore for her Birthday, for MY birthday
Last minute would be 2 weeks to construct a Petticoat, blouse, corset, bolero, and hand painted skirt. Sure thing, easy, no problem
https://www.facebook.com/BenaeQueeCostumer/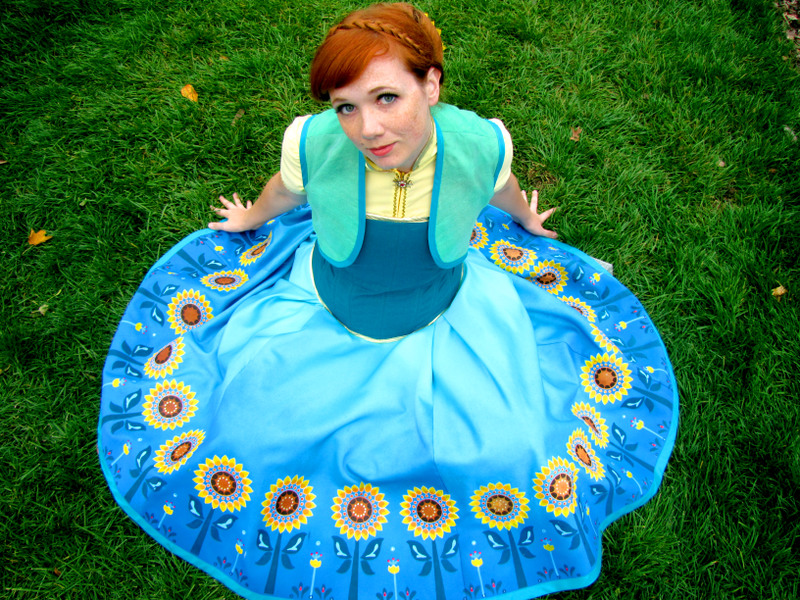 I started by spending about 2 hours taking screen shot after shot from the short and compiling them into one file that I could take for reference. I then headed to Joann for a shopping trip, armed with about 10 coupons I'd been hoarding (WOOT!). I managed to find 8 different fabrics for the costume. The bolero uses 3 fabrics, a green/blue iridescent organza over a grass green tafetta, with a green cotton lining. The corset is a dark teal/blue "linen" with a teal satin lining. The blouse is a pale yellow cotton. The petticoat is the same pale yellow cotton with an ivory point d'esprit over layer. The skirt is a sparkly light teal satin.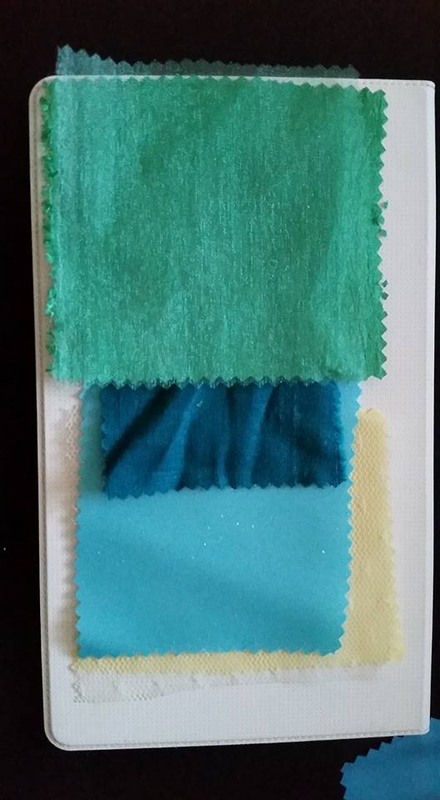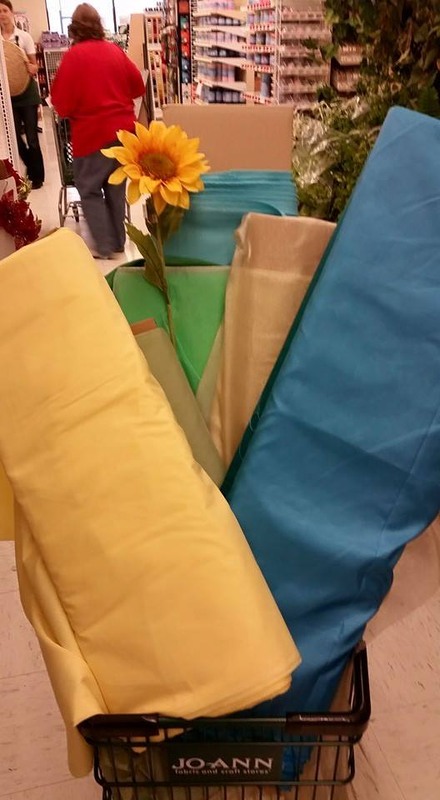 The skirt in the short has an obvious ombre effect going from the waist to hem (light to dark) and I KNEW I had to have the same effect for my skirt. I tried a spray system where you can use your own paint. I mixed up the perfect darker teal and fabric medium, thinned it for the sprayer, and made a HUGE mess on my scrap piece. The sprayer did NOT work at all. Disappointment, big time! I had to resort to a blue/teal normal spray paint to achieve my effect. The spray paint was just normal Ace Hardware brand paint. I used the same thing on my Pterodactyl without any issues, so I used it again for my skirt. It did stiffen the satin a tiny bit, but that is good, as it helped the skirt keep it's shape in the long run.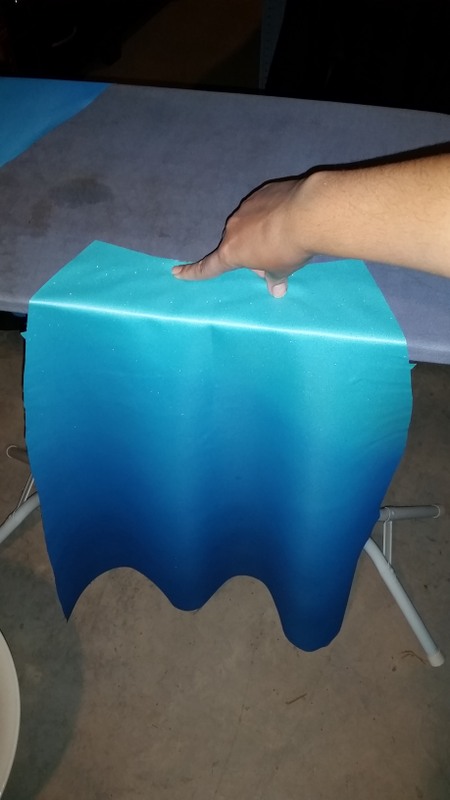 The sunflowers were drawn by me in Photoshop and then split into 6 parts to be cut into stencils by my Silhouette Cameo cutting machine. I cut 10 total sets of stencils, and used each one twice with no bleeding of paint underneath. I started by painting them flowers a white base layer, and then layered on the yellow, orange, and browns. Once the skirt was fully painted and dried (about 20 hours of labor to paint alone), the fun chore of adding rhinestones began. So far, there are 440 rhinestones... I still need about 400 more. I tore through my stash I had squirreled away. There are 20 total flowers, 8 are fully rhinestoned in the front. Once that was done, it was hemmed by using a really wide double fold bias tape in teal. Since the hem is round, and fabric was stiffened due to the painting, a normal hem would have been difficult and messy looking. Luckily the cartoon has a thick contrast border on the hem as well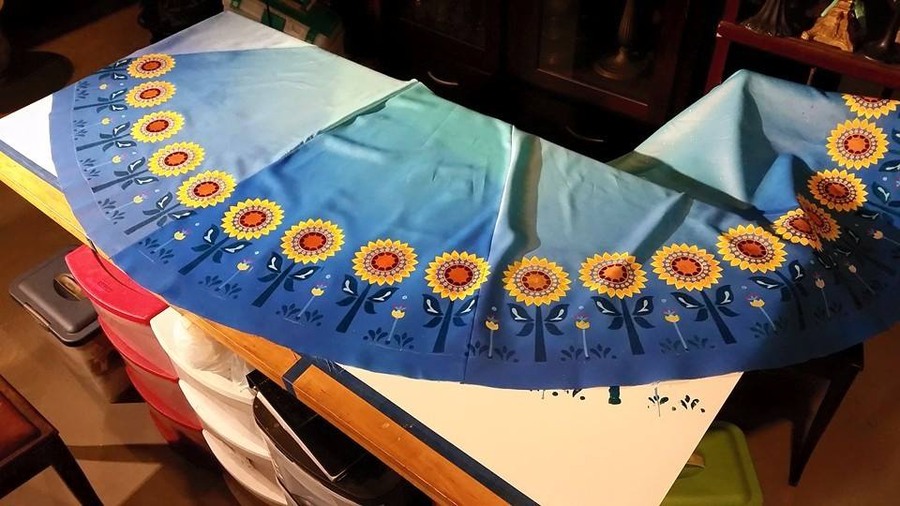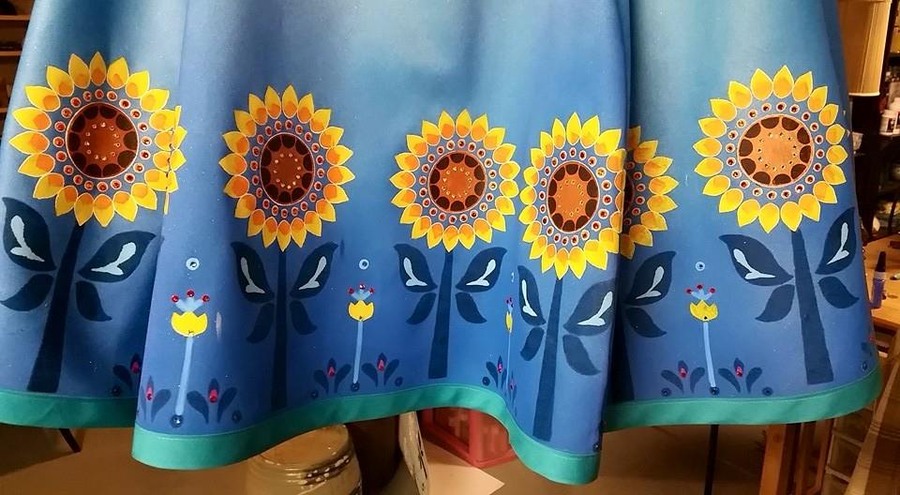 The Bolero was super easy and was a jacket pattern that I left the sleeves and collar off of, and altered the front shape. It is also bound in a teal bias tape, which is how the cartoon looks too. This made my life really easy.
The shirt was a pattern I had altered from my previous Anna dress and then altered further for this costume by making shorter sleeves, changing the collar shape entirely, and putting a partial zip in the front. Ric Rac and metallic gold bias are trimming on the blouse.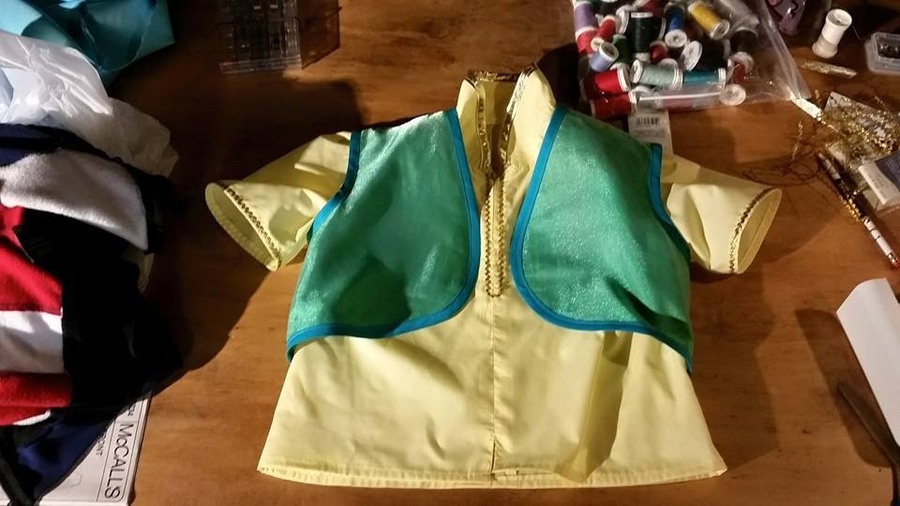 The corset is just a vogue pattern that I altered a long time ago to fit me and be used for anything I needed a corset for. It actually zips up the back as I was unable to see any significant closure system in the cartoon version. The zip is a heavy duty separating zipper. The Bolero and Corset still have hand embroidery I need to do on them, and that is probably another 30-40 hours of work
When I made this, I was so excited that everything was working, that I cut all the fabric layers out and sewed it all together only to realize after trying it on, that I completely FORGOT to cut the heavy interfacing
It was just sitting there, mocking me. It's okay without it, but I would have preferred it for structure in the long run.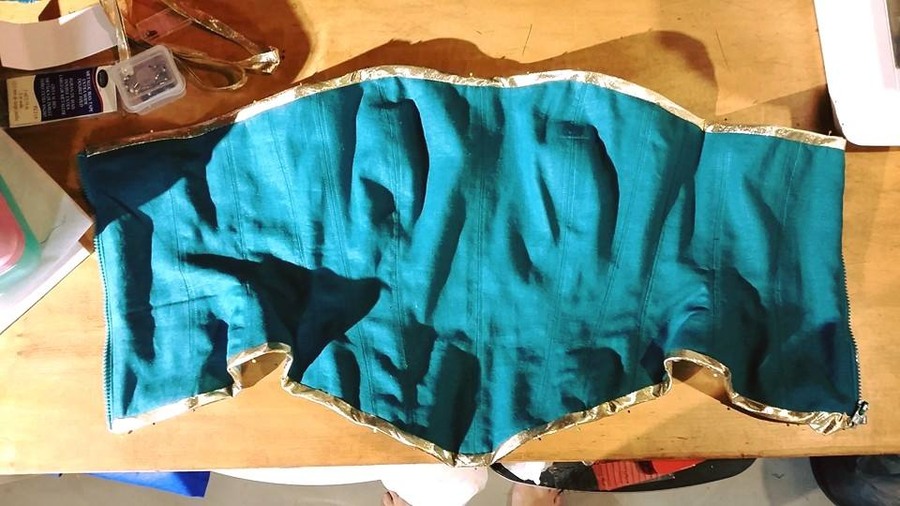 The petticoat is fun and flirty and was made to look like a tulle skirt if I wanted to wear it for something else. I fully endorse multi-use costume parts. There are 7 yards of tulle (it was all they had or it would have been 15) and 4 yards of cotton. The hemline has a horsehair braid to help it keep it's shape with the weight of the skirt over it.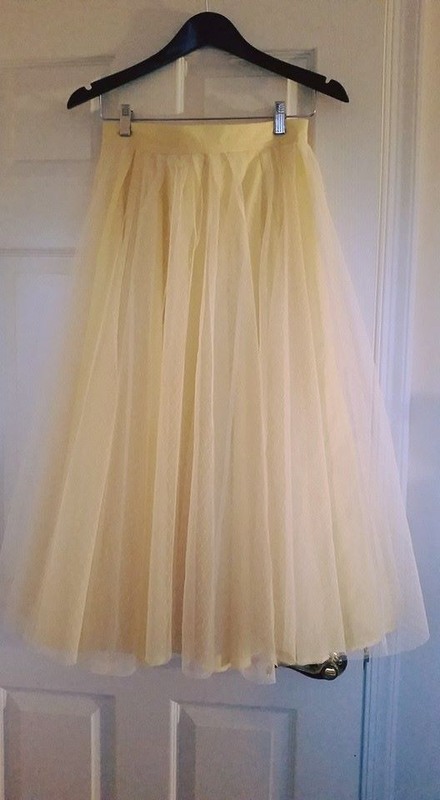 There is also a cute sunflower hair clip in the back and an antique brooch at the neck. The brooch is a 10k gold, opal, and spinel brooch my mother had given to me years ago on a birthday long past. It worked PERFECT for this costume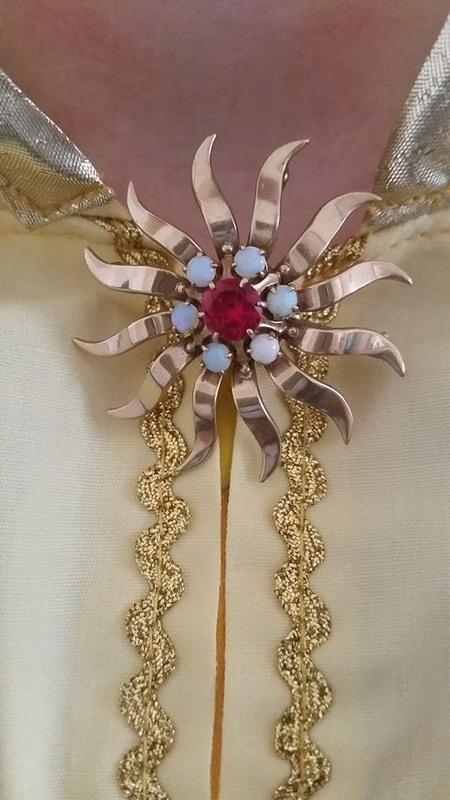 I managed to get the costume done enough to wear for my birthday party and photoshoot and still be recognizable. I still have a ton of work to do on it to call it complete.