I got a totally incredible package from rocknroll today, and at the risk of making you all jealous, I'm posting pictures now! Here is the wonderful shrine that she made. I love all the glitter designs, and really love that hot pink felt puffy skull! So well made! It has glitter-decorated lucite doors on hinges that open and close. The sun is made out of a painted bottle cap, with glittery rays. Look how great the shrine looks in its new hanging spot! It's right where I can see it when I am on my computer. The colors go so well in this room!
In this closeup, you can see the skeleton-y representations of me, my husband, and my two daughters. There is even a little skeleton dog in the left corner. That would be my dog, Nikki. She looks a lot like that, only not quite as thin.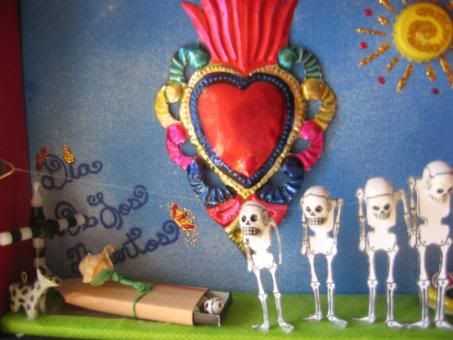 rocknroll also sent some Loteria suncatchers (so cool). Here are some of them: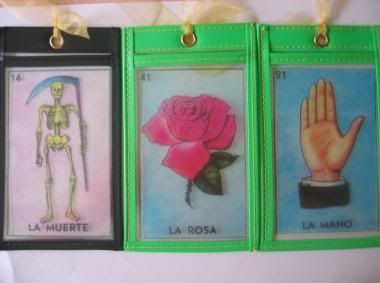 And here is one in action (try not to notice the dirty window) I'm planning on hanging these all in the window near the shrine, maybe after I pull out the Windex!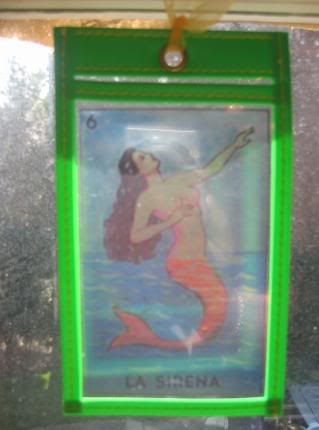 And if all that isn't enough, I had told rocknroll that some of my hobbies included reading and drinking wine, so she sent me a laminated Frida bookmark, and a really neat coaster for those drink glasses! What more could I ask for? I can enjoy using both of these at the same time!
This package seriously made my day. Thank you so much, rocknroll. I love everything you made, and I really appreciate all the time and effort that went into everything. You are a great swap partner, both talented and thoughtful!