Ingredients:
2 cups pankcake mix
6 eggs
1 pound sausage
1 12 oz can ruby red squirt (or any other soda you like containing high fructose corn syrup)
1 oz ap flour
pinch of salt
quart of vegetable oil
hard boil 4 eggs before hand and de-shell them.
split pound of ground sausage into four equal parts, roll into a ball and flatten them thin, placing the har boiled egg onto the flattened sausage and pull the sausage around engulfing the egg. do this with all 4 eggs. then take about an oz of ap flour and roll the sausaged wrapped eggs into the flour.
prepare the batter by combining 2 cups pancake mix with 2 eggs (separate the yolks and beat the whites before adding) and a 12 oz soda of your choice, i use red pop or ruby squirt. the batter should be fluff and sticky. add salt to taste.
bring vegetable boil to 350 degreees. Dredge the sausage egg balls into the batter and deep fry for 9 minutes or until thoroughly browned and heady.
dusting with confection sugar is always suggested.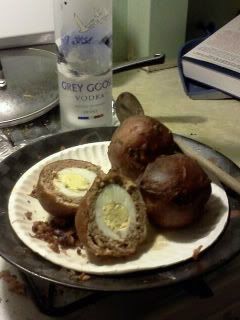 enjoy! =D