I had a birthday last week, and I decided it was time to stop being afraid to try and sew my own clothes instead of just quilts and what not. I've been seeing all the pretty (and easy) pinafore skirts around lately. I dug out some fabric I had, and started with stopthefacade's tutorial (
http://img.photobucket.com/albums/v374/ongir/Skirt.jpg
)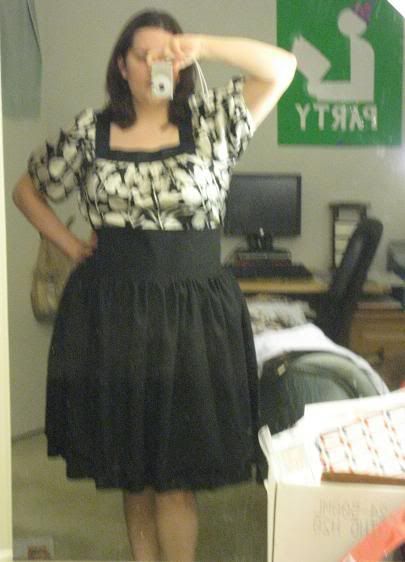 and one with better lighting...
Things I changed:
1. Did not add straps.
2. Because I did not add straps, I made a sandwich of two pieces of cotton and interfacing on the waist part to help it stand up. After fiddling around with it, I believe I will go ahead and pin in on the blouse I'm wearing underneath.
3. I doubled my fabric for the skirt part, but made the 'hems' 2 inches apart, so it has the shorter skirt on top.
4. I didn't hem it at all. Hems intimidate / bore me, so instead I just used the fabric so the bottom hem would be the selvage edges of the fabric.
5. After having a hell of a time, I realized that 4 layers of cotton, interfacing all gathered together really goes easier when you use a quilting foot. I could have cut an hour off of the skirt had I realized that at the beginning.
I think I shall wear this outfit Friday to a rehearsal dinner for a wedding I'm in on Saturday.