The three I have so far: j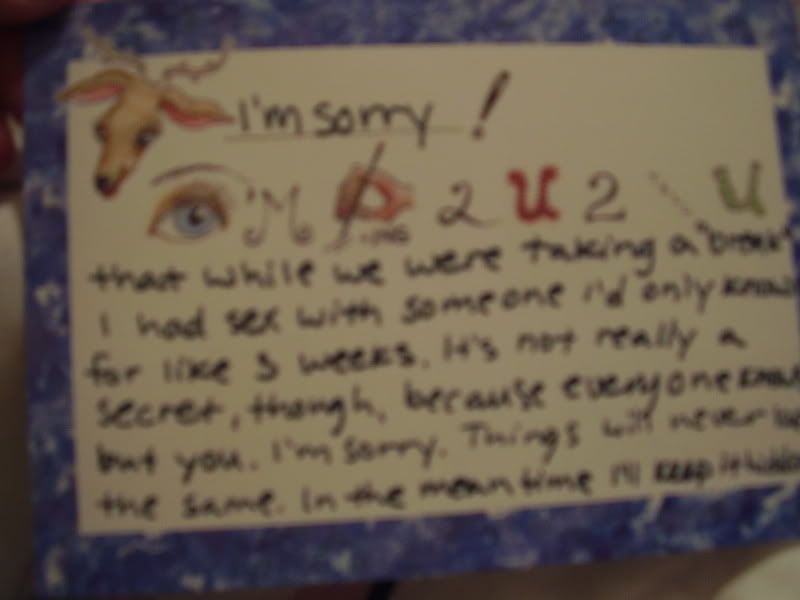 The front says: I' sorry! I'm writing to you to tell you that while we were taking a "break" I had sex with soeone I'd only known for like 3 weeks. It's not really a secret, though, becase everyone knows but you. I' sorry. Things will never be the same. In the meantime I'll keep it hidden. (the back) I don't know what to do with myself. I'll die if he ever finds out. I wish that never happened. I love him ore than life itself. That other gy meant nothing to me. What really gets me is that it was hardly sex. It didn't even go in all the way and lasted less than 30 seconds. I hate life. I can't believe I let it happen. His heart will break if he ever finds out. And we will be over. Why the fuck did we have to take a break? This guilt is eating me alive and i can't take it anymore, but I never want him to know.
The middle section: There's a hot chick in the mirror. She knows the coolest moves. SHe makes her arm warmers fro sweat socks. Her pelvic thrsts are the stuff of legend. Even her earrings have attitude. I can't believe that hot chick is me. Bt i give her a thumbs up. She gives me a sexy smile and i'm flattered, but hey, I have a boyfriend.
Left section: Whould they still love me if they knew I've been FAKING my whole life?
Right part: Everyone thinks this is me... attitude, confidence, and all that CRAP.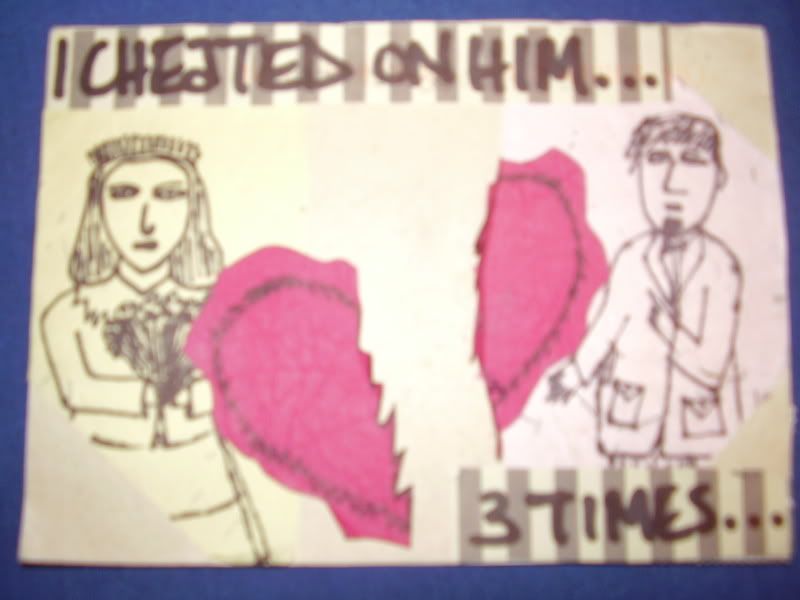 "I cheated on him...
3 times..."
There was another postcard that I received, but its front was ripped off. It was on a blue shiny postcard, though... To whomever that was, I'm sorry for the crappiness of the mail service.
Thank you all for caring to share your secrets with me. It's really meant a lot.