This is a hoodie that I helped my sister to make for her to wear to a convention. The group theme was pokemon, so she chose to make a Zubat hoodie. It was really cute, and kinda fun to work on.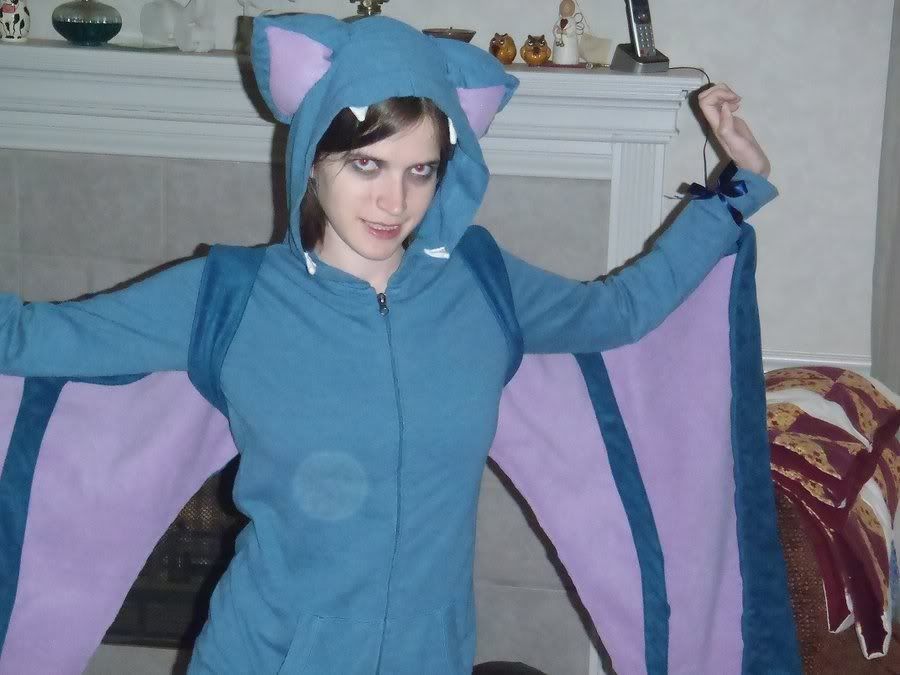 That is my older sister modeling our work.
We used a store-bought hoodie for this because she didn't want to do a lot of extra work. She did the cutting for everything [the wings and the ears], and she had me do the sewing. The ears are from the same material as the hoodie [she had bought a second hoodie to use for that and if extra was needed], though the inserts are fleece. It was kind of a butt to sew on straight, but luckily the decided to cooperate and stuck on there good. The Wings are a whole different material, that was nice and soft. It was a lot of fabric [two layers of the dark blue with purple fleece in between.], and is held on with straps and ribbons. I will say, I wasn't there when the straps were being made, so credit for that goes to her work friend, who had brought her sewing machine over for the weekend].
The ears are hand-sewn onto the hood, while everything on the wings was machine-sewn. It must have been interesting seeing me try to maneuver all that fabric when sewing, but it got done and I'm happy with it. I thought that hemming the strips in the wings would be difficult, but it was surprisingly easy. I remember being so proud of myself when I finished it, because I was able to do it in one go instead of seam-ripping or keeping it a mess like I thought I would have to do.
She was really happy with it, and had a lot of fun wearing it, so that's awesome.
You can't tell in this picture, but she was wearing vampire teeth to go along with the bat theme. [3 pairs of fangs, but that doesn't matter. XD] She did the make-up herself.
I love this hoodie, and I'm happy that she totally loved it too. It would make a great Halloween costume as well, if she wanted to use it for that. Simple and Cute.