So my little girls have been infatuated with How to Train Your Dragon ever since they saw the movie early this year. So naturally when it came time to pick a costume, my oldest picked Hiccup. My youngest, who is still too little to decide on her own, got chosen as Astrid. I made both costumes entirely by hand. They're fairly tiny girls so I made my own pattern pieces based off of current clothes that fit them comfortably. The Hiccup costume was simple enough but the Astrid costume was time-consuming and a bit more involved.
First is Hiccup. I made the vest and lined it so it wouldn't be so scratchy against her skin. She still wears it in place of a jacket. Can't blame her.. it looks warm! It's made from faux fur and lined with black satin and made my own bias tape out of dark brown suede. I also made bootcovers to put over her shoes from dark brown suede and lined it in black plush fur. The faux fur stuff is SO messy to work with. By the time I was done making the vest and boot covers it looked as if our dog had spontaneously combusted.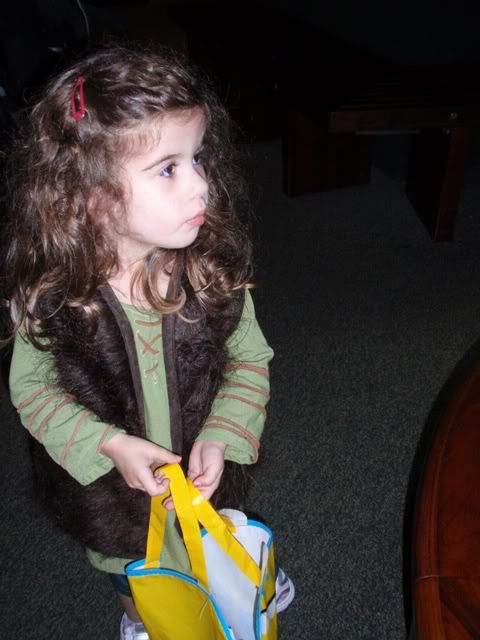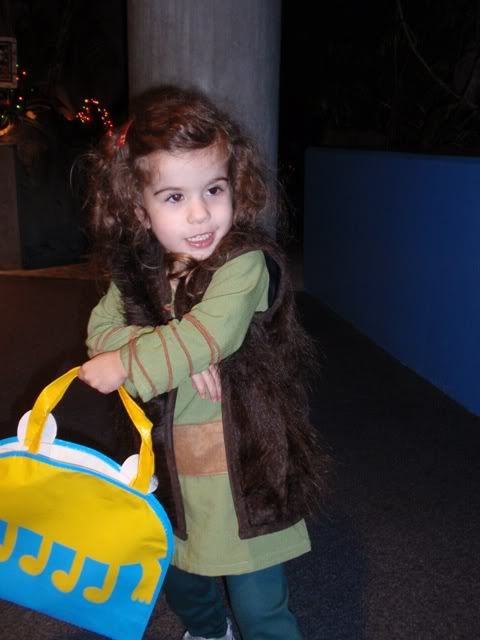 Unfortunately my littlest came down with a cold on Halloween night so she never got to wear her costume as was intended. Which was a huge bummer considering the time I put into it. So to show it off I put it on my oldest and took pics of it. This is her in the costume:
Everything you see was handmade. The shirt, skirt, pants, accessories, armor, spikes, and skulls. The cuffs I used velcro to secure them because knowing little kids, they weren't going to be on very long and wanted to make it easy to take them off later.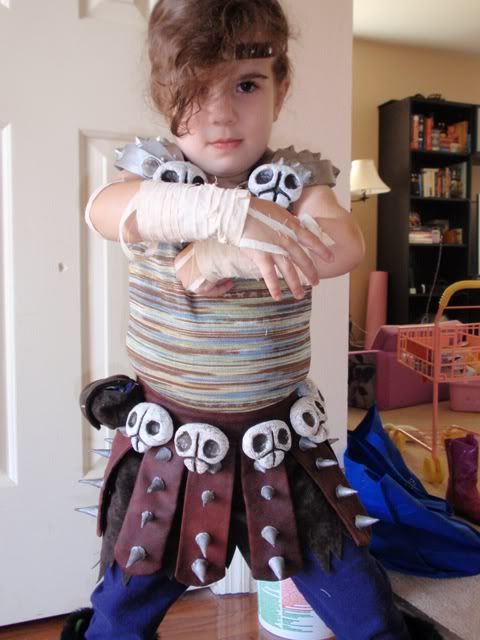 Here's the skirt made from suede. I was sooo lucky to find the red fabric that actually looked just like Astrid's skirt. The spikes were all made individually from muslin that I stuffed and painted. I then hot-glued them to the skirt. Pants were made from blue linen. The ammo pouch is made from brown suede as well and lined with the blue linen. These bootcovers were the same as Hiccup's.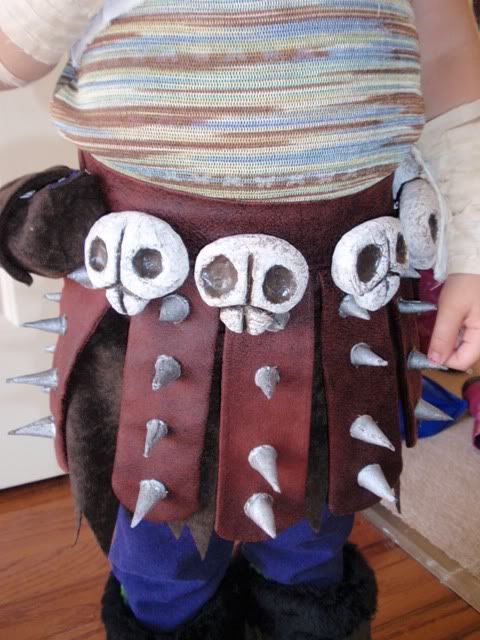 4 dozen fabric spikes!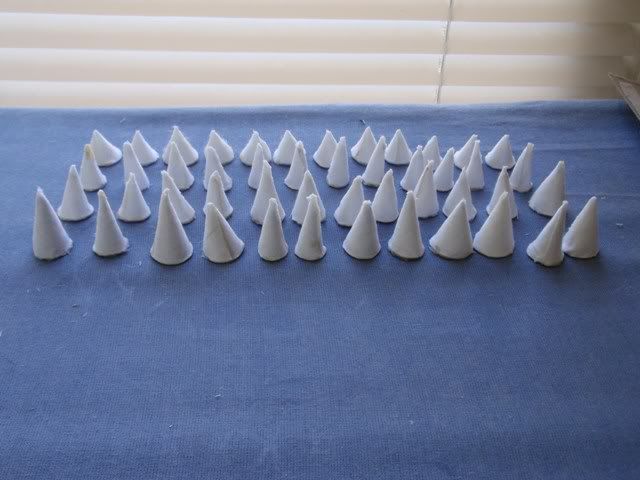 Here you can see the velcro on the cuffs.
The shoulder 'armor' was made from craft foam that I cut, sealed, painted, and 'aged'. I then secured them together and glued skulls on top. I added pins to them so that they would be easily taken on and off. Close-up on the shoulder armor: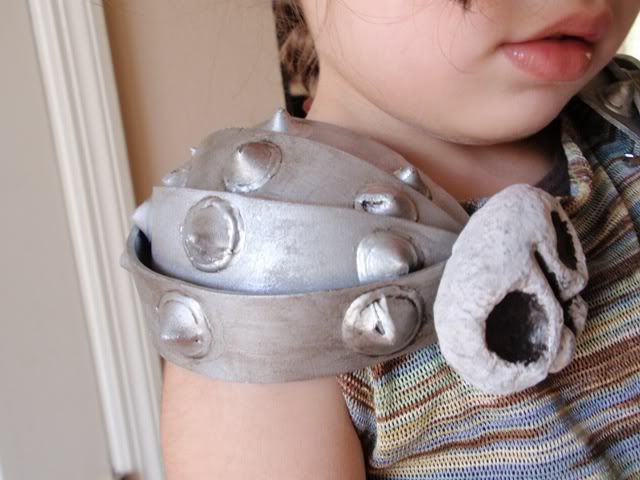 Finally, the skulls were made from styrofoam balls that I shaped and sanded to look like the skulls on Astrid. I didn't want them to be porous so I glued newspaper strips to them then painted them. I'm really happy with how they came out. I glued pins to the back to make each one easily removable.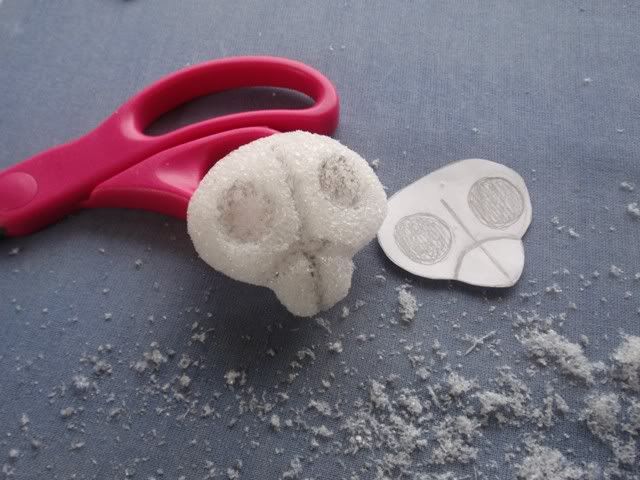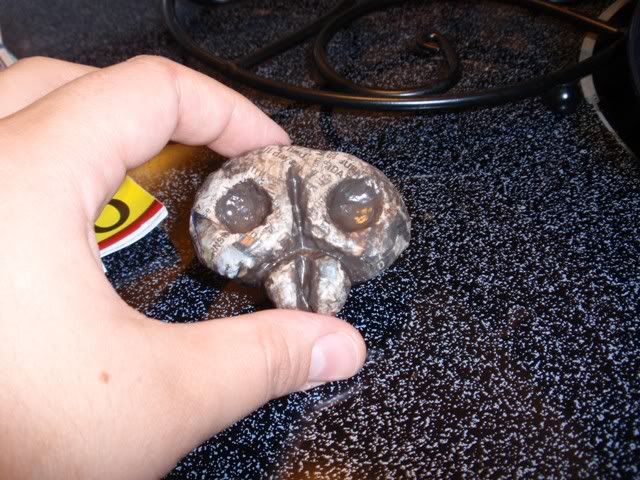 This is my littlest half-heartedly in her costume... poor thing was miserable that night.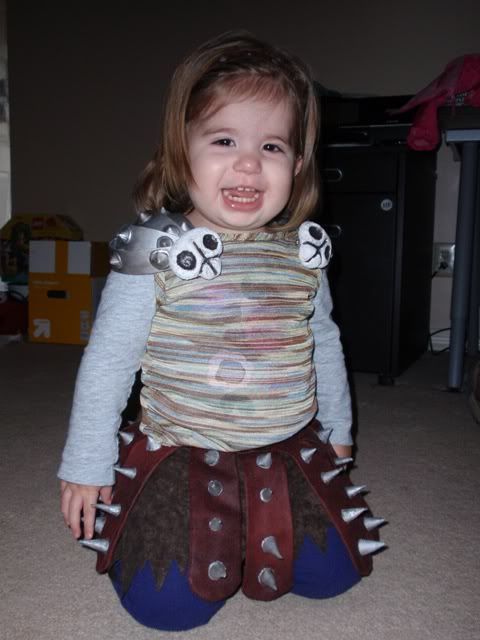 Thanks for looking!!