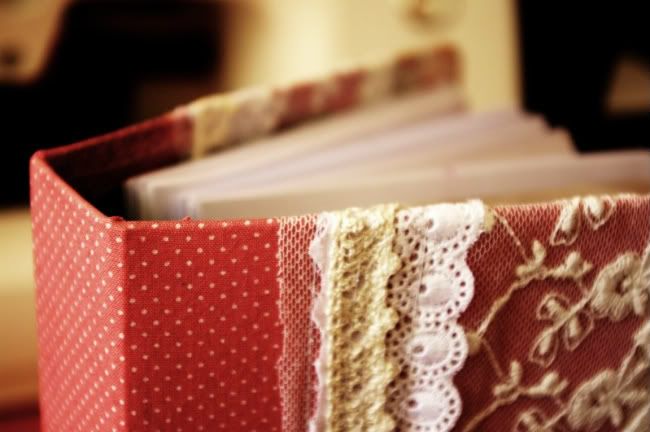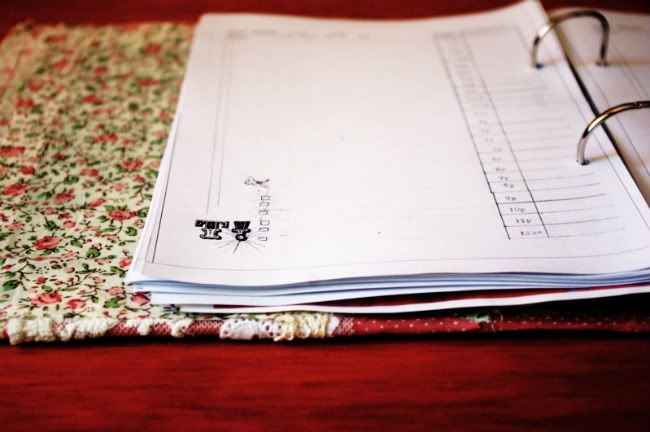 I love keeping organized with binder folders and organizers! Until recently, though, it never occurred to me to create a customizable, DIY planner system that I could recycle year after year instead of purchasing mediocre diaries and calendars that I end up not using half the time because they don't meet all my needs. I don't so much look for pretty as something that fits my taste; my design aesthetic, I suppose you could call it.
Materials:
* a $3 A5 (or A4) ring-binder from Officeworks (or your local office supply store)
* a manila folder, or any sort of cardboard that you can easily cut and sew into
* scrap fabric, lace and buttons - whatever else you want on your cover - lying around at home
* print-out templates (THIS WAS HELL TO FIGURE OUT, because I bought a new printer recently as well, and I still haven't gotten used to the flipping and reversing process of double-sided printing on this one) - also, the edges are wonky because I don't have a guillotine, and I just cut them by hand.
* a glue stick (preferably fabric glue or PVA, but I didn't have any at hand - a regular glue stick will work just fine) + scissors
And that's literally all you need to put this thing together : )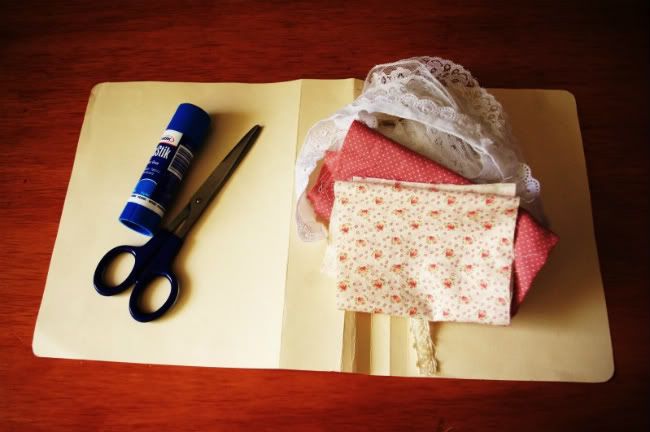 1. Lay down the fabric you have and arrange it over the cardboard until you're happy with the design. Remember to leave excess fabric around the borders!
2. Commit your final design to memory, and glue down the base fabric. I used thin cottons that worked very well with my glue stick, but even thicker fabrics should work. Just apply the glue in (extremely) liberal amounts. Or, if you have PVA glue use that! I didn't have any lying around so I just used a regular glue stick and it was fine.
3. Sew all your embellishments and little sparkly things (I didn't have any, but sparkly is always nice) and lace and buttons on. The machine needle just tanks through the cardboard; don't be worried if it makes slicing noises! That's perfectly normal.
(NOTE: I used this scallop-edged lingerie lace thing which was really wide, but I didn't want to ruin the lace shape by just sewing down the scallop-edge, so I hand sewed little x's at each of the scallop points.)
4. Fourth and final step for creating the cover! Fold your edges (trim them if you wish first) over and then sew a border around if you're a neat seamstress, or if you want some sort of border around the edge. I didn't, so I glued mine down, and that's perfectly fine too. And then remember to cover the inside of the binder with fabric too, before you attach the binder rings, otherwise it'll look real ugly.
And for some inspiration, templates and instructions on how to attach the binder rings, see Amanda Hawkin's binder series tutorials at
http://ahhh-design.com/binders