I've only done one cross stitch project and I loved it and I want to do more. Earlier this year I inherited my mom's cross stitch supplies. It has a bunch of books and a boat load of thread.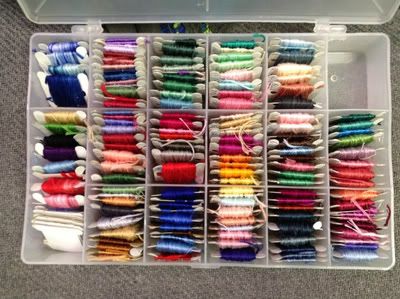 (They are currently sorted by DMC number) My mom and my embroidery forces combined! So, needlessly to say, I have a fair bit of DMC embroidery floss. I have a bunch of off brand ones as well that aren't in this box. And I've been so wanting to do more cross stitching. It would be a great thing to do for the new year! I have quite a bit of blues and reds, it seems.
I bought this pattern:
http://www.nordicneedle.com/prod/105-296-0022.html
and have yet to use it. Maybe I could start with the dark blues and go lighter and use up all the blues that way. What do you all think?