jmiller, that is an awesome HP card! What a cool idea! I especially love my HP "M" as well (for Moaning Murtle)
so pretty, simplyshereena! The veil effect is really cool!
what an awesome and beautiful zentange, jennden! I think I need to add zentangles to my list of themes because always love all the ones that get posted. I'm a huge fan of moons, too!
I received from Mountains and Clouds (earlier this week, geez I'm a slacker!) for my tree theme and she sent me an extra as well (because she's so super awesome!)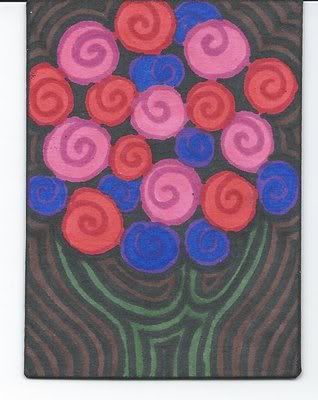 A really pretty swirly tree and another entitled "eucalyptus" that has such pretty colors! Someday I'm gonna have to frame all my trees together because I've gotten really pretty ones for that theme. Thank M&C! I love 'em!