I decided to dip my toe in the lace knitting pool. Sure, I'd done lace stitches before, but I wanted to try it with real laceweight yarn. The pretty yarn was already in the stash (impulse buy!). So I picked an easy pattern and was off. It really
was
easy, so I decided to finish this one, then make another (different pattern, though). The first is for my MIL, and the second one for my mother. I aimed for a Mother's Day deadline, but THAT did not happen (I'm so optimistic!). So the mothers received their gifts late, but I like to think of it as a little lingering holiday sparkle. Just when you think the holiday is over, you can always count on me for a card and gift with the word 'Belated' on the tag!
Without further ado, pics...
Sea Flower Shawl, from Knit n'Style (for my MIL)
Swallowtail Shawl, from IWK (for my mom)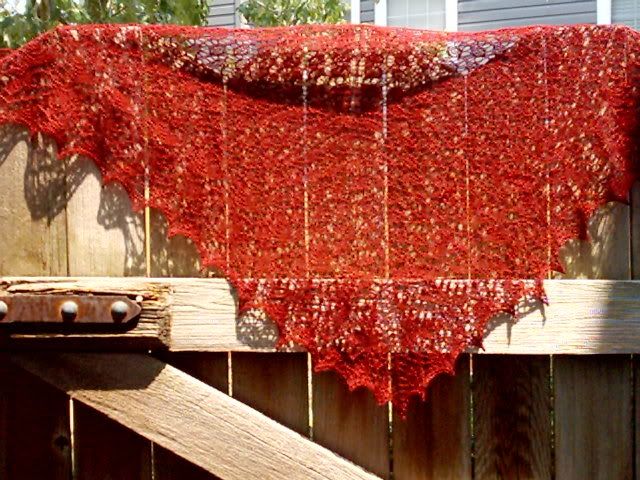 I used the same skein of yarn for both shawls. I'm thinking of turning this into a tradition, something I'll do every 2 years, for both of my moms.
The leftover yarn...and there is quite a bit!
I'm so enamored with lace now, I'm working on two for myself, both from Knitty: Juno Regina, in a rich purple, and Seascape, in a light blue.
For more details, I'm on Ravelry as madgirl73.