In Metal Arts class, we had an assignment to use bezels in a wearable (prof doesn't like the word "jewelry" since it scares away the boys), with thought to how the piece could be displayed off the body. He passed around some sample bezels, one of which was a giant taxidermy eye. I had my idea!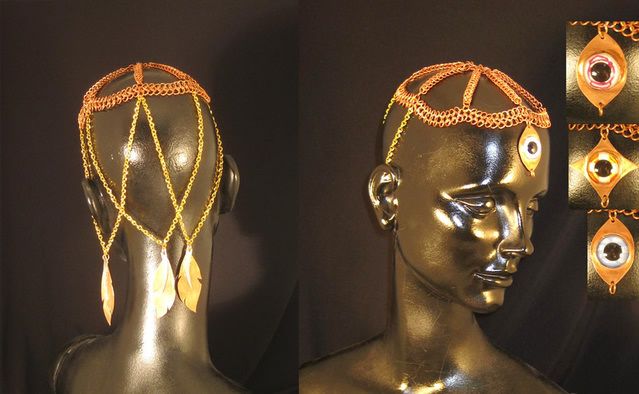 (Larger image here:
http://spacekitten.deviantart.com/art/Chakra-Headdress-84623346
)
For the bezels, I used clear, flat-backed taxidermy eyes, and painted them. The one pictured on the top is the chakra for the third eye (but it's set-in sideways! I didn't realise this until it was too late) The second one is designed after a Native American God's Eye, and the third is just some clouds. They're interchangable, but for now you have to open the jump ring to change them. I'm going to add a 'clasp' of sorts to eliminate the need for tools. I made some feathers to hang from the back chains, so that when not on the body, it can be strung onto a hoop and hung up like a dream catcher (but I haven't found a hoop of appropriate size yet).
The chainmaille part is pretty simple: Half Persian 3-1 strands connected at the top by some Euro 4-1 in the round, and a strip of Euro 4-1 around the head. The yellow-y chain in the back was purchased craft store chain, since I was running out of time and killing my hands with weaving!
All the metal is copper, except the detail pieces on the feathers (nickel silver) and the yellow chain (cheap mystery metal). I'm thinking of sneeking one of the feathers off and wearing it on a necklace, since they came out so pretty.
I am SO going to miss the Metals Shop next semester!