Hello everyone I'm new here and absolutely love this site! Sorry for the long post! Anyway, on memorial day of 2010, an unexpected project fell into my hands. I was approached by one of my uncles with a small bag. He said to me, "Aunti said she's sorry that she never got to it, maybe you can do something." When I looked inside I was very surprised to see something my mother always talked about; Her rag-Anne doll. Now, here's the short story about my mother.
Growing up as an only child, my mother became extremely close to her father. She was a great example of a daddy's girl. They did everything together, completely inseparable. But when my mother was 14 years old, he died of a heart attack, something no one expected of a healthy 34 year old man. She was devastated. A few years before his death, she had found a little box, when she opened it, what did she find inside but the Anne doll that her daddy had gotten her when she was little. But time hadn't been kind to it, and nor had the mice. Needless to say, her clothes were in tatters, her bright red hair was gone, her limbs...well they had been chewed through and had come clean off. In my family, my great aunt, was known to all the children as the Doll Doctor. She loved to make and fix dolls, so naturally mother went to her. It was the one thing she had left of her father and it meant the world to her. Years went by and aunti just never got to it.
Mom never forgot about her though. Saying she was likely lost now. It had been a little over 30 years since she'd last seen her precious doll. Well. It had fallen into my hands. And I thought, it would be the perfect gift for my mother. Mind you, the last time I had sewn anything was back in my sewing class in middle school. I was 21 years old then, and now I had to put my skills to the test. I never dreamed I would be able to do this. But, I did. When I gave mom the finished doll, alone, she cried. She read my mother's day card I gave her and cried, not believing I was serious. I almost had tears in my eyes myself as she very gently took her doll out of the bag. It was likely the most special moment the two of us had ever shared. And here are the pictures I took of her. Let me know what you all think, I may get into doll making
I had to sew in the yarn strands by hand, as I had no tools to help me with it. That took the longest. The material was tough in places where someone had used glue, (I wanted to use as much of the original doll as possible) Her head and body are the same doll, I had to sew the legs and arms myself, did some research on patterns but ended up just sewing it without one lol. I wish I had been able to find out what her dress originally looked like but didn't want to spoil the surprise. I mean, it's a rag doll, doesn't have to be perfect, but I sewed every stitch with all the love in my being!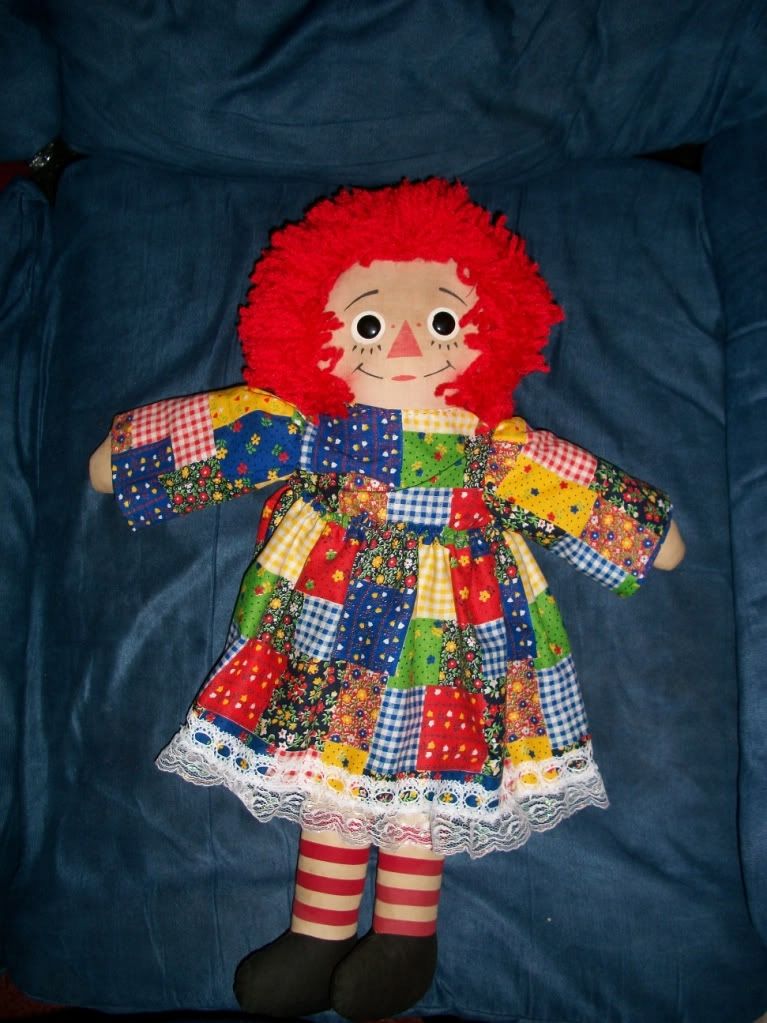 Before, as I said, no hair, and heh, the only limb left was an arm, and her torn up stockings.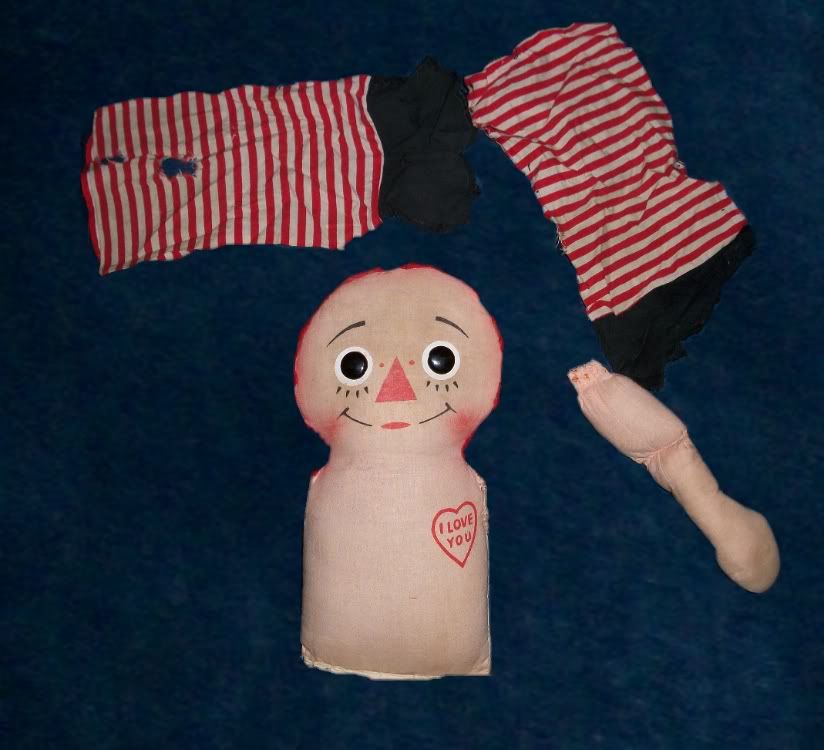 I made an apron for her from some material I found laying around. It buttons in the back so you can take it on and off.