it's never enough for me to just buy a nice, normal dress and go to a formal dance. i can never settle for simple updo and limo. it always have to be a themed ordeal. my poor date (who made a pact with me freshman year to escort me to every school dance) is just realzing that he will never have a normal dance-going experience.
so. for my junior prom, the theme was the ever epic SAFARI PROM.
i made my dress as well as eric's vest and cravat. i don't have any pictures of the back but i used gold grommets and then laced up the back with black silky cord. the bottom part of the dress was four different prints. it was very nice. i didn't use a pattern cause patterns are for suckers. sike. they're more like for people who are smart enough to know how to use them and who are gentle enough that they don't rip them to shreds attempting to unfold them.
and our mode of transportation: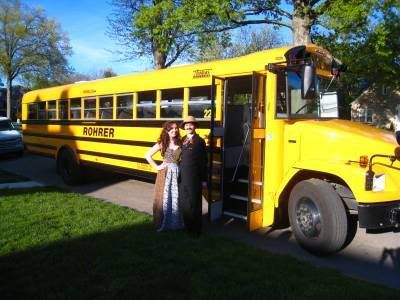 aww hellyes. big pimpin.
more pictures here:
http://good-times.webshots.com/album/558943696FLanyZ