I finished these mittens months ago, but only just wrote up the pattern. Figures I'd wait until the temp hit 90 to post a winter pattern.
The mittens are knit flat and seamed. I used about 2 balls of Classic Elite Two.Two.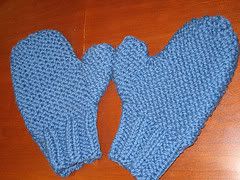 You can find the free pattern on my blog:
http://diaryofaneccentric.blogspot.com/2008/06/free-knitting-pattern-2-needle-bulky.html
Hope you all like them!