Hello, I'm new here. I love making things from scratch, costumes have always been a fave. I haven't really posted any of my crafty stuff online and am excited to share with a group of other DIYers. My pics are links since I'm new.
This year I decided to be Red from Fraggle Rock. I usually wait until the last minute to make a costume, somehow I get more inspiration this way. My husband was kicking around the idea of being a leaf heap and then I started thinking about Fraggles and how much I loved that show when I was a kid. I started thinking about how I could knit the whole costume, but of course I'd waited until the week before halloween so I decided to go with some modified cut and sew style costume.
I have a description at the bottom of the page of my process. It was a pretty basic costume construction, but I had fun trying to figure out how to make the hair stick out the sides and get my body to look more muppet like. I had a face mask idea to go with this (so my eyes and face were covered like a muppet), but I ran out of time. My idea was to knit a face mask that had a large rounded nose like the Fraggle characters, but alas I started too late!
Whole costume from the front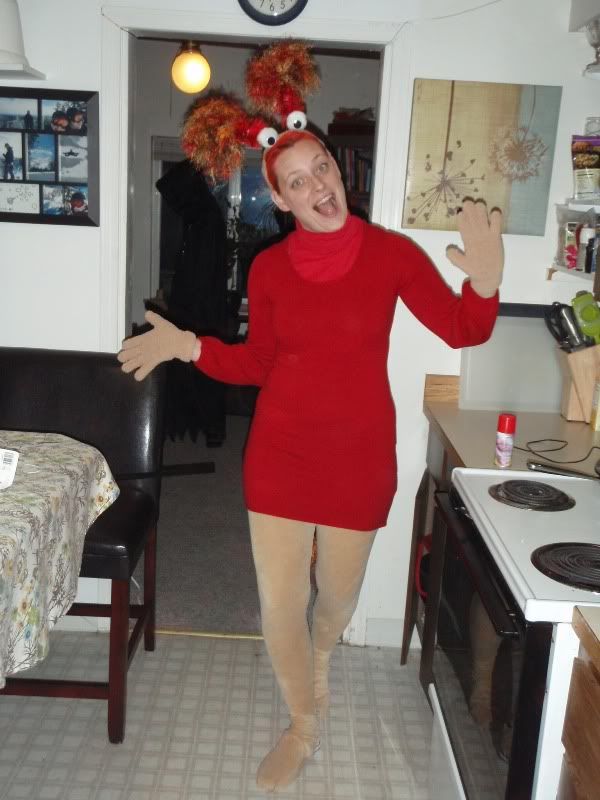 Side view (tail!), sorry blurry, we didn't have a good place to take final pics. Off to a party once we got dressed up...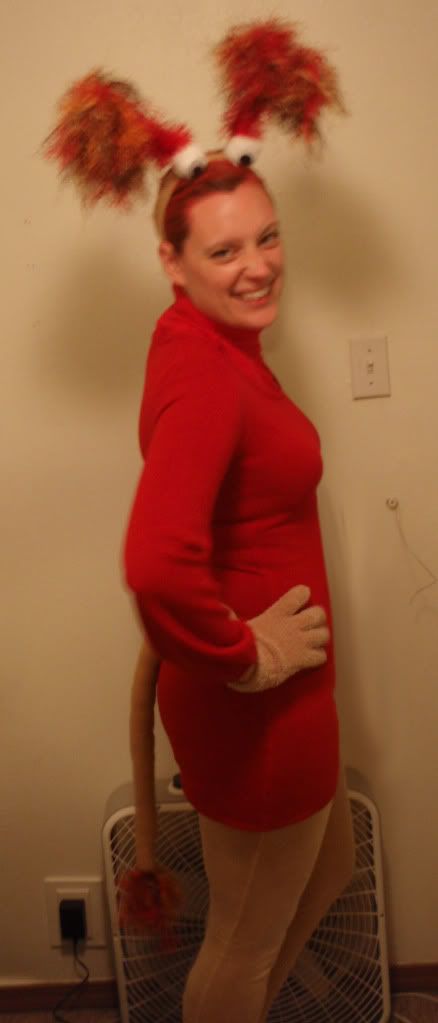 I was asked to do the fraggle rock dance, the turtleneck dickie was off. You can see the hair/eyes close up.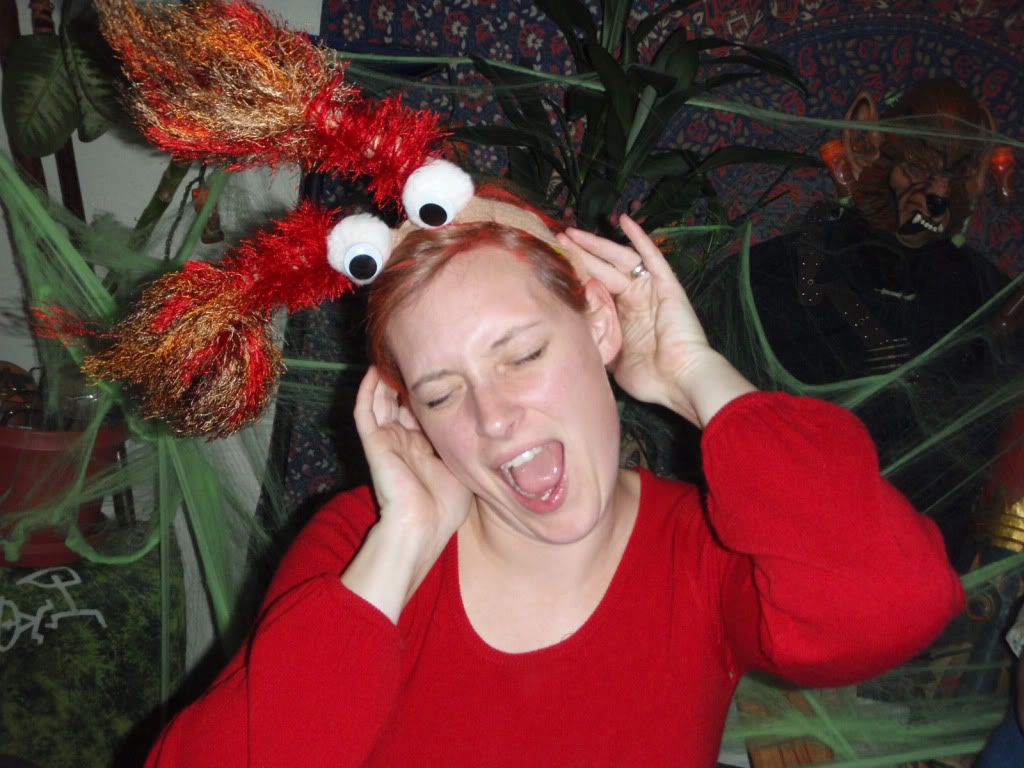 and a pic of Red in case you don't know what a Fraggle is!
I like to hodge podge things together and work with what I have, can create or modify. It's a really organic process this way and I'm frugal so it works! For this I found my clothes at the thrift store and modified them to create an outfit. I then hit up some craft stores to make the rest.
Tail: Cut and sewed a felt tube, filled with poly fill. Created a pom pom using 'fur' yarn in red and flame. Attached the tail with needle and thread to red dress.
Face/Eyes/Hair:
I bought an antennae headband and cut off the balls at the top of each antennae. I created two felt tubes that would fit over the antennae springs and stuffed them with polyfil to make them stiff enough to hold the hair, hot glued them to the headband. I covered the rest of the headband with tan felt so it would blend in. I created two pom poms using 'fur' yarn and tied them to the top of each felt tube. I covered each tube with red 'fur' yarn. For the eyes I just hot glued two white pom poms onto headband and added wiggle eyes.
Outfit:
Sweater Dress modified with a turtleneck I hacked into a dickie and sewed in.
Velvet sweat pants turned tights - sewed a really big dart down the back of each leg and cut. Used the excess material as shoe covers to create muppet type feet.
Plush tan gloves for fraggle hands!
Had a blast, wish it was Halloween or costume day everyday. Thanks for checking it out!