I am...-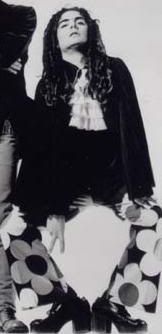 Roger Manning from the band Jellyfish! (Also from Imperial Drag and Moog Cookbook)
this is his outfit from the Jellyfish video, "The King is Half Undressed"
I made the vest and the pants, and bought the shirt at GoodWill.
I tape my boobs down. Itchy.
I origonally used a Simplicity pattern, but I didn't like it (it was more like making PJs than bell bottoms!!) and pretty much did a full reconstuction of the outfit afterwards...
I also made a 'purse' that looks like a keyboard (Roger played keyboards) that I'll post later.