Okay....as promised....here's the stuff I got from the ever-fabulous Kiwimonkey!!!
Fun shrinky-dink bobby pins in some of my favorite themes. She did some awesome stalking here...There's hearts and gnomes and skulls and mixtapes and swallows and cherries! All things that I like very much!!!!
And keeping with the unplanned hair theme...beaded flower barrettes! (I almost made some of these for her too, funny enough!)
And the most amazing thing EVER....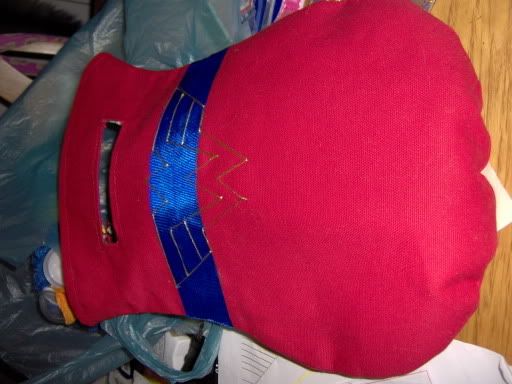 The Wonder Woman purse!!!! I instantly put everything in it and carried it all week!!! Isn't it amazing?!?!
Close up of the design...
And I KNOW how you craftsters are...you want to know about the lining!!! Isn't this just too much fun?!?!? I love the lining!!!!
Thanks so much, Kiwimonkey....You have no idea how you made my week/month so much better....it totally brightened my whole attitude! Thank you, thank you, thank you!!!
And can I just share how in BOTH rounds of the Invite Your Partner Swap, My "dates" and I have had some weird psychic connection and we make each other the same sorts of things without ever talking about it?!?! This time it was hair stuff, last round it was altered Pez dispensers....So weird, but so cool!!!