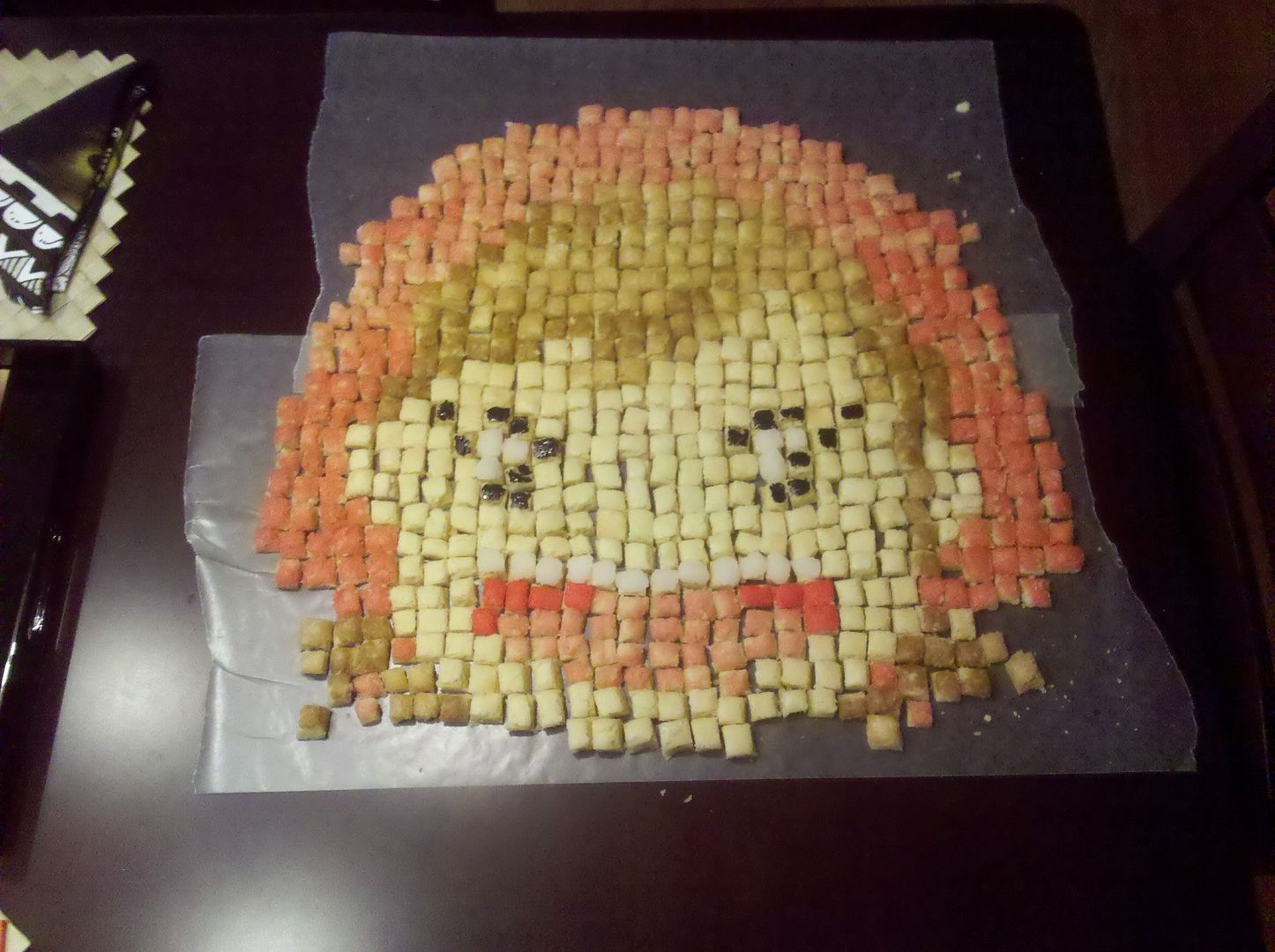 My entry for the crafting contest is a pixelated Cooking Mama made out of sugar cookies! Cooking Mama becomes Cookie Mama! I had wanted to do Cupcakes, but I only found out about this contest a few days ago and just didn't have time to make the cupcakes. As it was, making the cookies took forever!
First thing I did was I drew out my plan in Photoshop.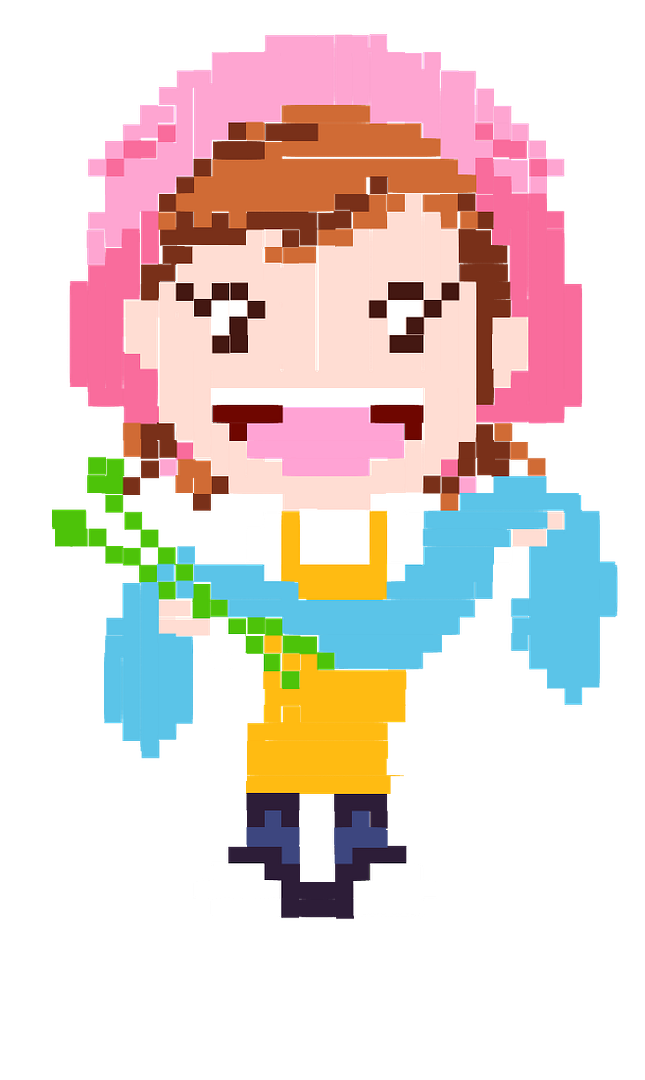 I first thought of doing a beaded Mama out of Perler/Hama Beads since that's what I already do, but I figured that a lot of people would think of that and would probably make much bigger ones than I could. I only have two trays for the beads and a limited supply of beads, so I just wouldn't be able to do a large one! I made one anyways which I used for my cookie reference!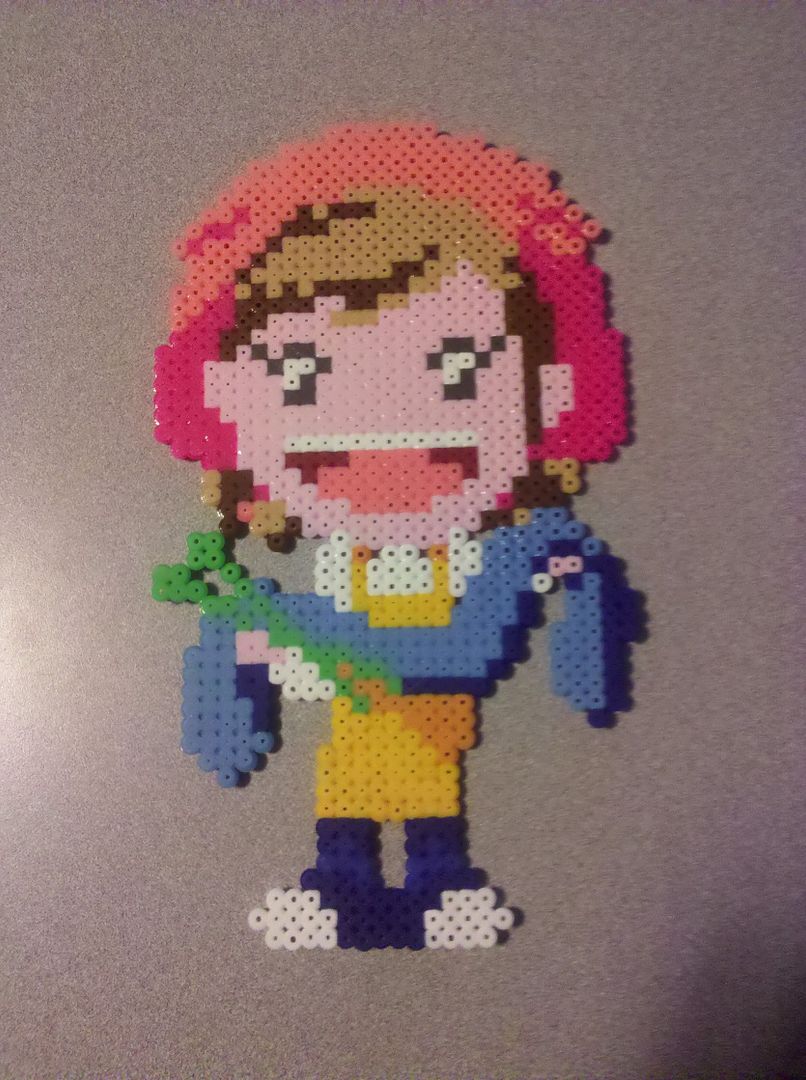 When I decided on cookies I pulled out my favorite sugar cookie recipe. It's for the kind you roll out and cut into cute shapes (In my case hundreds of squares). Whenever I make my cookies I use half butter half margarine. Since margarine is oil it makes the cookies softer. I love soft cookies! Works best with chocolate chip - Mmmmm!
Ingredients
* 3/4 cups butter, softened
* 3/4 cups margarine, softened
* 2 cups granulated white sugar
* 4 eggs
* 1 teaspoon vanilla extract
* 5 cups all-purpose flour
* 2 teaspoons baking powder
* 1 teaspoon salt
Directions
1. Mix together butter, margarine, and sugar until smooth. Beat in eggs and vanilla. Stir in the flour, baking powder, and salt. Cover and chill dough for at least one hour (or overnight).
2. Preheat oven to 400 degrees F (200 degrees C). Roll out dough on floured surface 1/4 to 1/2 inch thick. Cut into shapes with any cookie cutter. Place cookies 1 inch apart on ungreased cookie sheets.
3. Bake 6 to 8 minutes in preheated oven. Cool completely.
For this I ended up cooking 11 minutes. I also rolled my cookies out on to wax paper that I cut to be the size of the pan.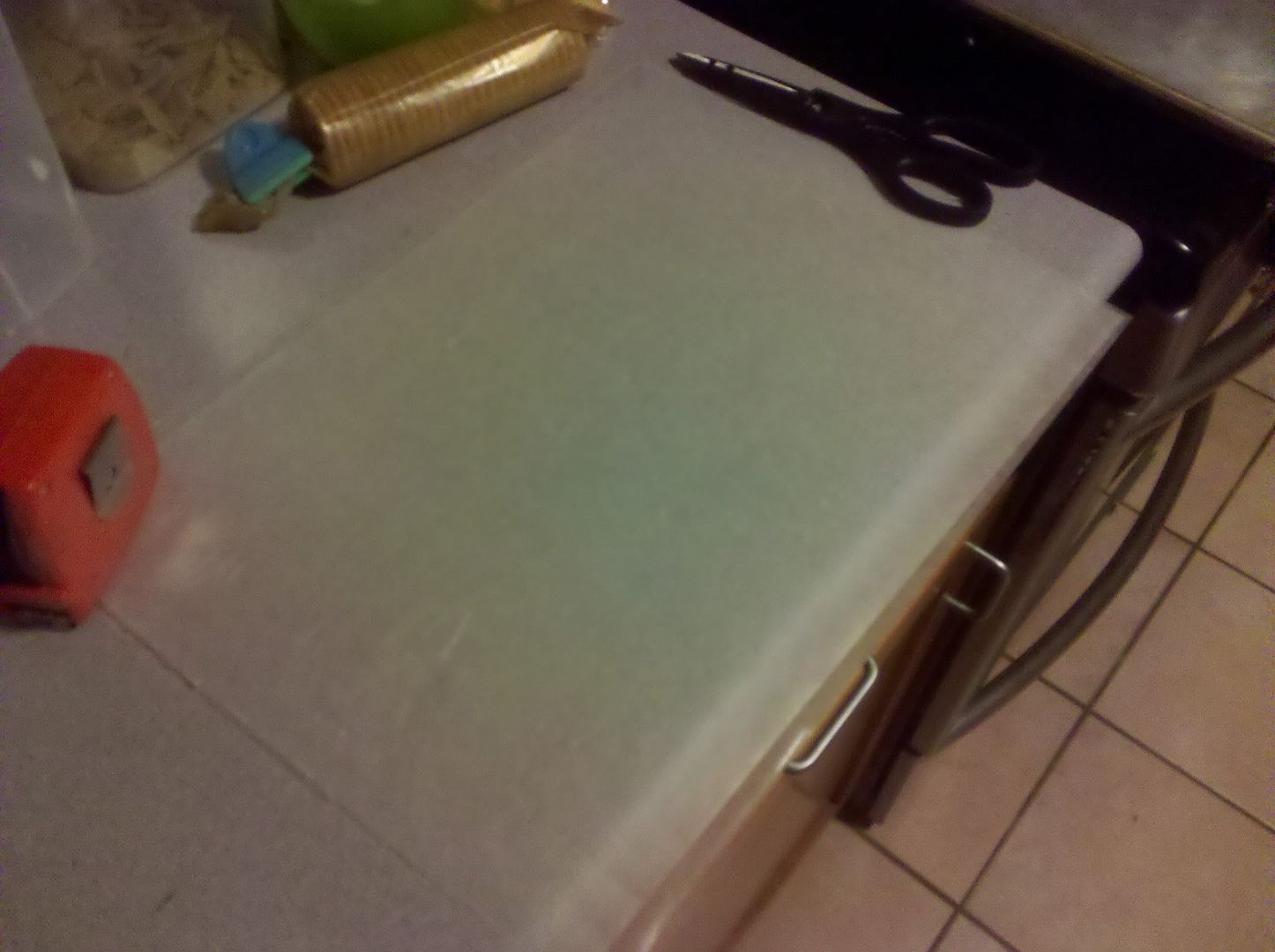 I cut my dough into thirds and did it in three batches just to make baking a little easier. The first patch I cut with a pizza slicer before it went in the oven so I had lines to follow when it came out. Since stay on those lines was really hard, I only cut the second two after I cookied them. Measuring always became taking to long and the pizza slicer didn't want to follow lines anyways, so I eyeballed it for the most part.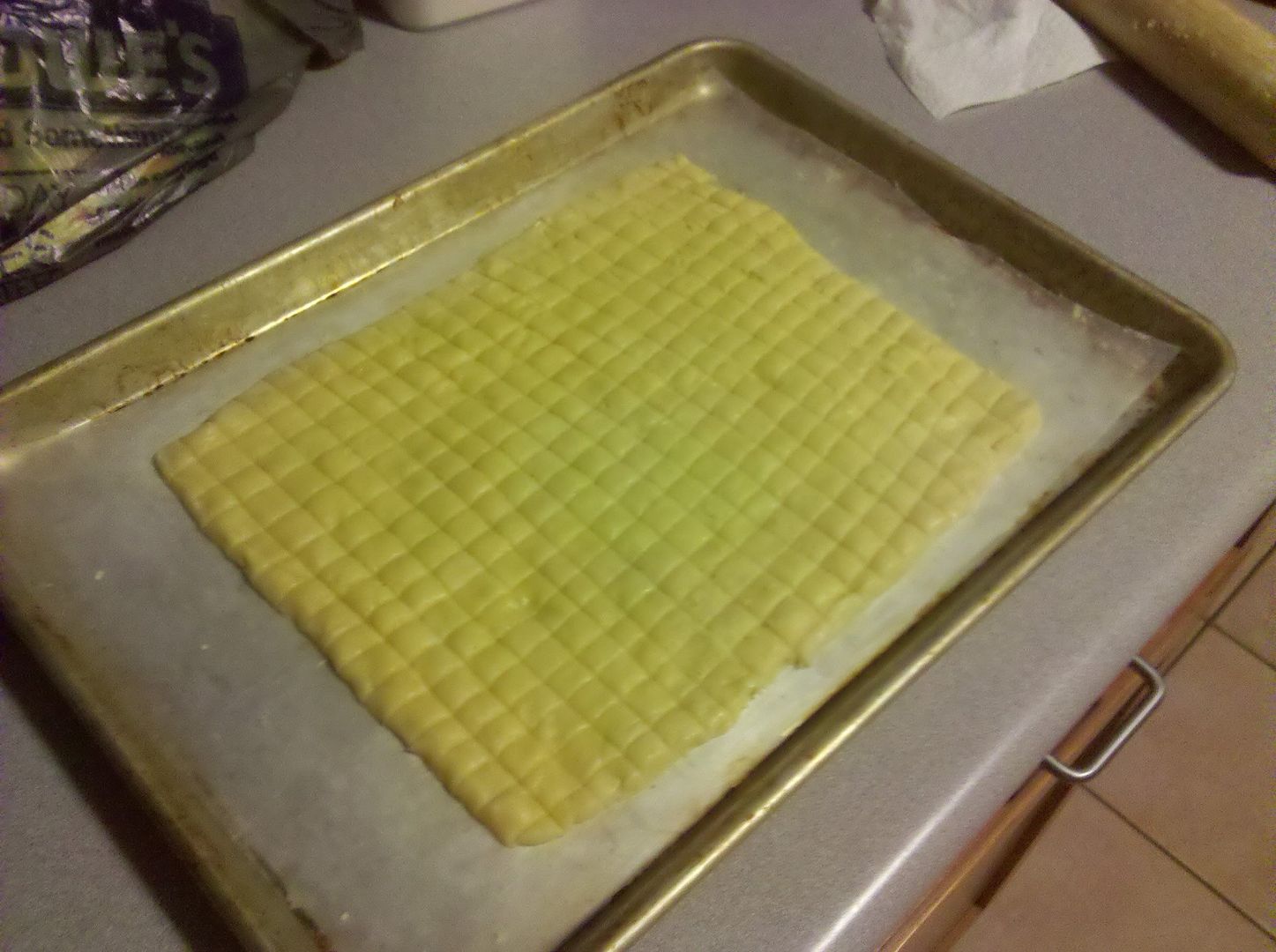 Since I didn't know how much dough it would take for all my colored pixels, I decided to die the cookies after. I was REALLY low on ingredients (I had only 4 eggs for the cookies!) so I didn't have enough sugar to make frosting. Instead, I took food coloring and put it in water, then dipped the cookies in. The tops got a little soggy, but they dried fine! For the whites I just covered them in sugar.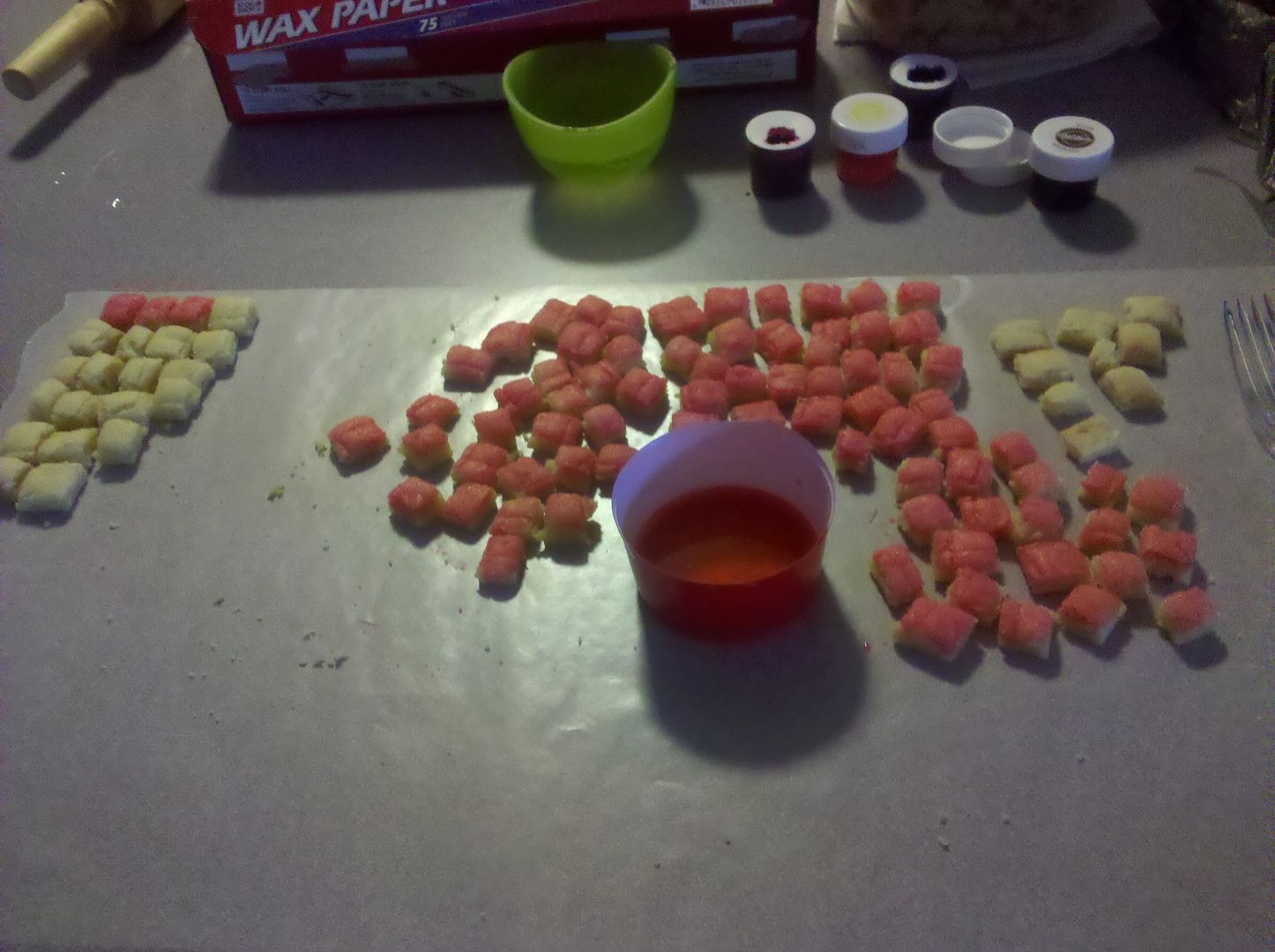 After all the colors were dipped, I assembled my Cookie Mama!