I just got my goods today, and really, I wanted to cry because I was so happy.
StarSix
made me the most beautiful jewelry set I could have ever wanted--No really, this is a big deal! I'm terrible when it comes to jewelry because I am entirely too picky, but she made me exactly what I wanted in my style! Thank you so much StarSix! It really made my day. (:
Here's everything together:
She made a necklace, bracelet, ring, and earrings in the brown style and included an extra turquoise bracelet and brown flower keychain that I am completely in love with. (: (: (:
Bracelet, ring, keychain:
Close-up of ring: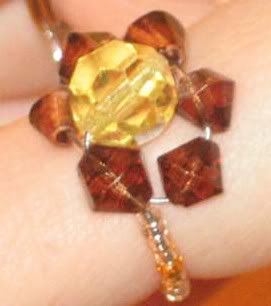 Wearing the necklace because I love it so so so much!
Yay! This has been my favorite swap thus far. (: