Hello fellow craftsters. I have a question regarding a wedding dress, me and the boy are finally "tying the knot" Aug. 28th, so I am in a mad dash to get a new dress since I bought the 700.00 one 2 years ago I have gained wayyyy too much to fit in the sucker, we are on a budget and we are getting married in a Vegas style chapel I decided instead of getting the other one altered since it's all fancy I'd just get a new one that is simple and within reason.
Here is the dress: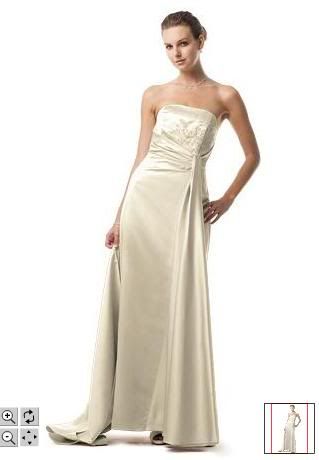 The problem? I am a big girl, like a size 24 big girl..
The question(s)
1. Would a-line look good on a bigger body?
2. Do you think there is any breathing room in the hip area for my lower stomach?
anddd
3. Do you think the lower pudge will stick out so bad it will look like I have a tube of sausage in my dress?
By the sizing chart my body must be really odd shaped because my bust would fit a size 20 dress, my waist a 22 and get ready for it...my hips a 26 ( I am 2 inches too big for a 24) Would shapeware take off 2 inches? It's not so much that my hips are wide I just have a HUGE lower tum (not grotesquely huge). So regardless I am going to need altering on the upper part of the dress because I am going to have to buy a size 26 if I settle on this sucker the bust and waist will be way to big. Couldn't I just buy some saftey pins and pin the extra 6 inch bust evenly (like 3 inches on one side and 3 on the other) under my arms?
Please be brutally honest, trust me you won't hurt my feelings. I just want honest input... After all I don't want to look like the stay puft marsmallow man or waste my money
Thanks in advance