Okay so in case anyone is interested I have a few more things done on my quest to go mad planning and preparing for these two events (wedding and baby shower) all within a month, lucky for me I'm not pregnant or getting married again!
Okay so... diaper cake which I thought would be a lot harder than it is... although, I am sure that if I had help from say... anyone besides myself this stuff would be a lot easier on me... so here it is...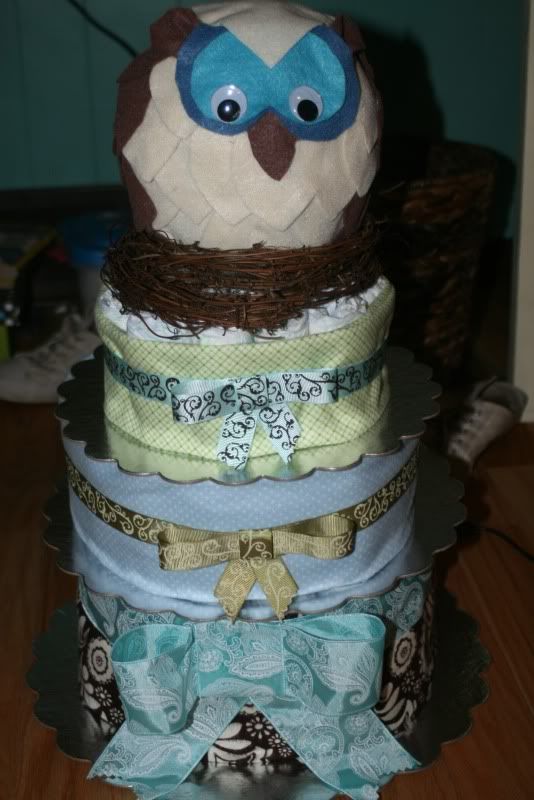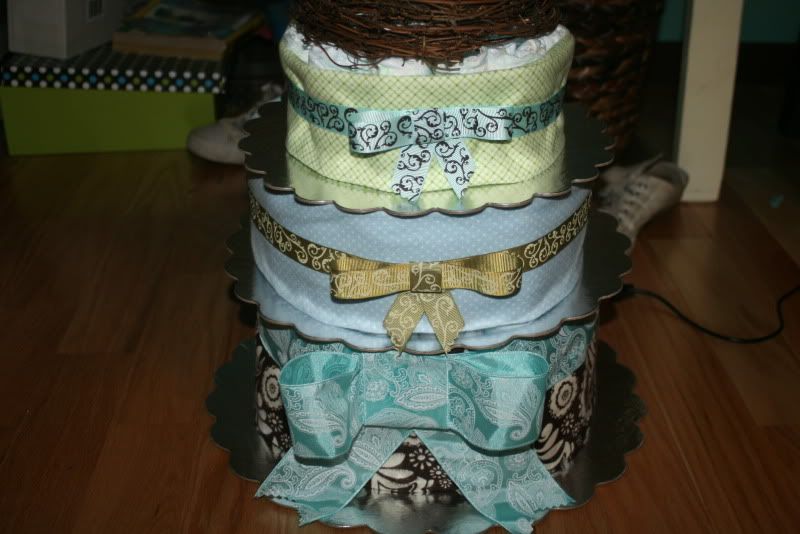 So... even if it doesn't look like their are diapers in there I promise you it is packed full of them for the little guy! Then I wrapped each layer with flannel baby blankets I made for my sister and then ribbons and bows you get the picture... ( I have extra stuff for the cake pacifiers, rattle, etc. didn't want to add that because I have not quite stopped buying stuff) I'm planning to also add dowel supports so that the fabric doesn't sag on each side, I think that could be a problem and I don't want it to look saggy. The top two layers are one diaper thick, and the bottom has two layers of diapers resting on a 16" cake stand. I decided to use those just for easier transport, I may or may not cover them. Okay so... the owl on top of the cake is made from felt, googly eyes, duct tape, a scrap of fabric and stuffing...oh and lots and lots of hot glue!
Alrighty so on to the centerpieces...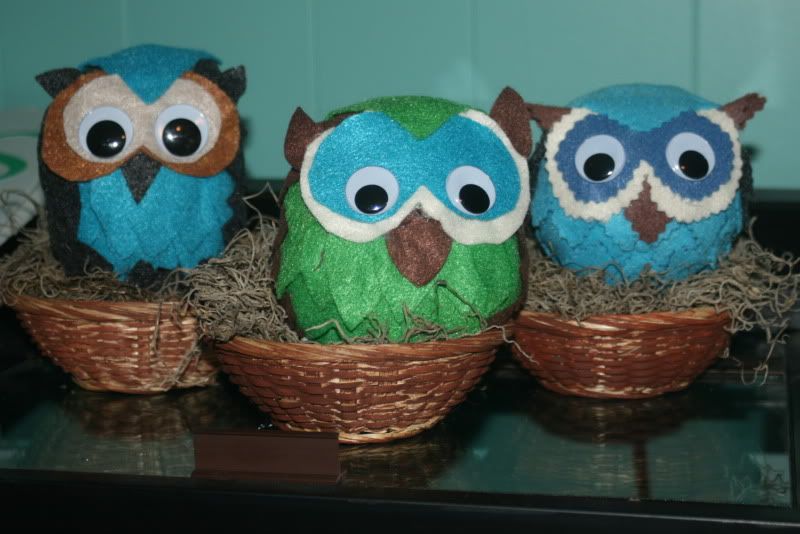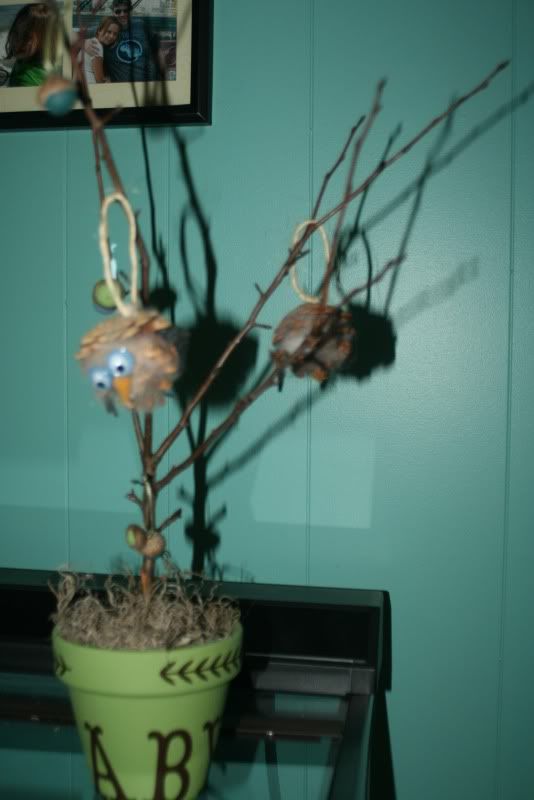 Owls that are in the small nestish baskets are made in the same way as the bigger owl on the cake, and stuffed with... my favorite thing of all time "Spanish moss"... cute affect I think BUT!!!! it's so annoyingly messy... I have already had to use it for several things and it makes me want to hurt someone. These will also have two little signs in each nest one that is a little flag saying "it's a boy" and one just a general bird house that I made out of cardstock, when I took the picture I forgot to add them sorry. I will at a later date I suppose if anyone is interested.
The potted trees are from branches in my own front yard, in Terra cotta pots that I weighed down with plaster of paris, painted and added vinyl lettering and pictures to. Hanging from the trees are acorns that I painted and added ribbon to, and owls made from pine cones, buttons, google eyes, and stuffing dyed with my "Tim Holtz" Distress Ink... found a new use for that I guess.
If anyone wants to know better how to make anything I'll be sure to let ya know... I can also take better up close pictures too if anyone would like to see them.
I have also taken the idea for the diaper cake and turned it into a "towel cake" for my cousin's wedding shower present. She is getting married in November but her shower is in two weeks, I have no part in planning that thank goodness! I am however making her decorations for her wedding. Here is the towel cake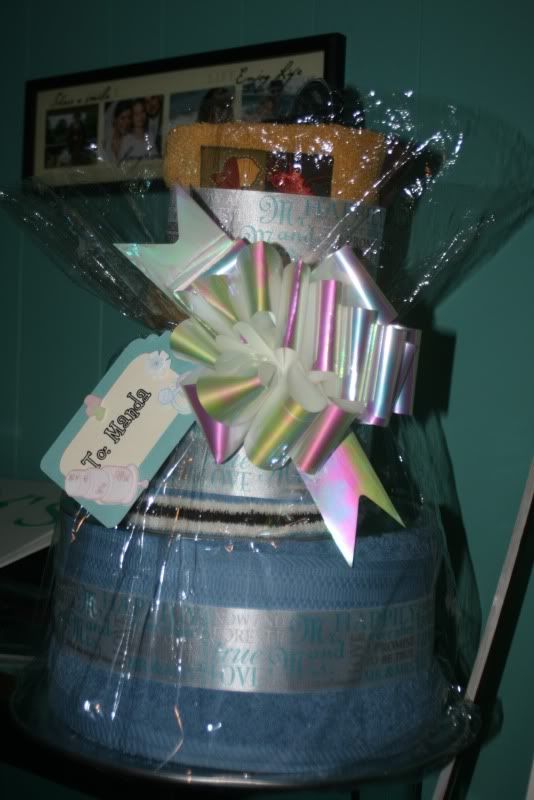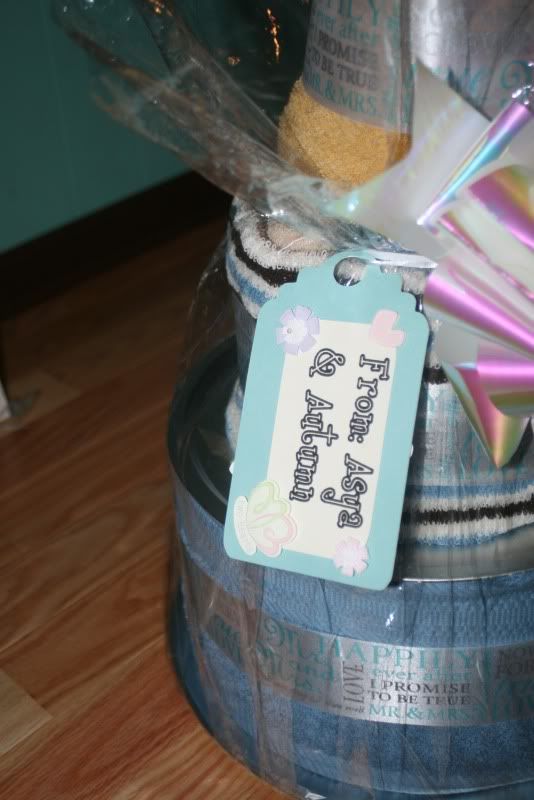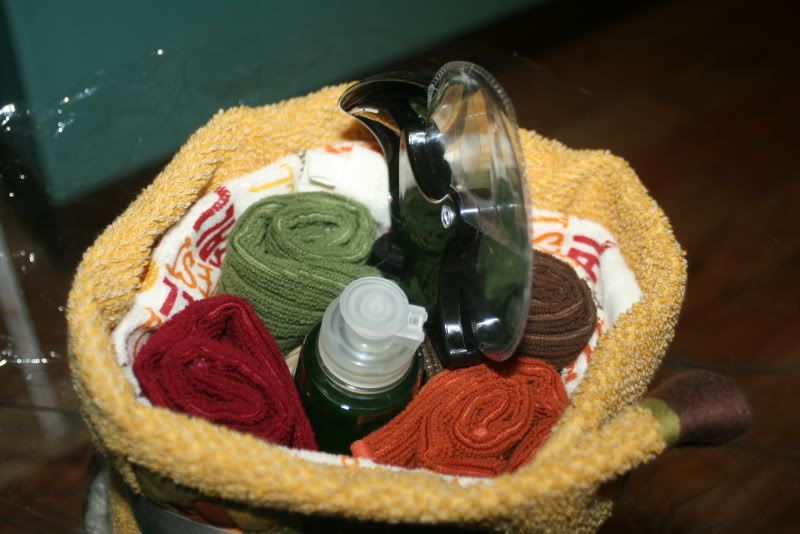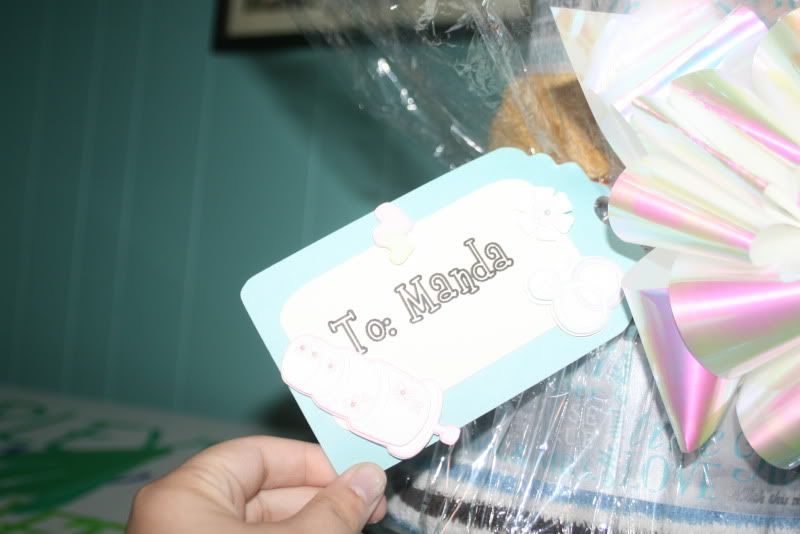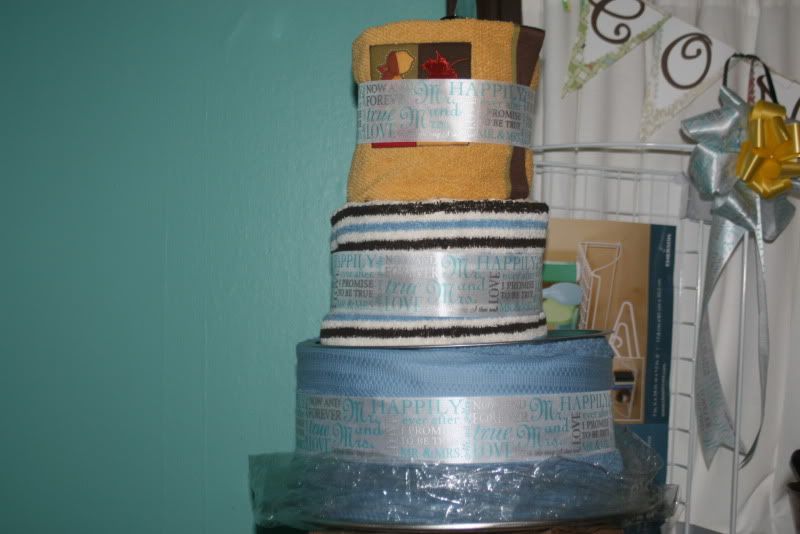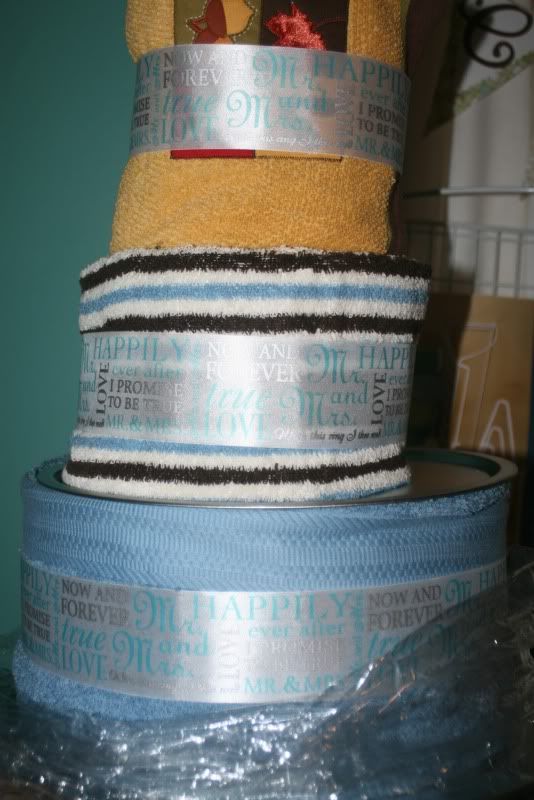 This one is made a little differently and not quite as... "tight" as the baby shower cake is... because it's mostly just towels... these were all from Kohl's except for a few things on the top layer.... I used pizza pans for the cake stands because she had them on her list and I figured they made pretty good cake stands, the bottom layer is 4 larger towels all rolled together and wrapped with a ribbon on top of a 16" pizza pan, middle layer is 12 washcloths with an oven mitt shoved down inside which extends to the top layer on top of a 12" pizza pan, then wrapped on the outside with a hand towel. the top layer is the oven mitt in the middle stuffed with a pizza cutter, dish soap, and ice cream scoop. The next layer is 4 fall colored dish rags, and then wrapped with two fall dish towels that came from Kohl's too. The top layer is not as secure as I would like because it has no "hard" support but it's wrapped pretty secure and then I used a rubber band inside secure the inner circles together. I also haven't secured anything down to the stands yet so they aren't quite center... but... that's basically it. Hope you enjoy!