So I was looking for some Mario patterns and found one on
http://nerdigurumi.com/2009/12/goomba-gurumi-pattern.html
, which is an awesome site with a bunch of patterns that are easy to understand. What shocks me is that I actually finished something that isn't a small square! So, here is my Goomba. Next time I'm going to try and make my own pattern for something. Eventually. Maybe.
Here is the front profile: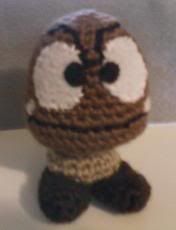 And the sides: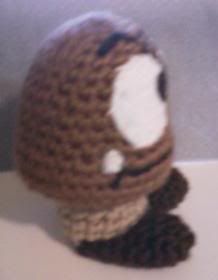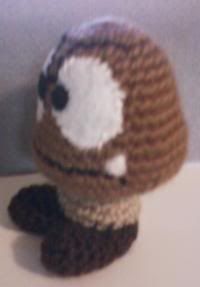 And this one was just for fun! He looks so angry, I had to get one showing off his attitude, not that it turned out that well:
Even though he was my second completed amigurumi I am very happy with him, mistakes and all. I'm not even going to post my first amigurumi as it turned out so bad you wouldn't even be able to tell what it is if not for the bottom part. It would have helped had I known I was making it inside out. Oops! Oh well, that's how we learn. I'm in the process of making one for a friend's son as a birthday gift. With any luck he will literally love it to death!