wow, i posted on here almost a year ago... and i'm posting again now.. who know this thread would last through two Westby Proms (the art majors fundraising prom). last year i used a burday pattern, this year, it's Butterick Retro '57, so that's Butterick B4512

hopefully i'll be able to finish the dress in the next two weeks... cross your fingers for me!

and here it is! the prom was on cinco de mayo and we had Matt & Kim play! if you don't know them, you need to!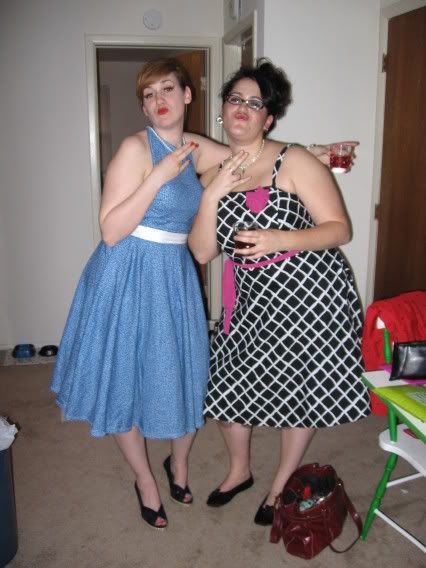 and these are my dates... unfortunately, my boyfriend was the one taking the pictures for the prom, and i didn't get one with him... but that's ok, cause my dates are cuter!
oh, and it was a plus size pattern, but i'm a size 10...so i had to cut it down to size...only the top was too long for me, so i got some funny bunching. and i added the bow, it's actually sewn on... i hope someone took a pic of my bum, cause it's super cute! (the bow, not the bum)