So, I came up with this in response this post here ->
https://www.craftster.org/forum/index.php?topic=397714.0
I got so excited to make it that I got a little slapdash in the end - I didn't have proper pizza toppings. This would be so fun to do instead of a gingerbread house, though, and certainly would be a fun surprise for your kid (or SO, let's be honest)! I promise you it was not very difficult.
You will need
1 Batch of Bisquick dough
(I did 2 1/4 cups with 1/2 cup milk so that it wasn't too sticky; you could also probably use the refrigerated canned dough. I'd guess you'd use 2 or 3 cans for this)
Template
Sharp paring knifePizza toppings of choice
1. To make my template, I took a 3x5 card and measured 1/2" in on either side. From there I cut out rectangles that were 1" long and 1/2" wide. (See photo below.) The second piece I made by measuring a 3" square on a piece of paper. I then drew an 3" equilateral triangle on top of that square to make a "house shape". Exactly in the middle of each side of the "house" I added notches that are 1/2" wide and 3/4" long (See photo again.)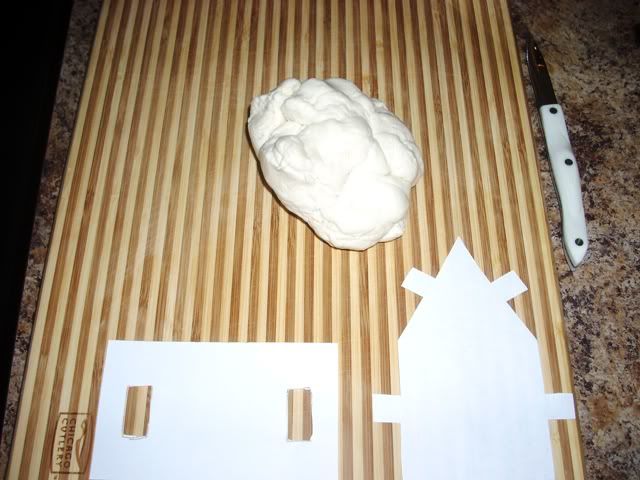 2. After kneading the biscuit dough to the point where it was no longer sticky at all (add more biscuit mix if necessary), I rolled it out to be nice and thin - between 1/8" to 1/4". I then placed my template on top and began to cut out the shapes with my paring knife. Cut 4 rectangles and 2 house shapes. Reroll dough as necessary - I was able to get one whole house out of this single batch of dough.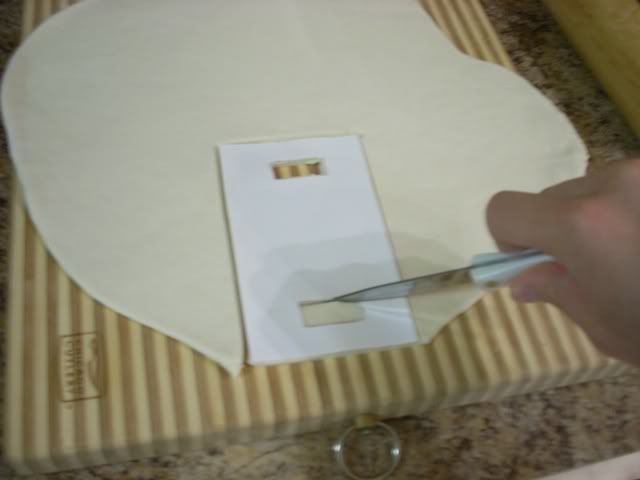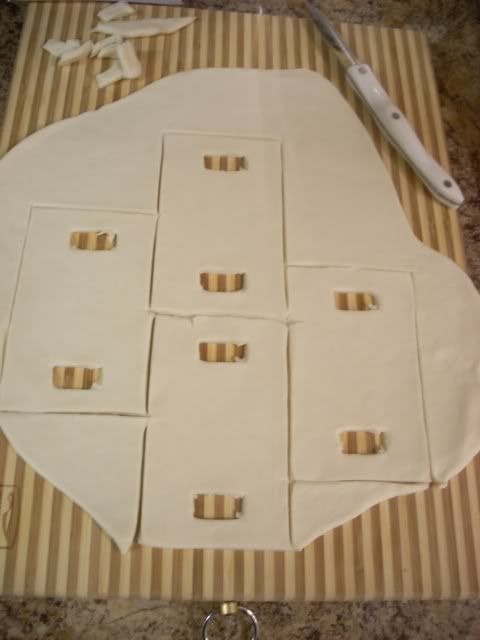 3. Place these on a sprayed cookie sheet and top with your toppings. I had like nothing in the house, so I improvised with some ham and green onion. Some pepperoni shingles would be so rad, though!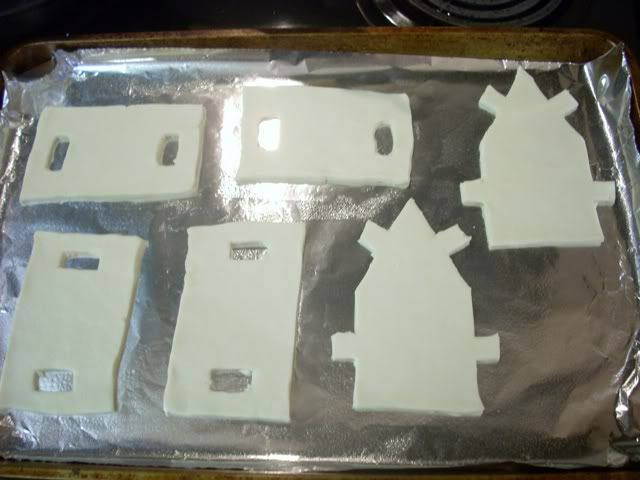 4. Bake at 450 degrees F until the edges are just browning - it was 6 minutes for me. Remove from oven and let pieces cool slightly, then assemble!
Though the back isn't fully secure in the photo, this thing is actually really sturdy. I'm thinking I'll do this again once I actually get some tomato sauce and better toppings, so maybe I'll get some better pictures up then. Let me know if you have any questions!