I made these for my oldest step-daughter (5) and niece (4). They are very close so they always want to match, and their new favourite color is purple thanks to a certain (incredibly popular) cartoon.
The fabric texture is almost like seersucker, it's very light and a little puckery. It's actually for making children's yukata out of, so it's very light and comfy in the summer, which will probably last until the beginning of October again.
(little SD wanted to be in the picture too, but chose not to look at the camera
)
The last one was inspired by Vegbee's twirl dresses... or rather, my step daughter saw one on the computer screen, and said "Guess what I want for my birthday!" Purple is not a traditionally popular color in Japan, so I probably bought a piece of every single purple fabric in the whole store. I also don't have enough patience for quilting so this dress was very difficult to make. But, it was fun making some of the squares into secret pockets, covering some with lace, etc.
Unfortunately, A is also really skinny so the pattern for the top, which is supposed to fit someone her height, was huge on her. She can wear it next summer.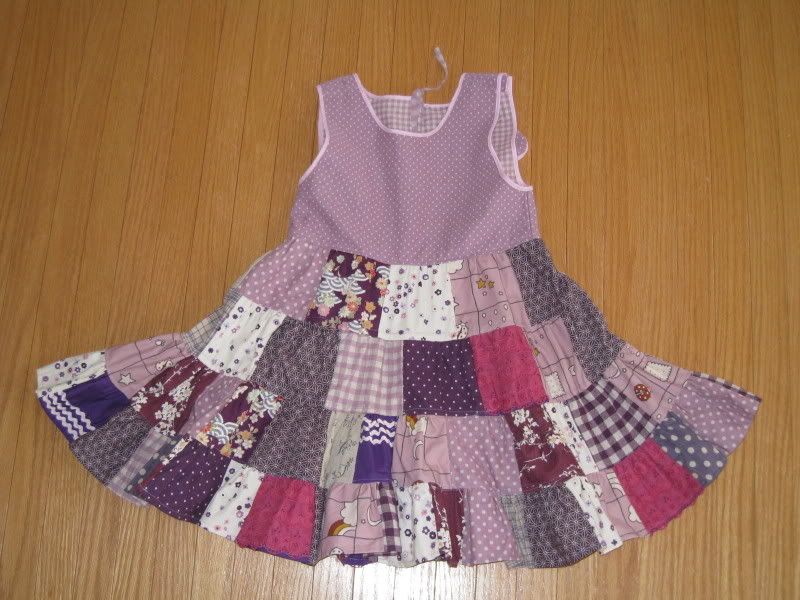 I have to take cuter pictures from now on, hahahaha.