Thanks for your replies!! Hopefully next year I can get an action shot of the patchwork dress
About the pattern, I altered this one(from the book, "1メートルでできる子ども服/Children's Clothes from One Meter") to use as a base: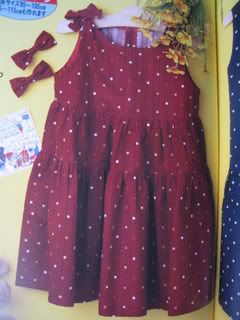 bigger -->
http://i12.photobucket.com/albums/a218/cagamy/IMG_2510.jpg
It's very easy to use, just draw it out on muslin or pattern paper- the numbers are all centimeters- and add in seam allowance. The numbers in parentheses are for kids 95~105cm tall (3/4 years) and the numbers outside of parenthesis are for 105~115cm (5/6 years). And if you don't alter it, you get that cute, high-waisted 2 teired dress.
Anyway, to make that A-line dress, I used the bodice front and back in the top right corner. Separate the pieces, put the middle front and back on the fold of your fabric, and extend the sides at a diagonal about 30cm, and then add a 12cm high ruffle, which should be about twice the hem of the dress. The original dress calls for a slit and button closure in the back, but I just made the necklines bigger instead.
*For the white lace dress, lower the front neckline and add a lace inset. For the sleeves, cut out a piece the same width as your lace, and then insert the lace like you would do a french seam- the raw sides are coming out the top. Then you can finish by zigzag or a decorative stitch on top of the lace.
*For the purple ribbon dress, leave the neckline the same in the front and lower the back about 4 cm. Then, put in a tie to hold the back closed. The ruffly sleeve is just a really long "D" shape, gathered and attatched to the shoulder with bias tape.
Thanks again, everyone! If you have any more questions, please feel free to ask.