Hi everyone! Long-time lurker, first-time poster. I figured that I would share some of the nail art I've done over the past few months. Interpreting video games into manicures has been really fun! These were all painted with a mixture of acrylic craft paint and a whole menagerie of nail polish. On to the pictures!
The first video game I tackled was Sonic the Hedgehog 2.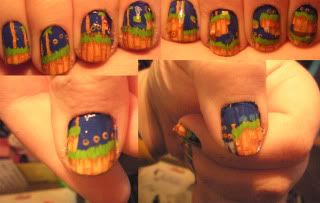 I later went in and added Sonic and Tails. (Totally forgot to take a picture of Tails- he was on the opposite hand.)
Super Mario 3 was requested, and was painted next. There weren't any characters on this manicure- just the backdrop.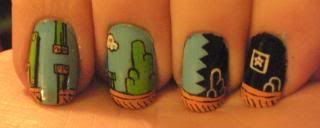 The latest manicure is from Mortal Kombat. My left hand (pictured below) featured Scorpion spearing Baraka, and my right hand had Sub-Zero fighting Sektor.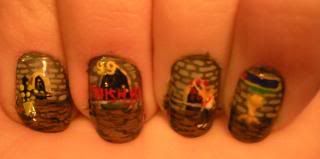 I'm always looking for suggestions of different video games to do! I might tackle Tetris next... Let me know what you think!