We lost our 5 year old son this July and I've been trying to find something to do for the last two months to keep his memory alive for my older son. My friend at work gave me the idea of making an advent calendar and I went from there. We took 25 of his toys and made them into ornaments by adding sparkles, hooks, and Christmas touches. I think this turned out wonderful and we look forward to opening one each night.
Our Christmas Cootie complete with google eyes. This one my son made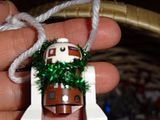 Star Wars which was my younger son's favorite all time movie series.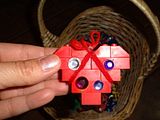 A Lego heart made by my sister.
Lego Knight made by my mom.
We had most of the family involved and everyone made a different ornament which really made this project special I think. The best part is that my older son will have this for the rest of his life and he'll be able to remember his brother and all of their favorite toys that they played with.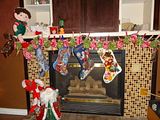 Next I made pouches with Christmas fabric and ribbons and hung each pouch up on a long ribbon along the fireplace with all of our stockings. Each night we light a candle before opening the pouch. Unfortunately the holidays can sometimes be difficult, but if anyone has recently lost someone and is having a difficult time getting in the holiday spirit I think a craft somewhere along these lines is a good starting point. I know it really made my family happy