We've been working on our kitchen for the better part of one year now--when we moved in a year and a half ago, the best adjective to describe the kitchen (and the house really) was deplorable. So deplorable I only took one pic of the old kitchen: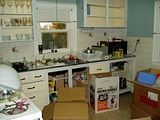 Suffice to say, it was gross. I had already painted the inside of the cabinets in that photo. You can't see it, but the fridge was actually positioned in the middle of the room (!) And the old radiator was all rusted out and filthy. And the floor made me shudder.
So we got busy:
New floor: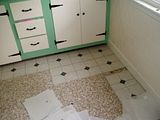 New paint and curtains: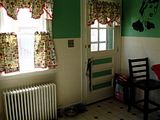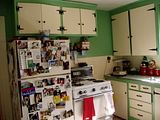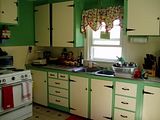 Here's a closeup of the fabric I used to make the curtains--It's a Michael Miller fabric appropriately named "Fifties Kitchen":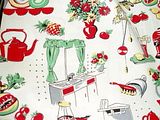 And here's what you've been waiting for--meet "Betty" before pic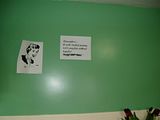 And Betty all moved in :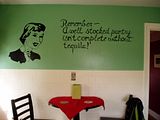 We love her!
Thanks for looking!
Jules