Sorry to hear that everyone is in the dumps... I've got just the thing to cheer you up - PICTURES OF THE GREAT KNITTING BAG I GOT FROM MY SECRET FOC!!! (yaaay! wahoo! yippee!!)
You will understand my excitement when you see it...
My knitting BEFORE (very sad, being carried around in a tattered plastic grocery bag - shameful, I know):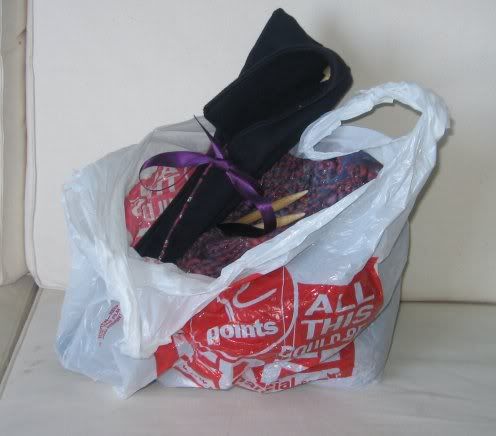 My knitting AFTER (now very happy! Can hold head up high in public again!):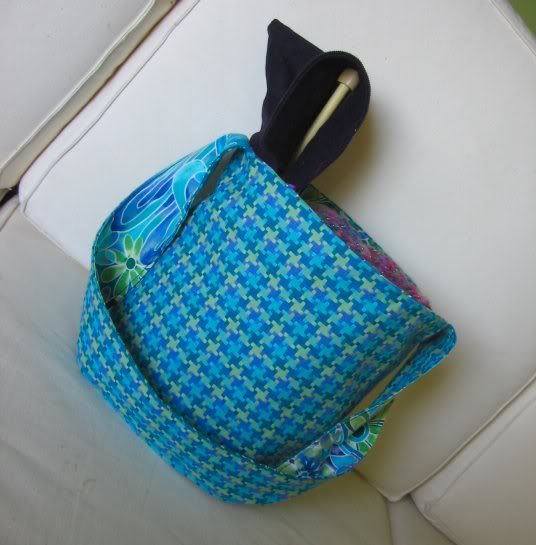 The gorgeous interior fabric:
Thank you SO much, secret FOC! You got it perfectly right again! The bag even coordinates with my purple needle roll (made by aschnebly in wish swap 6), although it looks much darker in the pictures than it actually is. LOOOOOOOOVE it!! Although I think my husband is getting tired of me prancing around the house, showing off my knitting bag. Gushy gushy tra-la-la!
Seriously though...very pleased with it. You've been wonderful & I can't wait to find out your REAL secret identity!
edit: tried to fix picture of interior but photobucket or something is not cooperating - sorry that it shows up so tiny! You still get the idea, I guess.