I got the coolest package yesterday from Quaggy! It's soooooooooo amazing. My name's Kathryn so, those are the letters you will see below. So without further ado, here it is!
K is for Keepsake Box, the most awesome TARDIS keepsake of all time, that alone is super cool, but look below to see what it's for!
A Tom Baker Peg person standing in his rightful place in front of the TARDIS.
So we skipped A to T - Tom Baker
Now for A, H, R, Y and N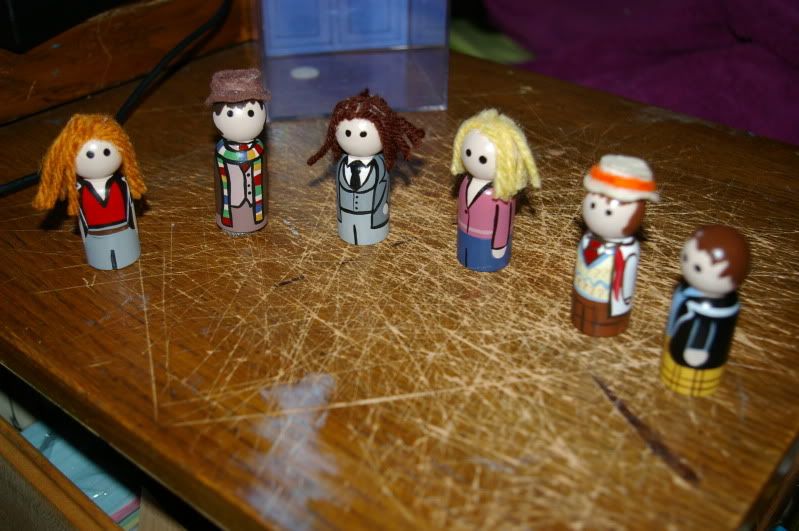 So many peg people!!!
They're in order if you skip Tom Baker.
A - Amy Pond
H - He's the 8th Doctor Paul McGann
R - Rose Tyler
Y - Yet another Doctor! Sylvester McCoy.
N - Now last but not least, the 2nd Doctor Patrick Troughton
They are ridiculously cool, I do not know how to make them but now I need to learn because I need all of the doctors!
Not only did she send me these awesome peg people, she also gave me candy that's coded to my name as well! I didn't take pictures of it, but I will write what they were.
K- Kit-Kat (which is in packaging that I've never seen before)
A - Altoids
T - Trail Mix
H - Hershey's Milk Chocolate
R - Runts (I've never had these before! I'm excited!)
Y - York Pattie
N - New Gum (It's cinnamon gum, which is my favourite)
Anyways, it's an absolutely amazing package, thank you so much Quaggy.