I made a Spencer Reid ami for my partner in the newbie swap. I made a lot of mistakes, and learned quite a bit from it. I'm very proud of the outcome though. If you aren't familiar with him, here's the wiki page,
http://en.wikipedia.org/wiki/Spencer_Reid
Here he is!
He's even got a little holster for his little revolver :3
I wanted to embroider his eyes but since I didn't quite trust myself I did the embroidery on white felt then glue it to the head. I've never really done embroidery before. It was a fun experience. I want to try it out on something bigger next time!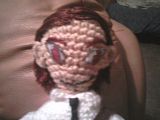 His hair is made of embroidery floss, and next time I'll be sure to get more. If his hair gets mussed it almost looks like he's going bald X-x But I still think it turned out ok. I'm not a very good hairdresser though. XD
I'm a bit of a detail whore XP I even made sure he had mismatched socks, because the actor never wears matching. He says it's bad luck. I unfortunately did not get a picture of them, but I did get a close up of the miniature bag I stitched up out of felt for him.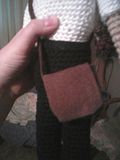 I even stashed a few little surprises inside!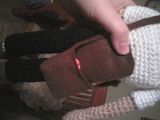 His shoes were made out of felt as well. That was an interesting problem to figure out. He even has tinsey tiny shoelaces made out of embroidery floss.
I hope you guys like him! I didn't use a pattern, I just kind of winged it. I really need to learn a better way to do clothing. It took me twice as long just to get sleeves on him as it did just to get the body crocheted up!