I've been on a bit of a card making mission for different things in the past few months, and having recently sorted through all the pictures on the laptop thought I'd post them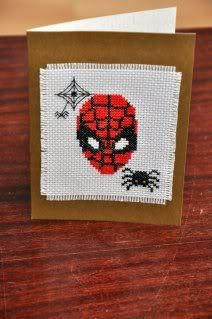 This one was a housewarming present for a spider-man loving friend of mine. Stitched on 14 count white aida then stuck onto the card. I found a chart of spiderman's face on the internet, and then made up spider and cobweb sections on some chart paper to make it look more fun
This was made for my partners Mum's birthday who loves all things oriental. Stitched on 14 count green aida, in a string strand of yellow thread. The middle of the circle designs on the side is done in metallic gold. I had intended to do them all in the metallic thread, but I found it so frustrating to stitch with!!
This was for my best friends birthday, again stitched on 14count white aida. She loves butterflies and I liked all the colours in this one
Pattern was from a free downlad pdf chart thingy.
This was the Mother's day card I made for my partner's Mum. She's a dress maker so thought this one was very appropiate. I can't remember where I got the pattern for this one from, but it's also done on 14 count white aida. As you can tell, I like stitching on that count aida, find it so easy to work with.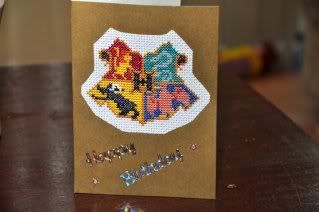 I've been wanting to stitch a Harry Potter crest for aaaages, and so made this one up for my HP loving cousin's birthday. I'm pretty sure the pattern was from the Leaky Cauldron website.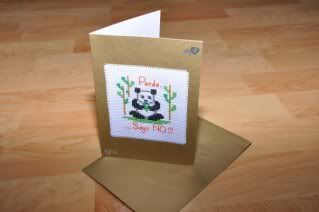 And finally, I made this for my partner's birthday. We both love panda's so it had to be done. Again on 14 count aida, and I made the design for the letters up as I went along in a single strand of thread. Pattern was from an old copy of one of the stitching magazines I had.