After being filled with candy, these were stocking stuffers for the females in my family. I used this Moda Bake Shop tutorial:
http://www.modabakeshop.com/2009/10/itty-bitty-poochie-bag.html
for them. They are indeed really easy. Do note though, that she means it when she says to use 3/8" ribbon for the handles. 1/4" (the white) is too skinny to sew as intended, so I had to zig-zag it on which was a pain.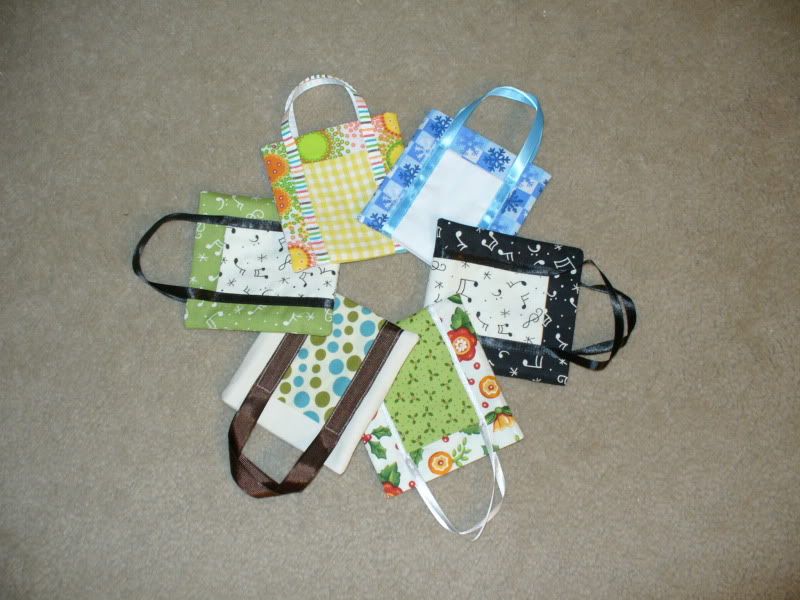 I also made a few grocery bags. The black and white floral fabric is quilting weight cotton from my mom's and/or grandma's stash, and worked great. The other (from the same stash) is much thicker, and while that's great for carrying stuff, it was much more of a pain to sew. I used this tutorial all the way up until folding the sides in and sewing up the bottoms:
http://usetheloot.blogspot.com/2009/12/tutorial-reusable-grocery-bags.html
. I switched to this one:
https://www.craftster.org/forum/index.php?topic=177482.0
for that. One bag went to my mom, one to my great-aunt, and the last two (one of each) to my sister-in-law. They're all lined with simple white muslin, 'cause I have a bolt of it. Was going to line the black and white bags in black, but then I would have had to switch thread colors around instead of assembly line-ing them all, and I'm too lazy for that.