OK, I made sure to do all the yo, om, p1, yo and I checked to make sure the stitch markers were all in the same section. Seriously, I was really careful, but my slants are still all facing the same direction. I've never done yo's before, so maybe that's where I went wrong.
The sleeves matched up the same throughout, but I know I made a mistake somewhere.
The first section before the first stitch marker is way too short also.
Can anyone help me figure out what I did wrong?
I'm thinking about redoing this in a looser gauge and I'd like to know where I went wrong before starting.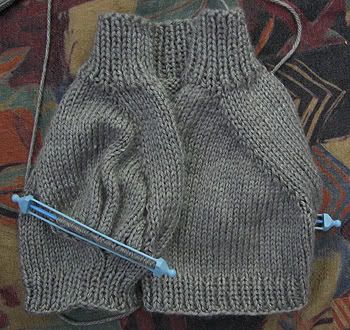 left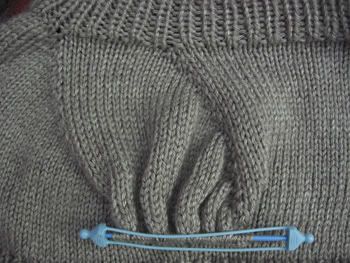 right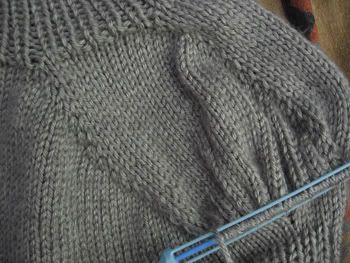 front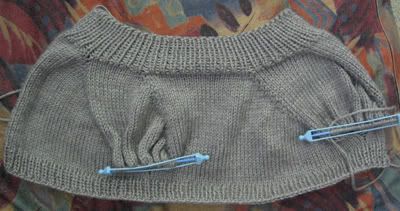 back
No they should
not
slant in the same direction. Each of the five sections (front, sleeve, back, sleeve, front) should be getting wider which makes the eyelets get further apart kinda like this (except with 2 eyelets at each red O). The purple is the fronts, blue is the sleeves, green is the back.
X
O
XXXX XXXX
O
X
XX
O
XXX XXX
O
XX
XXX
O
XX XX
O
XXX
XXX
O
XXXXX
O
XXX
XX
O
XXXXXXX
O
XX
X
O
XXXXXXXXX
O
X
I would guess there is a problem with where you are doing the yarn overs. As you get to each marker you should:
YARNOVER BEFORE the marker
SLIP the MARKER
PURL 1
YARNOVER again
Hope this helps.