Ok, she started off as an angel and I got lazy just before the wings, so she ended up as a superhero. But that's a good thing as I already had to build a mobile crane in my apartment just to lift her off the floor and put her on the stand. She's made of metal particle filled plaster/plastic hybrid material spincast and then filled with more plastic.
The mold was made from a plastilene sculpture by surrounding it with a sculpted lego wall to create a mold with minimal wasted material. She's about 170cm (5' 7" inches) tall.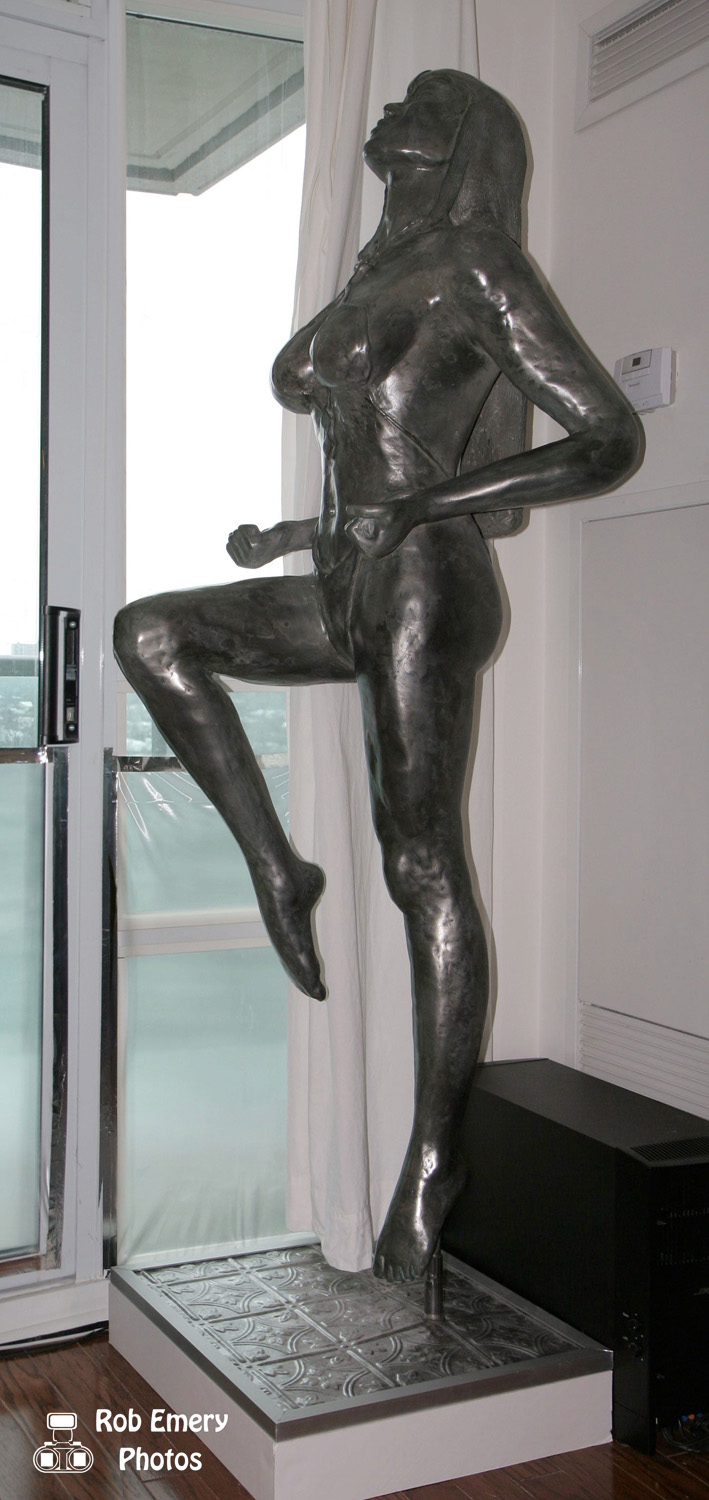 Sounds like folks were keen on a longer explanation of how it's made so here goes:
I started out with the two smaller sculptures first. The first was carved in plastilene, put into a contained which was filled with urethane to make a mold. This was then used to cast the plaster sculpture. For the larger one, the same process is used, but since it's so big, you can't use a simple container anymore. So, I used a lego sheet as the base and then started building a wall out of lego up along the sides of the legs. On the top left of the image, you can see the grey lego wall. After the wall is about a foot tall and surrounds the foot/calf, I can pour mold into it. When the mold is solid, I can remove the lego from below and keep building it higher. The brown in the image at top left is the mold that's already hardened. You keep going with the progressive casting process until you reach the top. Stopping mold leaks through the lego involves making it at least 2 bricks thick, and in some places, adding a little plastilene barrier as a helper. To cast anything longer than 1 foot tall, you need to use this progressive casting method. Otherwise, with more than one foot tall of liquid bearing down, the pressure on the mold in it's liquid state starts to push it through the tiny cracks between legos. Also, it would take a lot more legos to build a wall 7 feet tall.
The spincaster is the middle image on the far right - you can't see much but it's just the mold on a makeshift rotisserie. Spincasting is used when you have an expensive material (like metal particle filled stuff) and want to put a coating of it on the outside, before you fill the inner portion with cheaper & stronger materials. You fill only a part of the mold with the expensive stuff and then rotate it while it sets. Then you fill with the other stuff.