I know...I know.....ANOTHER lentil soup recipe.
Like bellybuttons, everybody's got one (or at least I hope you have a bellybutton..they make handy storage for the occasional stray marshmellow)
But I found an AWESOME little trick that makes lentil soup easy and delicious.
If you have a favorite soup recipe (especially a vegetable, bean, or split pea/lentil soup) this would probably work really well with it.
But let's get to it....drumroll please.....TA DAAA!!!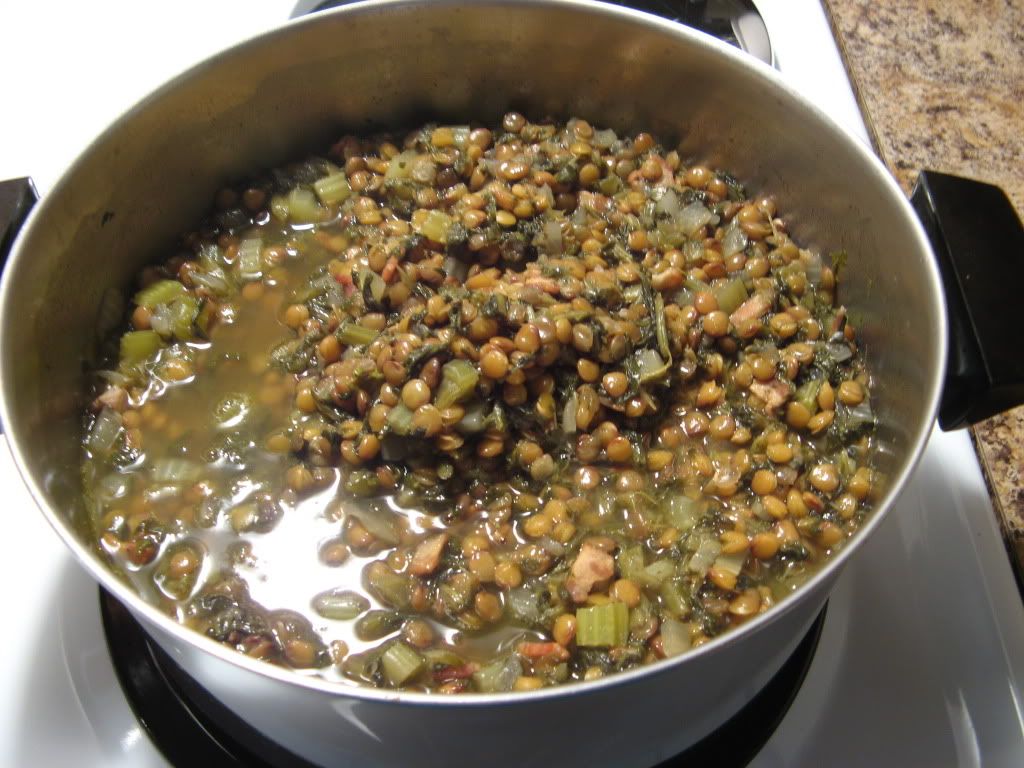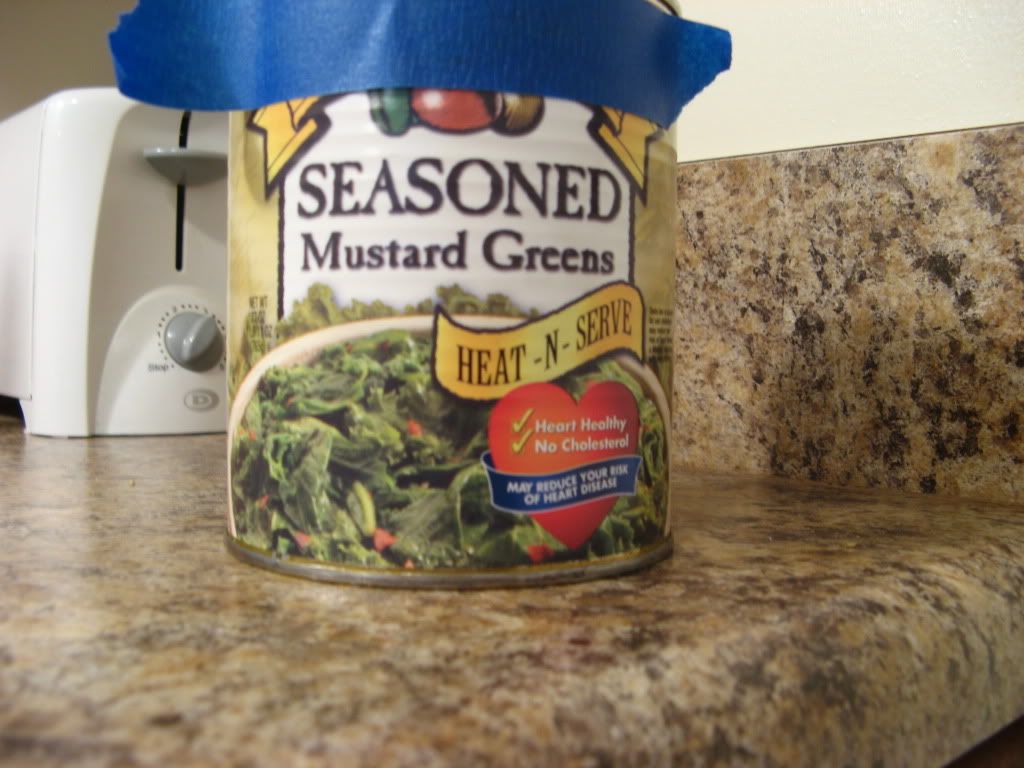 It's cooked greens!! Turnip greens, or collards or mixed greens!!!
I cooked canned greens one night and had some leftover, the next day I made lentil soup and was cleaning out the fridge and figured "why not?" and wow..wowee wow wow! was it good!
My husband DEMOLISHED it. Usually when I make soup I have to put some up in the freezer because everyone gets tired of it after 2 days. Then I told my mom about this and she loved it! Now neither one of us can make lentil soup without collards/greens.
I've found a brand that makes really good canned greens, I've covered up their name because I don't want to get in trouble but if you are the lucky soul that knows someone who goes through the laborious process of making homemade greens, give them a kiss, promise them some of your blood and whatever you don't manage to eat, reserve some for your soup.
another great tip......I love using bacon to flavor things or add a little on top but I don't want the whole package to go bad when I only need a little bit here and there, so when I buy it I put it in the freezer and then chop up one half of it into small pieces.
3-4 tablespoons of chopped bacon
1 cup of chopped onion
1 cup of chopped celery
2 cups of lentils, rinsed and picked through
29 oz can of collard/turnip/mixed greens WITH liquid
2 cups of chicken stock, plus however much water needed to cover lentils
salt and pepper to taste
The measurements of the bacon, onion, celery are just rough approximations, I used a smallish onion and 4-5 stalks of celery, if you want more please do so.
I meant to add carrots but I forgot to pick some up at the store. You can use whatever stock you like but I think chicken stock just tastes better with this.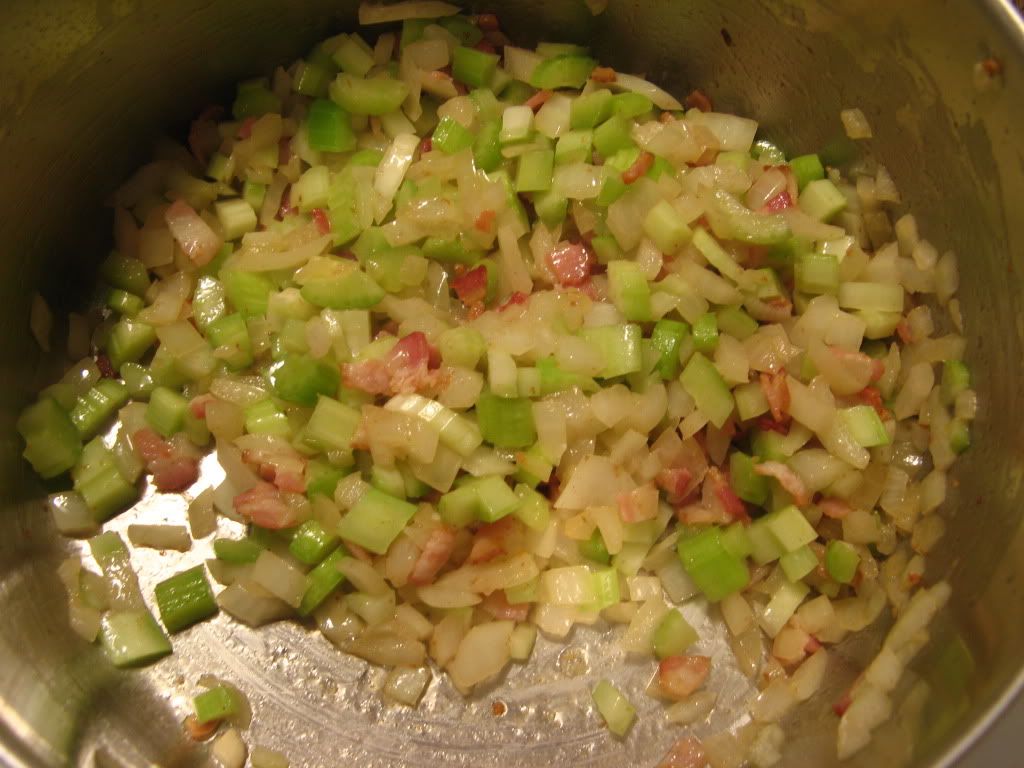 I throw a few tablespoons of the frozen bacon into my stock pot and THEN turn the burner on to med high. When it starts to warm up and render fat then I know it's time to add my onion and celery. Let your onions and celery sweat a little in the bacony goodness.
Rinse and pick through your lentils and add them. Add your collards/greens (with juice) and then add chicken stock/water to cover.
Bring to a boil, then cut the heat down, cover and simmer for at least 20 minutes until your lentils are cooked.
I usually add salt and pepper at the end because the bacon/chicken stock is salty enough.
I served mine with toasted pumpernickle bread.
Again, we didn't have enough to put up in the freezer but my mom says it freezes well.
I hope I didn't talk you guys to death but if you have any questions or comments let me know.