Creepy Cute
was one of the first crochet pattern books I bought. I really like the designs, but some of the pattern pieces have been...difficult.
One of the main reasons I bought
Creepy Cute
was because my father went to Duke and my sister graduated from Duke Law this spring.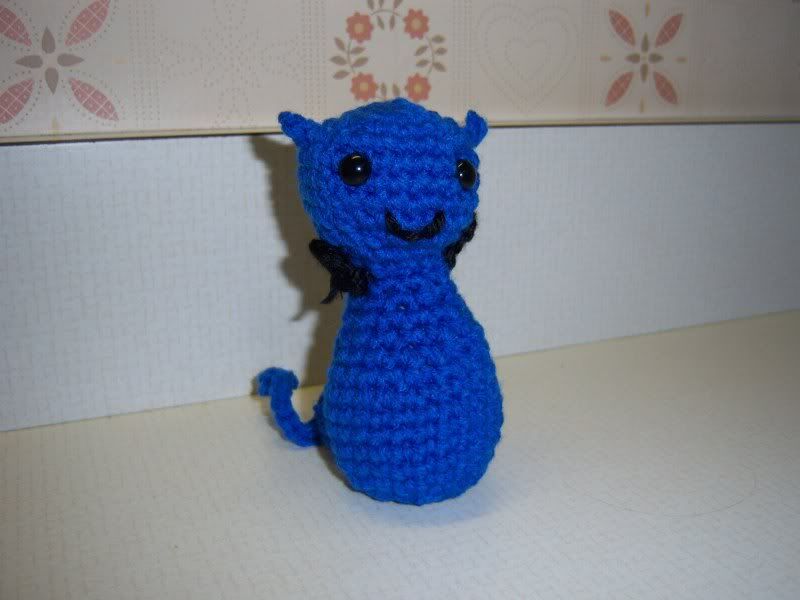 This is my sister's graduation devil with the crocheted collar, but before I made a cape or a goatee out of felt. The eyes are just plastic safety eyes instead of the clay ones the book tells you how to make. I attempted to figure out the pattern for the tail, failed, and then just made something up I can't remember.
I'm pretty sure the head is borrowed from Amigurumi World, but with slight alterations for the horns. Well, it might be a slight hybrid.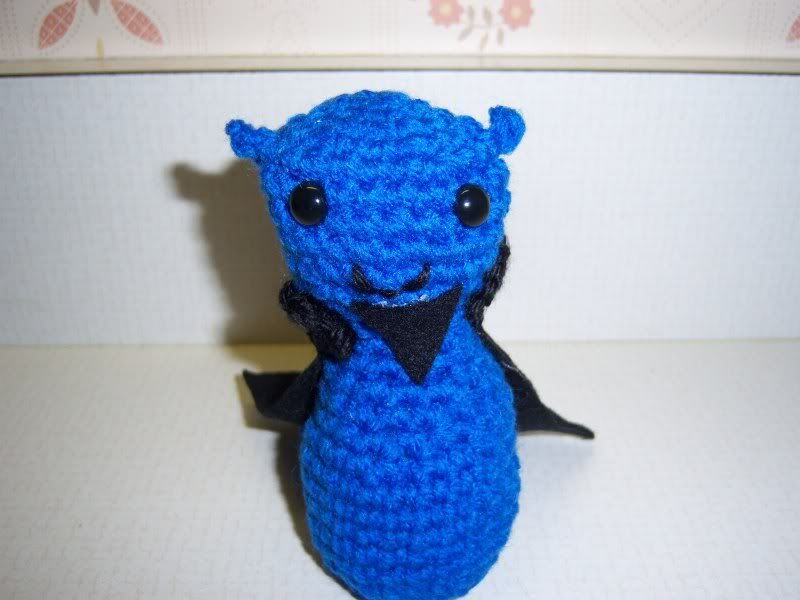 The goatee is what makes him evil.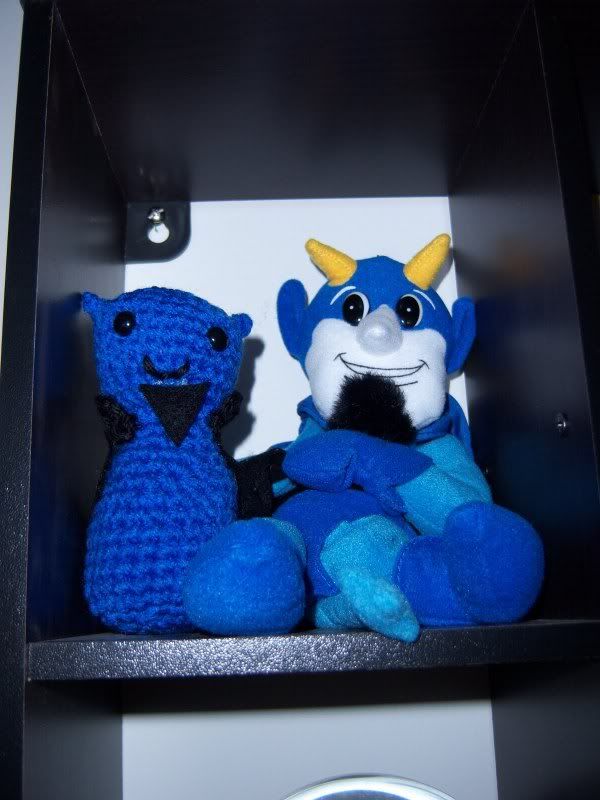 Here's my bootleg version with an officially licensed Duke Devil. You'd think I wouldn't be so blatantly violating trademarks for a law school graduation present, but the Duke Blue Devil is a man dressed up as a devil, while K.K.'s Blue Demon is an actual devil who happens to be an unusual color (The thing about the Duke mascot is actually true. It enrages me.)
I don't have any progress pics of my father's (belated) birthday devil: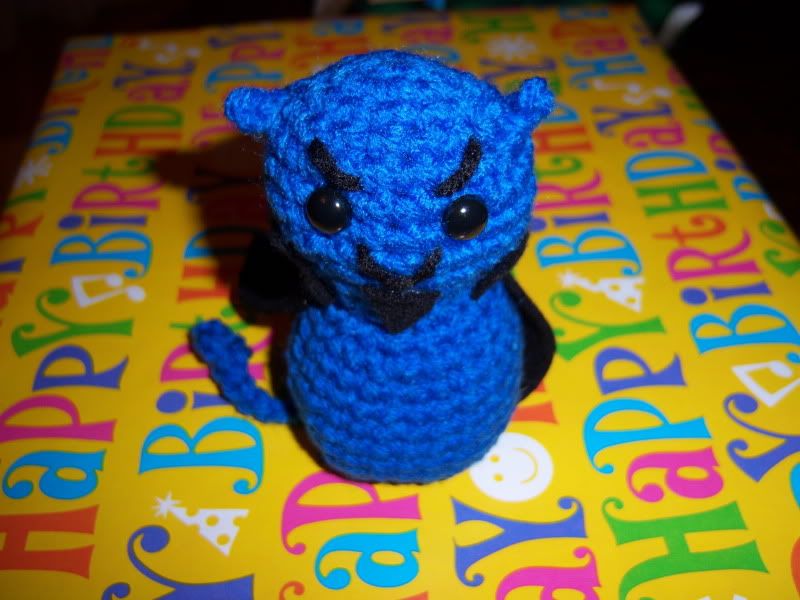 I think I may have actually gotten the tail right this time or have at least come up with a better interpretation of "sl st in front two loops of dc". (It's one of those directions where I understand all the components, but have absolutely no idea how it's supposed to work in real life.)
I didn't bother with the crocheted collar this time because I'm lazy and the present was already late (yeah, he still hasn't opened them. I think we're probably waiting until Father's Day...and I still haven't finished that present).
On Monday I found out that my karate instructor's birthday is this weekend, and since I had a belt test...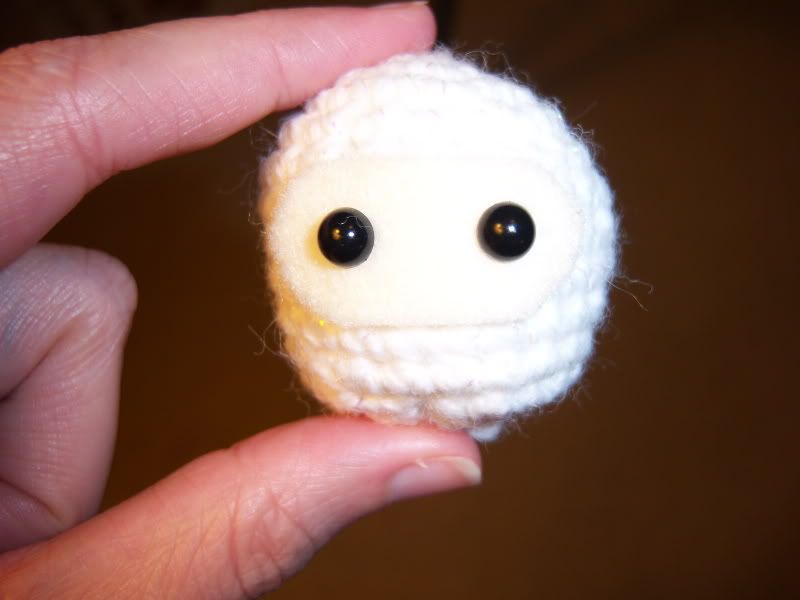 The pattern says an E hook and worsted weight yarn. I used a G hook, and my severed ninja head was still pretty small.
My ninja is incredibly pale due to Ben Franklin's felt selection. For the eyes I cut two small slits in the felt to get the safety eyes in the felt, then put the safety eyes into the head (I did this around either the 10th or 11th row). Once the head was finished and stuffed, I used hot glue to keep the skin around the eyes from sticking up.
I don't think you can really see it in any of the pictures, but the yarn sparkles. I used white so I could give the ninja a black karate belt.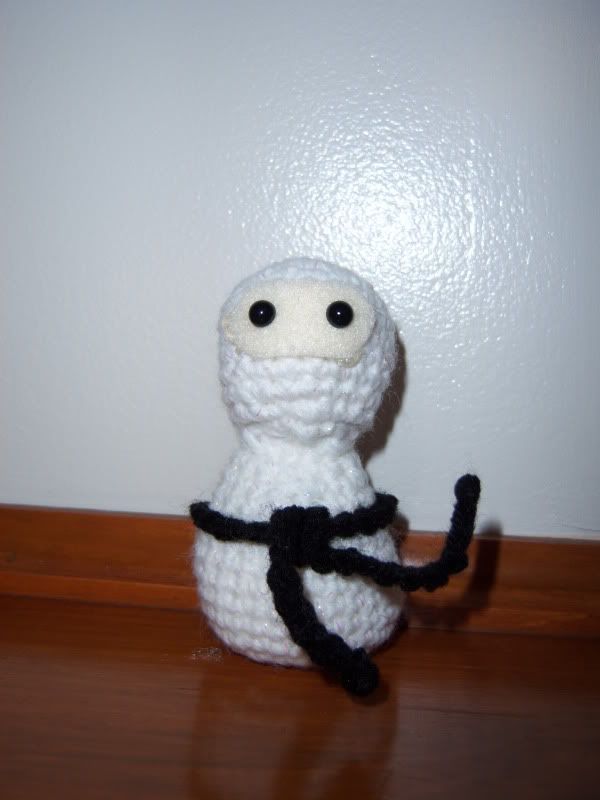 The belt is enough chain stitches to go around the body of the figure and be tied. I (briefly) considered making it long enough to be tied like a karate belt, but then I remembered that 1)I'm lazy, and 2)I still don't know the correct way to tie a karate belt.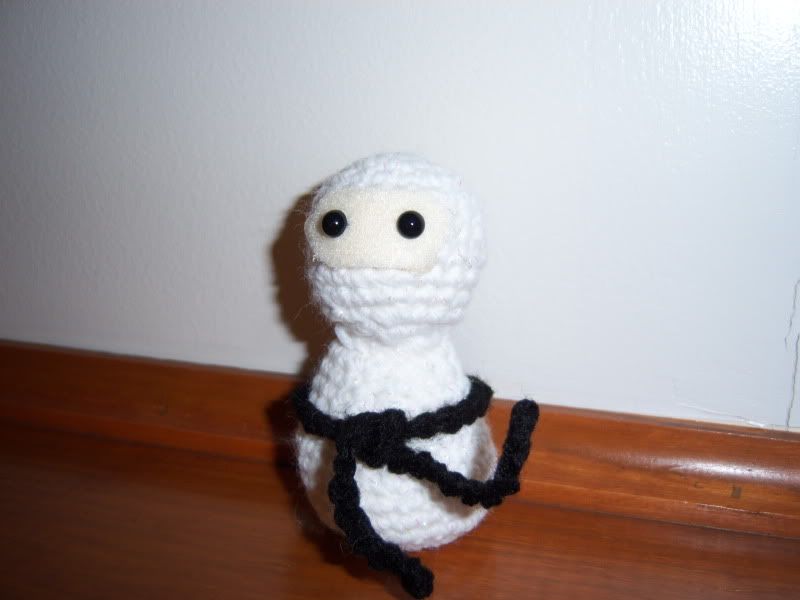 The belt is secured with a bit of hot glue under the knot, and in the back (where I think it shows, but technically you shouldn't be able to sneak up on a ninja).