So I'm finally posting something I actually made, rather than just commenting on other people's productivity. Please excuse the pyjama pants. If the bag looks like it needs a good pressing it's because I've been using it non-stop for the past week. And I'll say from the outset that the tartan applique isn't my idea, it's Karissa Cove (
http://www.karissacove.com
), so mad props to her.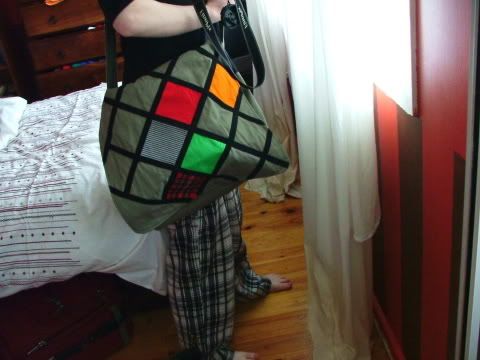 Here 'tis in all its glory. It took my a while to make because all the seams in the body of the bag are flat-felled to make it strong like bull to carry my precious iBook. I also used a very fine fusible wadding by Vilene called Pellon in the lining, which I highly recommend. It's strokable and squashy and nice.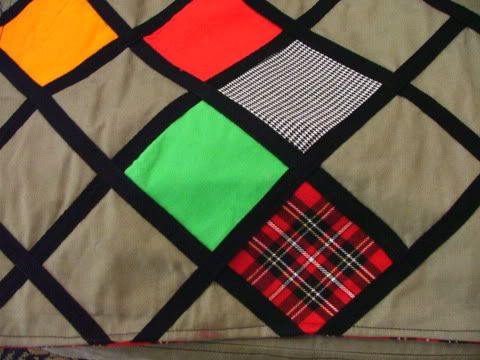 Detail of the applique. I ironed the appliques down with Visfix before stitching on the cotton tape. I screwed up a little, because I assumed I'd catch the edges of the appliques with the cotton tape. I wound up having to stitch in much further than I anticipated, so if you flip back the sides of the tape you can see the raw edges of the appliques. Le sigh. I shall learn from this in the future...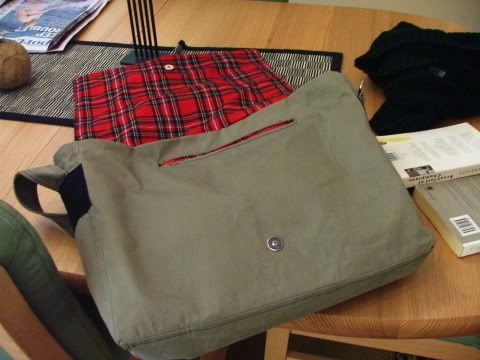 Front pocket. Just a welt pocket a la Sushimifune. This is for stuff I like with me but don't use all the time. Things like camera lens cloths, painkillers, nailfiles, my work security pass.
Big lapped pocket on the back. A good idea in theory, not so fantastic in practice. In practice the stuff in this pocket (wallet, phone, cigarettes, keys - aka what I use all the time) drags down the pocket and makes it bulge unattractively. It's still practical, but in future I'll add a pleat in the middle to account for the extra stuff.
Thanks for looking! As I hardly ever post stuff I make please shower me with the comment love. Oh, comments, how I love thee..