Hey!
A WONDERFUL girl over at LJ made a few jackets and the most info I can gather about the pattern is that its Simplicity and she made some alterations. I'm in LOVE with this jacket and would like to make it for myself sometime in the future and was hoping someone could help me find some similar styles.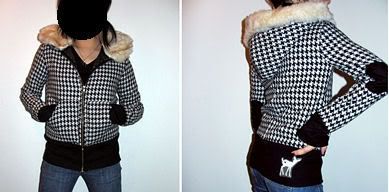 I searched 'jackets' on sewingpatterns.com (all 1000+ patterns, and didn't find anything
It doesn't have to be Simplicity, it can be any brand, maybe you can find something over at sewingpatterns.com that i missed. Feel free to post
anything
similar - she did say she modified it. If these are your pictures, you're excellent and if you want me to remove them just PM me.
Thanks!!
Edit
: More pictures of the houndstooth and a few other versions of the jacket she made. I would love to do a sew a long as long as we can postpone it for a month or so....[Sorry these pictures are so wonky, supload is down for me]
View Full Size at Glowfoto
View Full Size at Glowfoto
View Full Size at Glowfoto
View Full Size at Glowfoto
View Full Size at Glowfoto