...or the cat, as it may be.
The problem is, we've got fruitflies in the house. We don't know where they come from or what they're eating, but they're breeding in a way that's taught me a lot about exponential growth. The freaking things are everywhere. And while there are worse insects to have wandering around than fruitflies, the fact remains that they are extremely annoying, especially if you're trying to eat fruit.
But there is hope! Simply wait until the weather is cold and let your house cool down to 55 degrees Farenheit. That'll teach the little buggers! It won't be so bad for us humans - we've all got sweaters - but the cat is not so gifted. All he's got is a fur coat, and while his fur is decently thick, he's still adjusted to it being 65 degrees or warmer. We're thinking that a drop of ten degrees is going to upset him a wee bit.
He needs a sweater.
Here's a picture of the cat, because cats are cool. Especially this one.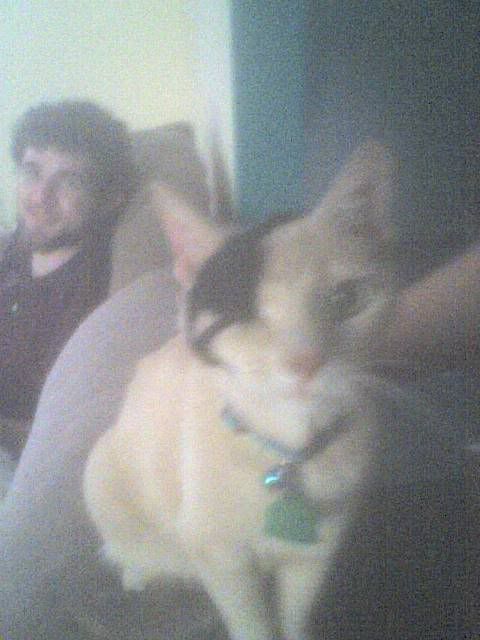 He's only got one eye, and yes, he's wearing an eyepatch. He's going to be a pirate for Halloween! No, I don't know what happened to the missing eye; we adopted him as an adult. That whole side of his face is a bit off, though; his whiskers constantly quiver, and he can't quite close his mouth there. There are dark suspicions he was hit. But now he is fine, if piercingly loud and vocal. I've met children who speak less than this cat.
I've never really made anything clothing-like for a cat, so I need help. Will wool be okay, or will that risk overheating him? I'd like to avoid pulling something over his head - is it possible to make a cardi for a kitty, possibly buttoning along one side? I was going to make some measurements and knit the main pieces, then crochet them together as needed, to make up for any shortfalls. Will that work, or are there common pitfalls to avoid?
Does anyone know of a decent free pattern for a cat sweater?