Same concept as Peanut Butter Blossoms, but with Chocolate and Peppermint. This recipe made well over 50 cookies.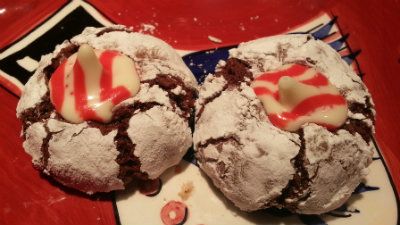 2 cups all-purpose flour
1 cup unsweetened cocoa powder
2 teaspoons baking powder
1/2 teaspoon salt
2 cups granulated sugar
1/2 cup vegetable oil
4 large eggs
1 teaspoon vanilla extract
1 cup powdered sugar ***For Rolling the Cookies in before baking***
Assorted Hershey Kisses (You can use whatever flavor you like, if you don't like peppermint)
These need to be put in the fridge for about 2 hours before you roll them into balls. Roll the balls into the powdered sugar, then bake for about 11 min. Until the cookies start to crack and you see the dough in the cracks is "cake-like". Bake at 350 degrees.